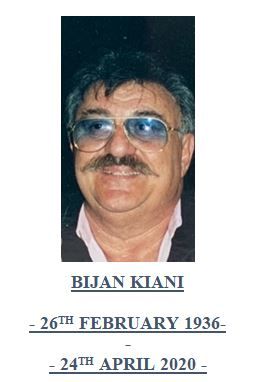 "Surely we belong to Allah and indeed to Him, we shall return". (Al-Baqarah 2:156)
To Allah We Belong and to Him is Our Return "Everyone is going to taste death, and We shall make a trial of you with evil and good, and to Us, you will be returned." (Surah Al-Anbiya:35).
---
Bijan Kiani returned to Allah on the 24th of April 2020 at the Shady Grove Nursing home in Rockville, Washington at the age of 84 after conducting the first holy day of Ramadan.
Bijan Kiani was born on the 29th of February 1936 in Bandar Pahlavi, Iran. He is preceded in death by his father Mr. Gholam Hussein Kiani of Yousef Taj Kiani – descendent of Ayatollah Fakhroddin Hakimi. Bijan's mother, Robaheh Bano Samiei "Mahin" – of Ayatollah Sadr Gilani, and Bijan's brother Kambiz Kiani
Bijan was a loving father and grandfather, a sincere and true friend to those who knew him. His heart and spirit constantly full of love, joy, courage, and generosity where he will always be remembered as someone who had unconditional love for his country.
His unequivocal passion for the Iranian sports community was irrefutable.
His love and devotion to his family and friends will be deeply mourned and to the many Iranian communities around the world.
May Allah forgive his sins, accept his good deeds, enter him into Janat ul Firdous and give Sabr to the family of Kiani and Samiei.
We ask our readers to pray for Allah to have mercy on the deceased and enter them into Paradise and remember their families in your prayers.
On behalf of his children: Sean Kiani, Sarah Kiani. Grandchildren: Lloyd, Gabriel, and Myla Kiani. Nephew: Saman, and niece Saloumeh Kiani.
Other family relatives including close friends and acquaintances: Amini, Hakimi, Gilani, Samiei, Shayesteh, Yazdanpanah, Akbar, Solimani, Tavakoli, Zoghi, Ansari, Mojdehie, Fozonmayeh, Zaviyeh, Davis, Everett, Perry, Wheeler and Mason.   
Condolences can be sent to: [email protected]