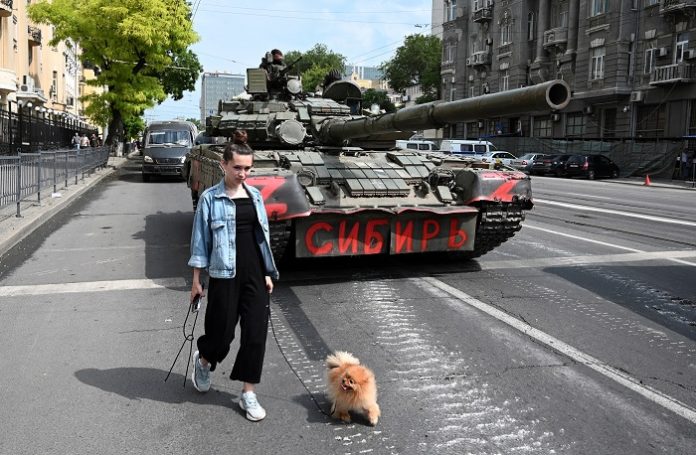 ---
June 24 (Reuters) – Following are reactions from foreign governments to the news from Russia, where President Vladimir Putin vowed on Saturday to crush what he called an armed mutiny after rebellious mercenary chief Yevgeny Prigozhin said he had taken control of a southern city.
UKRAINIAN PRESIDENT VOLODYMYR ZELENSKIY
"Anyone who chooses the path of evil destroys themselves.
"For a long time, Russia used propaganda to mask its weakness and the stupidity of its government. And now there is so much chaos that no lie can hide it.
"Russia's weakness is obvious. Full-scale weakness. And the longer Russia keeps its troops and mercenaries on our land, the more chaos, pain and problems it will have for itself later."
BRITISH PRIME MINISTER RISHI SUNAK, IN EXTRACT FROM BBC INTERVIEW
"Well, we have been monitoring for a while now the potentially de-stabling impacts of Russia's illegal war in Ukraine. We are keeping a close eye on the situation as it is evolving on the ground as we speak. We are in touch with our allies and in fact I will be speaking to some of them later today. But the most important thing I would say is for all parties to be responsible and to protect civilians."
BRITISH DEFENCE MINISTRY, IN A REGULAR INTELLIGENCE UPDATE
"Over the coming hours, the loyalty of Russia's security forces, and especially the Russian National Guard, will be key to how this crisis plays out. This represents the most significant challenge to the Russian state in recent times."
Britain said (Prigozhin's) Wagner Group forces had crossed from Russian-occupied parts of Ukraine to Russia in at least two locations, and had "almost certainly" occupied key security sites in Rostov-on-Don.
"Further Wagner units are moving north through Voronezh Oblast, almost certainly aiming to get to Moscow," Britain said.
"With very limited evidence of fighting between Wagner and Russian security forces, some have likely remained passive, acquiescing to Wagner."
NATO SPOKESWOMAN OANA LUNGESCU
NATO is "monitoring the situation" in Russia, she said in an email.
LATVIAN FOREIGN MINISTER EDGARS RINKEVICS
"Latvia is closely following the developing situation in Russia and exchanging information with allies. Border security has been strengthened, visa or border entry from Russians leaving Russia due to current events won't be considered. No direct threat to Latvia at this time."
LITHUANIAN FOREIGN MINISTER GABRIELIUS LANDSBERGIS
"For 100 years Lithuanians have lived on the edge of Moscow's brutal banditocracy, knowing it's only a matter of time before the next chaotic implosion. We are not distracted. We see clearly in the chaos. The goal, as ever, is victory and justice for Ukraine. The time is now."
CZECH FOREIGN MINISTER JAN LIPAVSKY
"We are closely following the situation in the Russian Federation. With regard to the ongoing military invasion of Ukraine and the possible threat of erosion of the security situation in the country, especially for citizens of EU and NATO countries, our strong warning against travel to the Russian Federation is still in place."
ESTONIAN PRIME MINISTER KAJA KALLAS
"Estonia is closely following the development of the situation in Russia and exchanging information with allies. I can assure that there is no direct threat to our country. Border security has been strengthened. I also urge our people not to travel to any part of Russia."
POLISH PRESIDENT ANDRZEJ DUDA, ON TWITTER
"In connection with the situation in Russia, this morning we held consultations with the prime minister and the ministry of defence, as well as with allies. The course of events beyond our eastern border is monitored on an ongoing basis."
KAZAKH PRESIDENT'S OFFICE:
Said in a statement that President Kassym-Jomart Tokayev spoke by phone with Russian President Vladimir Putin who informed him about the situation in the country. It said he noted that the ongoing events "are an internal affair of Russia. Constitutional order and the rule of law are a sine qua non for the maintenance of law and order in the country".
It added that Putin "expressed gratitude for Kazakhstan's understanding of the current situation in the Russian Federation".
FRENCH PRESIDENTIAL OFFICE
The Elysee Palace said President Emmanuel Macron is following the situation in Russia closely.
"We stay focused on the support to Ukraine," the Elysee said.
GERMAN GOVERNMENT SPOKESPERSON
"The chancellor is being kept informed. The situation remains quite dynamic so we are monitoring it very closely and coordinating with our closes allies.
ITALIAN PRIME MINISTER GIORGIA MELONI'S OFFICE
"Prime Minister Meloni is closely following events in Russia, which show that its assault on Ukraine is causing instability within Russia."
---
(Reporting by Reuters bureausCompiled by Frances Kerry; Editing by Hugh Lawson and Frank Jack Daniel)
---
Similar Articles to This Post