---
By Roberta Rampton
---
WASHINGTON, July 30 (Reuters) – U.S. President Donald Trump said on Monday he would be willing to meet Iran's leader without preconditions to discuss how to improve ties after he pulled the United States out of the 2015 Iran nuclear deal, saying, "If they want to meet, we'll meet."
"I'd meet with anybody. I believe in meetings," especially in cases where war is at stake, Trump said at a White House news conference when asked whether he was willing to meet with Iranian President Hassan Rouhani.
In response, Iran said the way back to talks was for the United States to return to the nuclear deal between Iran and six major powers that Trump exited in May.
"Respecting the Iranian nation's rights, reducing hostilities and returning to the nuclear deal are steps that can be taken to pave the bumpy road of talks between Iran and America," Hamid Aboutalebi, an adviser to Rouhani, tweeted on Tuesday.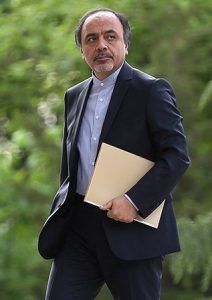 Washington aims to force Tehran to end its nuclear program and its support of militant groups in the Middle East, where Iran is involved in proxy wars from Yemen to Syria.
Iran and other signatories have been working to find a way to salvage the nuclear agreement, even as the United States has begun reimposing some sanctions on Iran.
No U.S. president has met with an Iranian leader since the Washington cut diplomatic relations with Tehran a year after the 1979 revolution that toppled the shah, a U.S. ally. President Barack Obama broke a three-decade freeze with a phone call to Rouhani in 2013.
The White House clarified that Trump's potential willingness to meet with his Iranian counterpart does not change his administration's intent to ratchet up sanctions and rhetoric against Tehran with the stated goal of "seeking changes in the Iranian government's behavior."
But Trump's remarks did represent a marked softening of tone from a week ago, when he lashed out at Rouhani in a tweet, saying "Never, ever threaten the United States again or you will suffer consequences the likes of which few throughout history have ever suffered before."
Shortly before that July 22 tweet, Rouhani had addressed Trump in a speech, saying that hostile U.S. policies could lead to "the mother of all wars".
On Monday, speaking at a news conference with visiting Italian Prime Minister Giuseppe Conte, Trump said: "I would certainly meet with Iran if they wanted to meet. I don't know that they're ready yet. I ended the Iran deal. It was a ridiculous deal. I do believe that they will probably end up wanting to meet and I'm ready to meet any time that they want to."
Trump said he had "no preconditions" for a meeting with the Iranians, adding: "If they want to meet, I'll meet."
The White House said that even though the president "is open to dialogue and negotiation," it did not mean the United States would lift sanctions or re-establish diplomatic and commercial relations.
"This relief is only possible if there are tangible, demonstrated, and sustained shifts in Tehran's policies," said Garrett Marquis, spokesman for the National Security Council. "Until then, the sting of sanctions will only grow more painful if the regime does not change course."
ECONOMIC PRESSURE
In May, Trump withdrew the United States from the landmark 2015 international agreement designed to deny Tehran the ability to build nuclear weapons. Since then, Tehran's clerical establishment has been under increasing U.S. pressure and the prospect of renewed sanctions.
Barely a week ago, U.S. Secretary of State Mike Pompeo launched a rhetorical assault on Iran's leaders, comparing them to a "mafia" and promising unspecified backing for Iranians unhappy with their government.
In spite of fierce verbal exchanges between Tehran and Washington in the recent weeks, Iranian authorities have kept the door to diplomacy open.
While warning the United States over waging a war against Iran, Rouhani also said last week that "America should know that peace with Iran is the mother of all peace," leaving open the possibility of peace between the arch foes.
Iranian figures familiar with policymaking say, as a faltering economy and a sliding currency stir street protests, that Supreme Leader Ayatollah Ali Khamenei could consider diplomacy with Washington and drink from "the chalice of poison," a reference to the phrase used by his predecessor Ayatollah Ruhollah Khomeini when he reluctantly agreed to a U.N.-mediated truce that ended the 1980-88 Iran-Iraq war.
Economic hardship in Iran forced Khamenei to reluctantly back Rouhani's efforts in securing the 2015 nuclear deal.
But if Trump were to pursue diplomacy with Iran's leadership, he would have to overcome deep-seated concerns among Washington's closest regional allies, such as Saudi Arabia and Israel, who are deeply skeptical about negotiating with Rouhani's government.
Trump drew a comparison with his diplomacy toward North Korean leader Kim Jong Un, who Trump met in a June 12 summit with the aim of convincing Pyongyang to give up its nuclear arsenal, a decades-long objective that has eluded several U.S. presidents.
"We met as you know with Chairman Kim and you haven't had a missile fired off in nine months. We got our prisoners back. So many things have happened so positive," Trump said.
---
(Additional reporting by Yara Bayoumy in Washington and Parisa Hafezi in Ankara Writing by David Alexander and Mary Milliken Editing by James Dalgleish)
---