---
DUBAI, Sept 5 (Reuters) – Iranian Foreign Minister Mohammad Javad Zarif accused U.S. President Donald Trump on Wednesday of planning to "abuse" the presidency of the U.N. Security Council to criticise Tehran, Washington's arch-foe.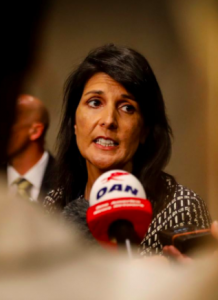 The U.S. ambassador to the United Nations, Nikki Haley, said on Tuesday that Trump would chair a U.N. Security Council meeting on Iran this month to spotlight its "violations of international law" during the annual gathering of world leaders in New York.
"He plans to abuse presidency of SC (Security Council) to divert a session … to blame Iran for horrors US & clients have unleashed across M.E. (Middle East) #chutzpah," Zarif wrote in his tweet.
Trump in May withdrew from Iran's nuclear agreement with world powers which is aimed at stalling Tehran's nuclear capabilities in return for lifting some sanctions, and ordered the reimposition of U.S. sanctions suspended under the deal.
European powers have been scrambling to salvage the accord, but the spokesman for Iran's Atomic Energy Organization said Tehran would relaunch its nuclear programme at a higher level than previously if the nuclear agreement collapsed.
"We are far more advanced than at the time of agreeing to the nuclear deal," spokesman Behrouz Kamalvandi was quoted as saying by the state broadcaster IRIB.
"And we will never be able to return to the previous level of nuclear activity if we go out to the next, but we will step into more advanced levels," Kamalvandi said.
Tehran has also warned that it might quit a treaty designed to stop the spread of nuclear weapons if the agreement is abandoned.
In Washington, Trump said on Wednesday he remained open to the possibility of talks between Washington and Tehran, but said Iran was in turmoil and struggling to survive.
The United States, which holds the Security Council presidency for September, has unsuccessfully pushed the council to call out Iran. Haley has regularly attacked Iran, accusing it of meddling in the wars in Syria and Yemen.
Haley said on Tuesday that Trump was chairing the Security Council meeting "to address Iran's violations of international law and the general instability Iran sows throughout the entire Middle East region."
"There's only one UNSC resolution on Iran. [email protected] is violating it & bullying others to do same," Zarif wrote on Twitter.
---
---
Iran is still subject to a U.N. arms embargo and other restrictions contained in the resolution, which enshrines the nuclear deal.
In February, Russia vetoed a U.S.-led bid for the Security Council to call out Tehran for failing to prevent its weapons from falling into the hands of Yemen's Houthi group, a charge Tehran denies.
---
(Reporting by Dubai newsroom Editing by William Maclean and Leslie Adler)
---