---
By Stephen Grey, Maayan Lubell, Ryan McNeill
---
KIBBUTZ BE'ERI, Israel, Nov. 3 – In the golden dawn light, on the morning after the Sabbath massacre of Oct. 7, Menachem Klemenson spotted the elderly man on his porch. The man was sitting in his chair, with a cup of coffee next to him.
As Klemenson drew closer, he realized the man wasn't moving. He had been in that position for over 24 hours now. He had been shot dead.
It was too late to save him. But the 35-year-old Klemenson, a Bible teacher by profession, and his 42-year-old brother Elhanan had been working feverishly all night rescuing families from their homes in Kibbutz Be'eri, an Israeli cooperative community some five kilometers from the Gaza Strip.
They had extracted people from burning homes as bullets zipped and cracked around them. At times they piled as many as 15 people in a jeep meant for four as they raced to get them out of the kibbutz. They faced agonizing decisions over who to save and who to leave behind. Sometimes there was no one left to save: They found parents and children gunned down in their living rooms, kitchens and bedrooms. In one house lay the incinerated corpse of what appeared to be a young person.
Menachem's descent into the carnage at Kibbutz Be'eri had begun on the morning of Saturday, Oct. 7, when news began to break that a major security incident was underway in southern Israel. As details filtered through, it became clear that large numbers of militants had penetrated Israel from Gaza and were attacking nearby communities.
Menachem contacted his brother, a captain in Israel's army reserves with a day job in defense intelligence, convinced Elhanan would know what was happening. A few hours later, the two brothers were in their family SUV, equipped with bullet-proof vests and M16 rifles, just two magazines each, heading south to help.
By the time the brothers found the old man in his rocking chair, more than 80 residents of Be'eri were dead – almost one in 10 members of the kibbutz – and at least 30 had gone missing. Hamas militants killed more than 1,400 people in communities, army bases and at a music festival in the south of the country on Oct. 7, and took at least 240 hostage, Israel said.
Since the attack, Israel has launched an air and ground offensive in Gaza, killing more than 9,000 people, according to health authorities in the Hamas-run area. Many buildings in Gaza have been reduced to rubble; residents, struggling to find shelter, are short of food, water, fuel and medicines.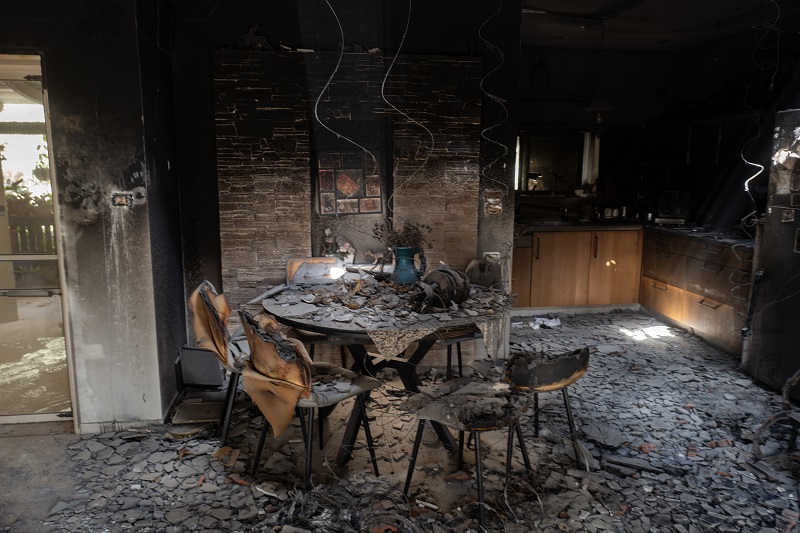 Besides Menachem, Reuters spoke with more than 20 kibbutz residents who survived the attack, many of whom huddled for hours in safe rooms in their homes and others who were outside fighting the gunmen, as well as Israeli soldiers and rescue workers who eventually responded to the scene. This account of the assault is the most complete reconstruction to date of what happened at Be'eri. It is based on those interviews and a review of WhatsApp messages the survivors sent out as Hamas militants moved from house to house, executing their families and friends. Reuters reporters also toured Be'eri days after the assault and reviewed satellite imagery, social media images, and CCTV and drone footage.
The survivors, just beginning to process the nightmare they endured, spoke in the days after the attack. Many described how spouses, children or grandparents were killed by the Hamas gunmen who had invaded their homes. Some were shot dead, others burned alive. In some homes, entire families were slaughtered or kidnapped.
"It's like a 9/11," said kibbutz secretary Alon Pauker, referring to Al Qaeda's 2001 attacks on New York and Washington, but with a difference: "You know everyone who died."
Some of the survivors cried as they spoke, others were stoic. Some were enraged, their ire directed at the killers but also at Israel's leaders, who they said had failed to fulfill their most fundamental duty – protecting them.
Like many Israelis, whose sense of security has been shattered by the attacks, they wanted to know how Hamas militants had so comprehensively breached Israel's border defenses, and why the army they trusted had been so taken by surprise and taken so long to respond.
Anger at the government is intense. Some ministers who have tried to visit the injured in hospitals or displaced survivors have been berated and forced to leave.
The Israeli state "failed us totally," said kibbutz secretary Pauker.
The kibbutz is now empty of residents. They have been evacuated, many to hotels by the Dead Sea. Days after the attack, the twisted carcasses of burned-out cars littered the community. Blood stains covered the floors and walls of some homes; others were half destroyed, gutted by fire. Safe-room doors were pierced with bullet holes. Unexploded grenades and bullet casings lay on the ground.
Reuters identified at least 42 mostly residential buildings – nearly a quarter of those in the kibbutz – with substantial structural damage.
Anyone visiting the kibbutz before Oct. 7 would have encountered scenes that resembled an adventure park: toys, trampolines and swings on rolling lawns; mini-bikes and balls left by children along a warren of pedestrian paths that criss-cross the kibbutz. There were many places kids might have played hide-and-seek – under terraces, in thick bushes, and in the abundant eucalyptus and carob trees.
As the attack unfolded, these hiding places would save lives. Menachem Klemenson said he and his brother found terrified kibbutz members who had spent hours sheltering in these hideaways.
In response to questions from Reuters, Osama Hamdan, a Hamas official in Lebanon, said the organization "totally and utterly" denies "all the Israeli claims mentioned in this report." Several days after the Oct. 7 attack, Hamdan told Reuters the assault showed Palestinians had the will to achieve their goals "regardless of Israel's military power and capabilities."
The Israeli government and military didn't respond to questions from Reuters. Political and military leaders have said that the Hamas attack represented a profound failure that would be fully investigated once the war in Gaza was over.
The Klemensons and the residents of Be'eri whom they saved represent polar opposites in a country deeply divided along political and social lines.
They were from Otniel, a religious, politically right-wing settlement in the Israeli-occupied West Bank, 50 kilometers east of Be'eri. The kibbutz, by contrast, is a largely secular, left-wing community, established in 1946 with the ideal of creating a collective, egalitarian farming community.
By the time Menachem and Elhanan found the elderly man in his chair, they'd been on the go for almost 16 hours. Menachem was exhausted. But the fighting wasn't over. Two hours later, the Klemenson brothers would risk one more rescue.
BE'ERI IS BREACHED
It was 6:29 a.m. on Oct. 7, 12 hours before the Klemensons arrived at Be'eri, when heavy blasts woke many on the kibbutz. They were Israeli missiles intercepting a barrage of rockets fired from Gaza. At 6:34, the kibbutz alarm sounded, signaling another rocket attack from Gaza. The alarm – an automated message saying zeva adom, Hebrew for "color red" – sent residents scurrying in their pyjamas into their safe rooms.
They'd done this so often they weren't initially perturbed. But this barrage from Gaza sounded heavier than usual.
Gal Cohen, a manager of the kibbutz's packaging business, was out for a jog with his dog when the alarm sounded. He said he was outside again at 6:55 a.m. – off to pick up one of the golf buggies that kibbutz residents use to get around. It was then he spotted something that startled him: two men on a motorbike wearing green Hamas head scarves. They had rifles and were on the road outside the kibbutz.
Cohen immediately called Racheli Benakot. She was the woman in charge of alerting fellow kibbutz members and authorities in the event of an emergency.
At just that moment, two young men with thin beards were captured on CCTV at the entrance to Be'eri. They were dressed like soldiers: desert-green camouflage fatigues, bullet-proof vests, fingers on the triggers of their AK47s. They crept up to the main gate and looked around. No one was there. One of them smashed the window of the empty guard room at the entrance and climbed inside.
A few seconds later, the footage shows a blue-gray Mazda sedan pulling up at the front entrance to the kibbutz, which is surrounded by protective fencing. In the car were two young men, who have not yet been publicly identified. The gates started to roll open.
One of the two gunmen burst out from behind a tree, aimed his rifle at the car and opened fire. Bullets pierced the car windows. The car rolled forward, coming to a halt against the half-open gate.
The gunmen were now inside the kibbutz.
Alerted by Gal Cohen's call, emergency-alert officer Benakot, who in normal times managed health services at the kibbutz, called her brother, Arik Kraunik. He was the leader of the kibbutz security team, or kitat konenut in Hebrew, literally meaning "readiness unit." The team's job, in case of an emergency, was to hold the fort until the Israeli Defence Forces (IDF) arrived.
There were bases housing two IDF brigades located north and south of the kibbutz, both within 15 minutes drive. So, Benakot said, she didn't expect to be waiting long for the soldiers to arrive. Still, she sent her brother to investigate.
As Kraunik headed to the gate, Racheli alerted the security team, comprising about 15 people. Members of the team headed towards the concert hall on the kibbutz to meet up. Only some were armed. Hidden nearby was an armory with M16 rifles and ammunition.
But the key was with Kraunik.
Meanwhile, another member of Benakot's emergency-alert squad sent a message to all residents on the kibbutz smartphone app: "Suspected infiltration," it read.
The CCTV footage showed more gunmen entering the kibbutz. Kraunik, meanwhile, had arrived in a car at a spot about 100 meters from the front gate, not far from the printing press that is a key source of income for the kibbutz.
Moments later, Benakot said, Kraunik was gunned down there.
By now, scattered gunfire could be heard across the kibbutz. Yoel, a security team member who asked that only his first name be used for privacy reasons, said he was armed only with a pistol and 12 bullets. His M16 rifle was locked inside the armory. And Kraunik, the only one in the team with a key, was dead.
At that point, Yoel and other security-team members had no idea how many intruders had penetrated the kibbutz. They ran across a grass patch to an area where they could hear gunfire. There they found Gil Boyum, a fellow team member, badly hurt. He'd been shot and hit in the head with a rifle butt.
At 7:15 a.m., the kibbutz app buzzed again, confirming an "infiltration." But there was reassuring news: The army and the kibbutz security team were "handling the incident," the message from Benakot's team said.
While a nurse tended to the injured Gil Boyum, Yoel grabbed Boyum's rifle and joined up with several other security-team members. They headed off in search of the infiltrators.
SOUNDS OF A MASSACRE
When it was first established, Be'eri was located even closer to Gaza – about two kilometers from the territory. The kibbutz was one of 11 outposts set up in the Negev Desert on the night of Oct. 6, 1946, by the Israel Working Youth Movement, a Zionist group that wanted to stake out the boundaries of a future Jewish state.
Today, the kibbutz is divided into distinct neighborhoods, each built at a different time and with its own architecture. There is a neighborhood with quarters for young people, and the Veterans section for more elderly residents. It was the Olives neighborhood in the western corner of Be'eri, designed for older families, where the Hamas militants headed first.
The gunmen had come well prepared. The kibbutz security team would later estimate there were at least 150. Driving in white pickup trucks and on motorbikes, they took up positions at the edge of the Olives.
In one of the homes, Amit Solvy, 70, the chairman of the kibbutz, looked out through the shutters of his safe room. What he witnessed was chilling.
"I saw three or four white trucks pull up and Hamas people getting down from them," said Solvy, who served as a special forces officer in the 1973 Arab-Israeli War. That was the last time Israel's defenses were seriously breached, in a surprise attack by Arab armies. "They instructed people where to go. Together with Hamas, there were also a lot of young people with knives, machetes and bags to loot."
Some of those who infiltrated the kibbutz were unarmed. They drove off with wide-screen TVs, electric bikes, children's bicycles, jewelry and cash, according to residents and CCTV footage.
The CCTV footage also shows a white van driving into the community. Two men get out, pick up the body of one of the Israeli youngsters who had been shot at the gate, and dump the body in the back of the van. They then drive out of the kibbutz. It's unclear what they did with the corpse.
Within minutes of Hamas militants entering the kibbutz, the security team came under fire near the Veterans neighborhood. Yoel, who had grabbed the rifle of his injured team member, was hit first. In an alleyway, a metal handle dropped on the ground next to him.
"It was a hand grenade," he said. He shouted out a warning and began fleeing. "While I was running it exploded and I was flying."
A piece of shrapnel punctured his back and came out through his stomach. Blood seeped into his trousers. He crawled to the kibbutz dental clinic, where the nurse and a medic were trying to save Gil Boyum.
With their Hamas foes using heavy machine guns, the security team was struggling to fight back. One of them, Hagay Avni, 50, was fatally wounded.
It was 7:20 a.m., a little over an hour since the attack had begun. One member of the security team was dead and four seriously injured. Another two were tied up protecting injured team members from the gunmen. And the armory was still locked.
Rami Gold, a 70-year-old war veteran and former security-team member, arrived on a bicycle and picked up the injured Yoel's M16 rifle – the one Yoel had earlier taken from the wounded Boyum. Teaming up with a retired general who lived on the kibbutz, Gold would use it to keep fighting all day, he said. He and the general took up positions in houses and bushes opposite the Olives neighborhood.
As Hamas gunmen moved through the kibbutz, the sounds were terrifying – the sounds of a massacre now underway.
"We heard them going house to house and spraying the people with gunfire," said Dor, another security team member. "We heard them talking, shouting 'Allahu akbar,' laughing. There was the sound of endless automatic gunfire, fires burning, kibbutz residents screaming."
In the Olives, militants had entered the home of the Gat family in house No. 501, near the kibbutz cemetery and the road leading in the direction of Gaza. A video posted on social media as the attack was underway showed 68-year-old Kinneret Gat in a brown-red shirt, her hands bound, being led away by gunmen. Another video showed her body by the kibbutz cemetery gate; she was later confirmed dead.
Eshel, her husband, hid and survived. But Eshel saw his daughter Carmel, 39, his son Alon, 37, daughter-in-law Yarden, 35, and their 3-year-old daughter Gefen being led out of the house by gunmen. Alon and Gefen later escaped by jumping out of a car taking them to Gaza. Yarden and Carmel are both presumed by the Israeli government to be hostages in Gaza.
Three houses down from the Gat family, in house 510, were the parents of Yuval, another security-team member who was fighting alongside Dor. As the two took up position nearby, Yuval's parents' house came under attack.
Dor described what happened: "They were dozens and we were two. If we go there, they will kill us."
Another security teammate, Yair Avital, was close by. He heard what he said were "the very loud screams of an elderly woman." He recognised the voice of Yuval's mother, Mati Weiss, and tried to reach her. But as Avital crossed the road, he was hit by a grenade. He limped back, bleeding, to the clinic. The medics told him he had been shot, too.
Yuval soon got on the phone to his parents, said Dor. "And he's hearing their murder. And he can't go save them."
A recording Yuval made of the call captures his mother telling him that the gunmen have broken into their home and fired through the safe room door – hitting his father, Amir.
Mati: Dad is losing blood. Please, we are going to die.
Yuval: I am trying to send the army to you.
Mati: They are throwing grenades at us.
Yuval: I know, I can hear the explosions. I told the person communicating with the army. I told them to get you urgently. We can't get close.
Mati: We are going to die. I never thought we would die this way.
Yuval: I love you, be strong.
Mati: Why is the army not coming
Mati and Amir's bodies would later be found by a soldier on the edge of the kibbutz near the road that leads to Gaza. Their hands, the soldier said, were bound with plastic cuffs.
WAR OF THE SAFE ROOMS
The safe rooms in the kibbutz homes, as in other communities attacked on Oct. 7, were built to protect residents against rockets from Gaza – not a ground assault by dozens of heavily armed militants.
Fortified with reinforced concrete and blast-proof windows, these rooms often double as childrens' bedrooms. They became a sanctuary for many residents that day.
But they weren't foolproof: Because they were designed as shelters against rockets, few had locks on the inside. Most residents who survived did so by gripping the door handles so tightly the gunmen couldn't get in.
In the Vineyard, one of the newest neighborhoods in the kibbutz, one resident would describe what transpired there as "the war of the safe room."
The Vineyard's semi-detached, off-white homes have two levels – large ground floors and attic rooms beneath pitched roofs of brown-red tiles. Neat concrete paths and green lawns separate the homes. Located on the outer western rim of Be'eri, the Vineyard would be one of the worst-hit parts of the kibbutz.
It was after 10 a.m., more than three hours since the attack began. Residents were relying on WhatsApp groups to stay in touch and their messages had become ever more frantic as they pleaded for help.
At 10.08 a.m., Vineyard resident Ohad Ben Ami sent a message to his daughter: "They're back, they're here," he wrote, referring to the militants now in his home.
He also messaged the neighborhood WhatsApp group: "That's it. They caught us in the safe room. I love you all. Shema Yisrael," he wrote – a reference to a central Jewish prayer recited daily and traditionally as a person's last words.
Six houses away, militants were bashing on the safe room door at No. 614. Inside were Avida and Dana Bachar, their daughter Hadar, 13, and son Carmel, 15. Avida was using all his strength to hold it shut.
A sudden burst of gunfire drilled a line of holes in the steel door. Carmel was struck, his hand was badly injured. Blood gushed out. Another burst of gunfire came through the bottom of the door, tearing into Avida's legs.
The family tried to stem Carmel's bleeding with a tourniquet. Unable to get into the safe room, the gunmen switched tactics: They began setting the house on fire. With smoke seeping into the safe room, Hadar used her parents' phones to message the community WhatsApp groups: "Several wounded: come quickly! Now! Please!"
A blast rocked the safe room, opening a crack in the window. Three grenades tumbled through the crack. A sofa shielded the family from much of the blast that followed, but daughter Hadar was struck in the leg by some screws. She pulled them out.
Moments later there were two rifle shots, again through the crack in the window. Dana, the mother, fell to the floor. "It's okay, Mom is not in pain," Avida told his children, as they lay on the floor next to their dead mother.
Hadar then noticed that her brother Carmel was looking weak. "Dad, Carmel is taking his last breaths," she said.
Avida would later reveal his son's dying request: "I just want one thing. Bury me with my surfboard."
That wish would be fulfilled when Avida, whose leg had to be amputated, buried his wife and son in another kibbutz near Tel Aviv.
Next door, in house 613, Doron Segev and his 17-year-old son Maayan were also engaged in a life-and-death tug-of-war with Hamas gunmen as they tried to hold the safe room door shut. Then they felt the heat. The door was on fire. The room started to fill with smoke. They had to choose: Open the window and let the gunmen in, or try to endure the smoke. Maayan couldn't breathe.
"If you go out, people will kill you, kill us," Doron said he told his son.
But eventually Maayan opened the window and jumped out. Doron, his wife Sharon, and their two other children didn't follow. They would later be rescued and reunited with Maayan, who hid under a bush by the house.
Around 11:30 a.m., Ella Ben Ami, in her safe room with her boyfriend, spotted a picture on social media that terrified her. It was of her father, Ohad – the man who had cited the Shema Yisrael prayer in his text message as Hamas closed in. He was alive, but he was being dragged down an unidentified street barefoot and in black shorts.
She managed to get through to Channel 12, a leading Israeli commercial TV station. "I've lost contact with my family. I know my father has been kidnapped," she said on air. "No one is telling us what's going on. I don't know if my mother is alive."
A few days later, a photo of Ella's mother, Raz Ben Ami, being led through Be'eri by gunmen, would surface on social media. Both her parents are presumed by the Israeli government to be hostages in Gaza.
At least 16 of the 21 buildings in the Vineyard suffered substantial damage sustained during the attack and the fighting that ensued, a Reuters analysis shows. According to survivors, who helped Reuters reconstruct house-by-house the fate of every Vineyard occupant, 24 people died, eight were kidnapped and two are missing from the neighborhood.
'WHERE IS THE ARMY?'
Throughout the day, the various kibbutz WhatsApp groups buzzed with messages from residents demoralized and perplexed by the absence of the army.
"They're going from one house to another. Where is the army," wrote one woman at 9:28 a.m.
At 10:49 a.m., another woman texted: "Where the hell is the army?! How can they possibly be taking over our kibbutz like this."
And, at 11:21 a.m., a Vineyard resident wrote: "Where's that shitty army? It has become a fiasco!!!!"
Over 13 hours, Kerem residents sent at least 55 messages on the neighborhood WhatsApp group asking when the army would arrive or pleading for soldiers to be sent to their house.
At 12:22 p.m., emergency-alert chief Racheli Benakot sent out a message: "The army is fighting along the entrance road to the kibbutz. We're hoping they'll succeed in entering soon."
Israeli troops, however, had arrived only in small numbers. And their progress once inside Be'eri was slow as they suffered casualties.
According to Benakot, Hamas had attacked army bases located north and south of the kibbutz and had succeeded in pinning down the soldiers who would normally have come to their rescue. And there were gunmen on roads leading to the kibbutz. Asked about the delay in the arrival of troops to Be'eri, the army has said that all aspects of the day's events would be investigated at the appropriate time.
It was now early afternoon. Several security-team members were making a stand at the dental clinic in the center of the kibbutz. Three lay injured on the ceramic tiled floor. They were being treated by Amit Man, a 22-year-old paramedic, Nirit Hunwald, a 38-year-old nurse, and Daniel Levi, a 34-year-old doctor.
Amit Man, who was hoping to become a doctor, and Hunwald, who lived on the kibbutz with her partner and four kids, had been tending to the wounded team members since early that morning. Levi had rushed over from his house opposite to help. They'd been unable to save Gil Boyum, the team member who'd been shot and beaten.
Outside, two other team members – Shachar Tzemach and Eitan Hadad – were guarding the clinic. They'd set up an ambush for the gunmen: Tzemach at the clinic entrance and Hadad between two cars across the road. Both were armed with M16 rifles.
As Hamas gunmen came past – on foot, on bikes and in cars – Tzemach and Hadad picked them off, three residents said. The bodies of the gunmen began piling up on the path outside the clinic.
Yoel, the security team member who had a hole ripped in his back and stomach by a grenade, was also in the clinic. He'd been given an injection that allowed him to move and was determined to get back to his family. His wounds left him unable to fight, he later recalled.
As he headed home he ran into a group of Israeli special forces soldiers inside the kibbutz. But they were leaving, carrying a soldier who was bleeding heavily, he said.
Yoel pointed to the clinic. "We have other wounded people there," he recalls saying. "Maybe you can also take them out."
The soldiers said they were too depleted to help. Yoel said an officer told him many wounded soldiers needed to be evacuated. He promised to return with a stronger force. Yoel said he told the troops they needed to stay.
"You are here, we need weapons," he told them. But the soldiers left, he said.
Kraunik's key to the armory was never found and it was never opened. Benakot's deputy, Ilan Weiss, who had a spare key, had set off from his home in the Vineyards early that morning to assist the security team. But he never made it and is listed as missing.
Three survivors of the assault on Be'eri with military experience said the Israeli forces operating in the kibbutz engaged Hamas but seemed disorganized. No one seemed to have overall command of the troops and the efforts to clear out the Hamas fighters didn't seem systematic, they said.
When Yoel got home he found his family sheltering in the safe room in their apartment at the top of a two-storey block. Armed with a pistol and 12 bullets, he decided to remain outside on a terrace to keep guard.
From his perch, he said, he "continued to see terrorists" while army forces came and went. The Israeli troops seemed ineffective. "No one was in control. It was a big, big, big mess."
Despite the presence of Israeli soldiers in the kibbutz by early afternoon, Hamas gunmen were still killing residents in their homes.
Just before 2 p.m., another army unit arrived at the kibbutz and was directed to the clinic. But they were slow to get there.
The two kibbutz security-team members who'd set an ambush, Tzemach and Hadad, had run out of ammunition and retreated into the clinic. Grenades shattered the interior of the building.
Yair, the injured team member who had tried to save Yuval's mother, was lying on the floor. He said he heard Tzemach suggest to Amit, the young paramedic, who was in her medic's uniform, that she try to surrender.
"Go out, please. Maybe they will spare you. You are very young," Tzemach said.
At 2:02 p.m., Amit texted her family: "Please be strong if something happens to me."
At 2:05, Amit sent a voice message to her family's Whatsapp group. She can be heard pleading, amid the loud pop of gunfire: "Please, please, please, please make it stop. They're here."
Yair heard her walking out of the clinic. Then a gunshot.
At 2:14, Amit's sister, Haviva Izikson, dialed her number, desperate to know what was happening. It was a very brief conversation, which Haviva recounted.
Amit: They are here. They shot me in the legs. I'm not going to make it. They're on me.
Haviva: What do you mean?
The line went dead.
Haviva did not hear from her sister again. Amit's body was recovered on Monday, Oct. 9, two days after the attack began, with a deep wound in the forehead. Her left leg had a tourniquet tied around it, photos obtained by Reuters show.
Yair, the wounded security team member, and Hadad, his comrade who stood guard outside, retreated deeper into the clinic, into a kitchenette. Behind them, Yair heard Tzemach shout in English: "Please, I'm not your enemy." There was more shooting and another grenade. Tzemach went silent.
Yair tried to haul himself out of a window. As he pulled himself up, he felt a gun on his forehead. He said he heard laughing and someone shouting, "just for fun" in Hebrew. He pushed the gun aside. Behind him, he said, he heard Eitan shout: "Motherfuckers, motherfuckers!"
In the chaos Yair found himself on the floor, surrounded by blood, vomit, building debris and shattered glass. The gunmen took him for dead.
Eitan had been shot dead and lay in a heap on the floor, Yair said. The doctor, Daniel Levi, had been killed as well.
Nirit, the nurse, was still alive.
She was lying in a fetal position on the clinic bathroom floor. She messaged her family to say goodbye. She could hear gunmen moving in the corridor and shooting, she later recalled. One stood right by the door to the bathroom, but didn't open it.
Nirit had been lying there for two hours when she heard soldiers speaking Hebrew. It was around 4 p.m. "I'm a civilian," she yelled.
She wanted to go over and check Amit, the paramedic. The soldiers told her there was no time and extracted her and Yair through a window. Fighting was still raging in the kibbutz, almost 10 hours after it had begun.
RESCUE MISSION
It was around 4 p.m. when Menachem Klemenson got a four-word WhatsApp message from his brother Elhanan: "Packing, going down south," it read.
A short while later, the brothers were in their small SUV, armed with their M16 rifles and bulletproof vests, driving out of Otniel in the West Bank – an area Menachem and some Israelis refer to by its Biblical name of Judea and Samaria.
It was 6:15 p.m. when the brothers reached the main gate of Be'eri. Some residents who had survived the carnage were gathered there. Using locator pins, they showed the brothers on Google Maps how to reach their homes and the family members trapped there.
So began what would be a 16-hour improvised rescue mission by the Klemensons. They would be joined a few hours later by 23-year-old nephew Itiel Zohar, who also came to help.
"Hell" is the word Menachem uses to describe what they encountered on entering Be'eri.
Inside, the darkness was punctured by tracer bullets whizzing in all directions. Rocket-propelled grenades exploded. Burning homes crackled. Bullet-riddled cars were strewn across the kibbutz.
As the Klemensons and their nephew drove around extracting families, kibbutz residents jumped out of their hiding places. A man with a Russian accent popped out of the bushes in his underwear, said Menachem. He'd been hiding since the attack started. He said his family were dead. "They are no more. They are no more," Menachem recalled him yelling repeatedly.
As they drove kibbutz members back to safety at the main gate, the residents gathered there gave the Klemensons more and more addresses of family members to save.
The safe rooms were fetid, said Menachem. "People have been urinating. Babies have had their nappies changed."
As the night wore on, the full horror of the attack became clear to Menachem. When he and his brother stopped to move aside the body of a young girl blocking the road, "her brains fell out."
Menachem's eyes filled with tears as he recalled the scene later. "I am a teacher by profession," he said. "I am not supposed to do this. I am a father."
In the girl's case, as with the bodies of other kibbutz residents the trio found, they did not know their identities, nor was Reuters able to identify them. Many people had been burned to death in their homes, he said. "Some people were cooked alive inside their safe rooms because of the heat. We saw it."
Peering into one house, Menachem told his brother and nephew that it was empty. But Itiel corrected him: "There is someone." Inside were the charred remains of someone they judged to be a young person, burned beyond recognition. "The body was like coal," said Itiel, and both forearms were missing.
Nine first responders and soldiers interviewed by Reuters, some of whom were involved in gun battles at the kibbutz, described similar horrific scenes.
Two soldiers, for example, said they saw the bodies of several people who had been handcuffed and shot in the head. Both spoke on condition of anonymity, one because he was not authorized to speak to the media and the other because he was not authorized to give his name.
The commander of the civilian group ZAKA Search and Rescue, Itzik Itah, said he saw a body of a slain woman who had her trousers pulled down around her ankles. One of the two soldiers also described seeing a woman's corpse, at a different location, similarly disrobed.
Itah said he arrived at Be'eri around midday on Oct. 9, the day the fighting ended. In the bedroom of one home, he said, he saw two children whose skulls had been crushed and had knife wounds on their bodies. Their parents lay dead nearby, he said, with similar wounds.
"The dog was alive," Itah said. "It sat there on the bed next to the children and wouldn't move from the bed."
Reuters was unable to independently verify the exact time and locations of the actions described by the soldiers and first responders. Their accounts are in line with evidence presented at media briefings by military officials, supported by visual material, of executions or mutilation of bodies in the Oct. 7 attacks near Gaza.
Hamas has denied accusations of abuse during the Oct. 7 attacks.
Through the night, the Klemenson brothers and their nephew kept running into groups of soldiers who were fighting the Hamas gunmen and extracting residents. "Who are you," the soldiers would challenge them.
"We're with the 60. We're with the 50," Menachem said they told the soldiers. The unit numbers were made up, but in the chaos the ruse worked as the harried soldiers left them to their freelance rescue mission.
They faced horrible choices. A family who had gotten hold of the brothers' number called to say they were trapped on the second floor of a burning building. "It would have been suicide to try to get them out," Menachem said.
They went instead to a family they felt had a better chance of rescuing. Menachem said he told the family who'd called him that they would come back later. They never did. He doesn't know if they survived.
On each foray into the kibbutz, the brothers tried to cram as many people as possible into the four-seater jeep they'd commandeered. The survivors were piled "in layers," Menachem said – adults at the bottom, then children, then babies.
At one point, with the jeep already overflowing, a couple appeared and asked to get in. They insisted on taking their dog. There was no room, and no time to waste. "Either you leave the dog or I shoot it," Menachem recalls his brother Elhanan saying.
They left the dog behind. Later, Menachem heard it had survived.
'WE GO AGAIN'
It was Sunday morning, more than 24 hours after the attack had begun. Menachem was exhausted. To keep himself awake the prior night, he'd found some instant coffee in the guard room at the entrance to the kibbutz, mixed it with cold water and drunk it.
Back in the Vineyard neighborhood, Menachem told Elhanan that this would be their last trip.
He recalls his brother teasing him. "You always say that," Elhanan said. "Then we go again."
It was around 10:15 a.m. There was a clear blue sky and the sun was shining now. Elhanan walked into house 611, momentarily blinded as his eyes adjusted to the darker interior. He didn't see the gunman.
There was a sharp burst of gunfire and Elhanan fell. Menachem, hit by two bullets in his right arm, grabbed his brother by his protective vest and dragged him toward the front door. Nephew Itiel jumped inside and began firing, providing cover.
Elhanan's chest was still rising and falling slowly, Menachem recalled. He looked into his brother's eyes and tried to speak to him one last time.
Elhanan was dead.
It wasn't until the following day, Monday, that the IDF declared the attack over. In the ensuing days, some survivors said they felt unable to summon compassion for the suffering that had started befalling civilians in Hamas-ruled Gaza.
Asked about TV pictures of Gazan children hit in Israeli air strikes, kibbutz chairman Solvy, speaking days after the Oct. 7 attack, said that he didn't "give a shit." He added that people there "voted for Hamas."
Some took a different view. Ella Ben Ami, whose parents were kidnapped, said Gazans were poor people, oppressed by Hamas, and that "like us" most of them were not bad.
Others directed their anger at Israel's own leaders. Politicians and the military had violated a fundamental compact with the residents of Be'eri, said kibbutz secretary Pauker.
"We have what you can call a spiritual deal, a covenant," Pauker said. "We are living near the border, and the army takes care of us."
---
(Reporting by Stephen Grey and Maayan Lubell in Israel, and Ryan McNeill in London; Additional reporting by Deniz Uyar, Emily Rose and Alexander Cornwell; Edited by Peter Hirschberg)
---