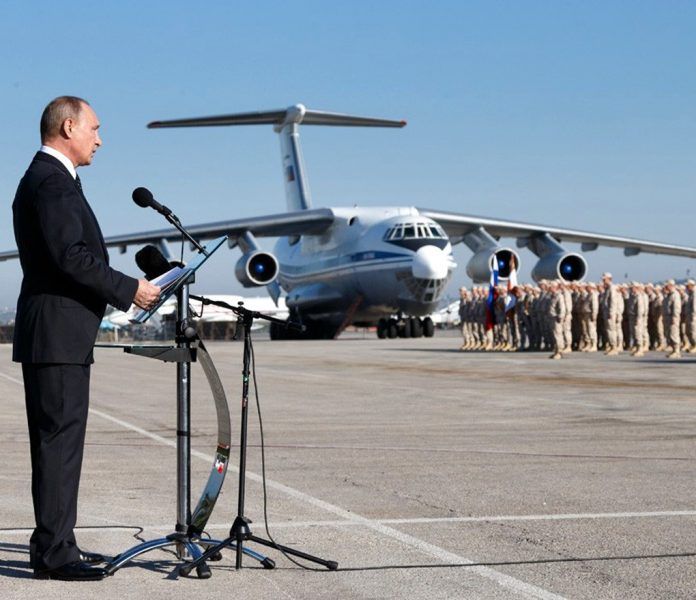 ---
President Vladimir Putin made an unannounced visit to Russia's Hmeimim Air Base in Latakia Governorate, Syria on December 11, where he met with President Bashar al-Assad and senior Syrian and Russian military officers. He announced a partial withdrawal of Russian troops from Syria, RIA Novosti news agency reported.
He said: "I ordered the defense minister and the chief of general staff to start returning some of the troops back to their permanent bases in Russia."
Putin added: "Russian and Syrian forces fought together against terrorist groups in the past two and a half years. And we'll do it again if necessary."
Russia's Defense Minister Sergei Shoigu, who was also at the meeting, said that no date had been set for the troop withdrawal. Kremlin spokesman, Dmitry Sergeyevich, concurred. He said: "There is no definite time frame for the troop pullout." Some observers believe that the move by Putin is aimed at forcing Assad to find a diplomatic solution to the conflict.  
The Syrian trip was mainly a photo opportunity for Putin, who then travelled to Cairo and Istanbul where he held meetings with Egyptian President Abdel Fattah el-Sisi and Turkey's Recep Tayyip Erdogan. "Mr. Putin took a whirlwind tour of Syria, Egypt and Turkey, which underscores his country's more expansive role, and America's diminished influence, in the Middle East", The New York Times wrote. The paper added: "His trip also served to show him as a global statesman to a domestic audience, as he embarks on a campaign for another presidential term."
Arik Istipaniyan, a political observer, told the Sputnik news agency: "I believe Russia will keep its air and naval bases in Syria to carry out strikes against the terror groups. Moscow will also leave some military advisers in the country. But it will significantly reduce the number of its troops."
Turkey, Iran and Russia have a strong presence in Syria. As the U.S. influence wanes in the Middle East, Putin is rushing to strengthen Russia's role in the region.  
---