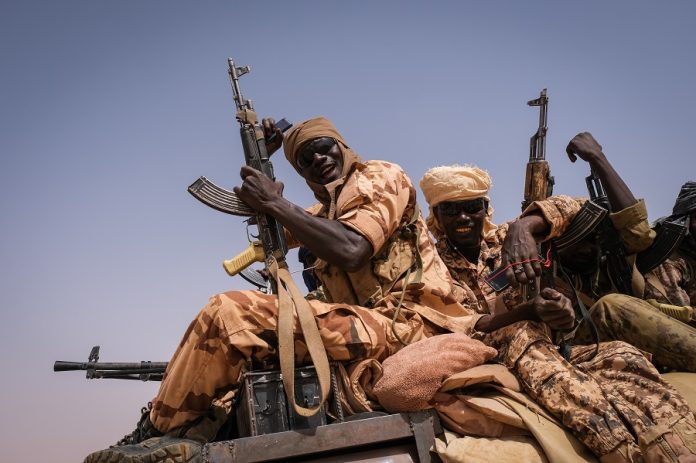 ---
By Dan Williams
---
JERUSALEM, Feb 2 (Reuters) – Chadian President Mahamat Deby, in Israel to open an embassy on Thursday, heard his hosts' concern about what they described as the clout of their arch-foes Iran and Hezbollah in Africa's Sahel region.
Israel only confirmed Deby's visit on Wednesday, a day after he arrived. The trip included a rare stop at the Mossad intelligence headquarters – a sign that bilateral ties re-established five years ago have national security importance.
Chad's embassy is in Ramat Gan, a town abutting Tel Aviv, Israeli Prime Minister Benjamin Netanyahu's office said.
"This is a great day, an historic day for Chad and for Israel, too," Deby said in a videotape of the inauguration.
Iran-Backed Hezbollah Praises Synagogue Attack in Jerusalem -Statement
"I offer a prayer to God that, with the formal opening of our embassy here, relations between our countries will bring value to both peoples, yours and ours."
Standing beside the Chadian president, Netanyahu said: "We are strengthening our friendship, and our common interest in pursuing peace, security and prosperity."
Meeting Deby earlier, Israeli Defence Minister Yoav Gallant "raised the importance of narrowing the influence of Iran and Hezbollah in the Sahel region, as a key to ensuring stability, and thwarting the export of terrorism," Gallant's office said.
There was no immediate comment from the government in Chad or Tehran. In Beirut, Hezbollah's media office declined comment.
OPINION: The EU and Josep Borrell Have Thrown Another Lifeline to the Ayatollahs
The existence or level of Iranian influence in the Sahel has been disputed.
Morocco cut ties with Iran in 2018, accusing it of working through Hezbollah to train and arm the Polisario Front group, which is waging an armed independence struggle for the disputed territory of Western Sahara. Rabat has also warned of Iranian incursion in the Sahel using Algeria as a gateway.
Algeria and the Polisario have denied this and analysts say they have seen no evidence of such Iranian activity.
Muslim-majority Chad has not publicly spoken of any significant presence by Iran or Hezbollah, a Tehran-backed Lebanese political party with a powerful militia, in the Sahel, parts of which are contending with Sunni Islamist insurgencies.
ANALYSIS: Iran's Militia Networks in the Middle East and Africa
In 2018, Chad's then-president Idriss Deby visited Israel, reversing decades of diplomatic distance over its policies toward the Palestinians, whose statehood struggle continues. At the time, Idriss Deby cited a joint fight against terrorism.
Having returned to power last month, Netanyahu has vowed to expand the circle of Arab or Muslim countries that recognise Israel – even as he contends with a deepening and violent stalemate with the Palestinians.
There was no immediate comment on the Chadian embassy opening from Palestinian President Mahmoud Abbas' administration. Abbas' rival Palestinian Islamist group Hamas, which spurns coexistence with Israel, condemned Chad's move.
Israel has no plan to open an embassy in N'Djamena, and runs contacts with Chad out of its embassy in Senegal, an official said.
ANALYSIS: Abraham Accord Could Weaken Iran and Bring Peace to Middle East
---
(Additional reporting by Ahmed El Jechtimi in Rabat, Maya Gebeily in Beirut, Nidal al-Mughrabi in Gaza and Lamine Chikhi in Algiers; Writing by Dan Williams; Editing by Frank Jack Daniel)
---
Similar Articles to This Post