KIRKUK, Iraq, Feb 7 (Reuters) – Iraqi forces launched a security operation along a planned oil transit route to Iran on Wednesday, saying it was clearing and "destroying sleeper cells" in the mountainous border area where two armed groups operate.
Iraqi oil officials announced in December plans to transport Kirkuk crude by truck to Iran's Kermanshah refinery. The trucking was to start last week and officials declined to give reasons for the delay other than it was technical in nature.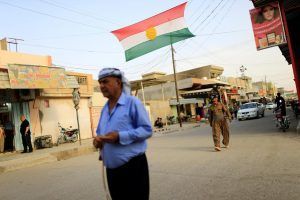 "With the goal of enforcing security and stability, destroying sleeper cells, and continuing clearing operations, an operation was launched in the early hours of this morning to search and clear areas east of Tuz Khurmato," the Iraqi armed forces said in a statement.
The operation is being conducted by the Iraqi army's 9th armoured division, the interior ministry's elite Emergency Response Division, and Iran-backed militias known as the Popular Mobilisation Forces (PMF), with air support from the U.S.-led anti-Islamic State coalition and in coordination with Kurdish Peshmerga fighters, the military said.
A security official in the semi-autonomous Kurdistan Regional Government confirmed Peshmerga coordination.
Sources within the PMF said there were between 200 and 500 fighters, belonging to remnants of Islamic State and a newly emerging militant group known as the White Banners. Other security sources said the militants numbered between 500 and 1,000. The White Banners fighters are believed to come from Kurdish populations displaced when Iraqi government forces and Iranian-backed Shi'ite paramilitary took over areas around Kirkuk and Tuz Khurmato in October, according to Hisham al-Hashimi, a security analyst in Baghdad.
"The White Banners have no connection to Daesh nor to the Kurdistan Regional Government (KRG)," he said, referring to the semi-autonomous Kurdish authorities in northern Iraq, he said.
Iraqi military officials acknowledge the existence of a group called White Banners but refuse to comment on its composition or leadership. The KRG has "strictly no relations whatsoever"' with this group, a Kurdish official told Reuters.
Trucking crude oil to Iran was agreed under a swap agreement announced in December by the two countries, to allow a resumption of oil exports from Kirkuk.
Iraq and Iran have agreed to swap up to 60,000 barrels per day of crude produced from Kirkuk for Iranian oil to be delivered to southern Iraq.
Kirkuk crude sales have been halted since Iraqi forces took back control of the fields from the Kurds in October.
Kurdish forces took control of Kirkuk in 2014, when the Iraqi army collapsed, overwhelmed by Islamic State's capture of large parts of Iraq. The Kurdish move prevented the militants from seizing the region's oilfields.
Iraq declared victory over Islamic State in December, after taking back all the territory captured by the militants in 2014 and 2015. A U.S.-led coalition provided key support to the Iraqi forces, especially in the battle to dislodge them from Mosul, their de facto capital in northern Iraq, in July.
(Reporting by Mustafa Mahmoud; Writing by Ahmed Aboulenein; Editing by Maher Chmaytelli and Raissa Kasolowsky)