The Tehran City Council is planning to name a street or a public place after the pioneering mathematician Maryam Mirzakahni, who died on July 14 at the age of 40 after becoming the first woman to win the Fields Medal, mathematics's highest honor.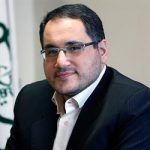 According to the director of the Tehran Research and Planning Center (TRPC), Dr. Babak Negahdari, the proposal to name a public place after Mirzakhani is aimed at recognizing her invaluable contribution to the field of mathematics, and to commemorate her achievement as the only Iranian ever to have received the prestigious medal.
"Our country has made significant progress in the field of science and technology," Negahdari said. "Naming public places after our distinguished scientists would boost confidence and promote scientific research among our inspiring young university students."
The renaming of streets in Tehran and other cities has sometimes been criticized by members of the public, who view these changes as part of the Islamic Republic's pursuit of its own political and ideological agenda. Many in Tehran still use old street names pre-dating the Islamic Revolution of 1978-1979.
Recently, for example, there was outrage over a proposal to name a street in Tehran after the late Farajollah Salahshoor, a conservative filmmaker who promoted religious and Islamic cinema.
The Iranian authorities meanwhile appear reluctant to acknowledge and celebrate the achievements of distinguished artists including the late and world-renowned film director, Abbas Kiarostami.
On July 11, Mojtaba Shakeri, who chairs the Tehran City Council committee for the naming of public places, announced a plan to rename Niyayesh Highway after the late Ayatollah Ali Akbar Hashemi Rafsanjani, the former chairman of the powerful Expediency Council.