---
---
May 17 – The White House's decision to revise its military plans on Iran this week is likely to be a precaution rather than a call to arms, said Dr. Michael Rubin, a former Pentagon official who advised on Iran and the Coalition Provisional Authority.
Reports of an updated military plan were published by the New York Times on Monday, though the existence of the document could not be confirmed. 
The New York Times said Acting Defense Secretary Patrick Shanahan presented the revised plan at a meeting of Trump's top security advisors last Thursday.
"Military plans are upgraded constantly on almost all countries with which the United States has problems, or thinks someday it could have problems [with]. That doesn't mean that there is any intention to implement those plans," Dr. Rubin explained in an interview with Kayhan Life.
"But if a real crisis does occur — think about 9/11, for example — those plans have to be ready instantly. It is sound policy to plan for the worst and hope for the best," he added.
Relations between the U.S. and Iran are at an all-time low after the U.S. government pulled out of the nuclear deal and reimposed sanctions on Iran last year. Iran and the U.S. are currently locked in a verbal confrontation, sparking worldwide concern that the two countries may go to war.
The plan is believed to include an option to send 120,000 U.S. troops to the Middle East if Iran attacks American forces or ramps up its nuclear weapon production.
U.S. President Donald Trump on Tuesday denied that the government had plans to deploy additional U.S. troops to the region. However the U.S. State Department told U.S. diplomats based in Iraq to evacuate the region the following day, just as the Trump Administration warned of an escalated threat from Iran and its proxies in the region. 
The news of an updated military plan against Iran was interpreted by international media this week as a sign that the U.S. was intending to start a war with Iran. Dr. Rubin, who is also a resident scholar at the American Enterprise Institute and a senior lecturer at the Naval Postgraduate School's Center for Civil-Military Relations, told Kayhan Life that this was unlikely to be the case.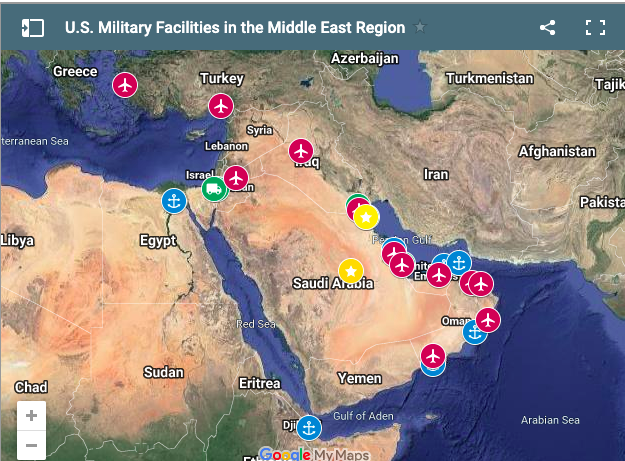 "No one in the U.S. government wants war with Iran and there will be no deliberate plan on the part of the U.S. to start a war. Wars in the Middle East are caused not by oil or water but by overconfidence. I worry that this generation of Islamic Revolutionary Guard Corps officials do not understand the potential consequences of their actions and may do something that will lead to a kinetic response," Dr. Rubin said. 
Meanwhile the contents of the White House's military plan still have not been disclosed to U.S. government lawmakers. Democratic Senator Bob Menendez reminded the Trump administration on Tuesday that any evidence of an escalated threat from Iran and decision to attack the country needed to be vetted by the Senate Foreign Relations Committee, which has jurisdiction over the country's foreign policy. Menendez accused the White House of stonewalling Congress from receiving any information on alleged threats from Iran. 
Dr. Rubin said he believed that a conflict could also be ignited by accident. "The Iranian embrace and deployment of unmanned aerial vehicles (UAVs) can easily lead to situations which spin out of control should those UAVs hit an airliner, helicopter, ship or facility," he suggested.
U.S. suspicions that Iran sabotaged four ships located near the Strait of Hormuz, and launched a drone attack on two pump stations on the East-West pipeline on Tuesday, have also increased tensions between the two countries. 
The incidents led the International Crisis Group, an early-warning platform which monitors tensions between the two countries, to label the threat of conflict in the Strait of Hormuz as 'severe.' 
The Iranian government has repeatedly said it would block the Strait of Hormuz in an attempt to change the U.S. government's strategy towards Iran. The strait is sailed through by ships carrying 30 per cent of the world's crude oil and is sometimes referred to as the world's most important chokepoint for oil. 
As part of its Maximum Pressure Campaign against Iran the U.S. government is attempting to bring Iran's oil exports down to zero through targeted sanctions. Iranian officials have retaliated in the past by threatening to place deadly sea mines at the bottom of the strait.
The Trump Administration also updated its cyber strategy in October to ensure that troops located in regions like the Middle East could carry out operations without interference from cyberattacks. The U.S. government sees Iran as its biggest cyber threat. 
"In the last few months the U.S. government has indicated that Iran is the biggest cyber threat to the U.S., but I am not sure what evidence there is to prove that," Mahsa Alimardani, an Internet researcher at Oxford University focusing on freedom of expression and access to information online in Iran, told Kayhan Life on Thursday. 
"I would say Iran's ambitions to be a cyber threat to the U.S. far outweigh its current threat to the U.S.," she said. 
Mohammad-Javad Azari Jahromi, Iran's Minister of Information and Communications Technology told his Instagram followers on Wednesday that a firewall to prevent cyberattacks on the country's industrial facilities had been successfully tested. 
The Minister said the firewall had been designed by Iranian students and had been developed to neutralize viruses like Stuxnet, the malware responsible for causing significant damage to Iran's nuclear program. Stuxnet is widely believed to be a cyber weapon developed by the U.S. and Israel. 
Views on whether an increased Iran threat exists remain divided. Senior British officer Major General Christopher Ghika, the deputy commander of the anti-Isis coalition Operation Inherent Resolve (OIR), said there was no increased threat from Iran-backed forces in Iraq or Syria during a video-link briefing from Baghdad to the Pentagon on Tuesday. 
U.S. Central Command (CENTCOM) refuted the Major General's claim on Tuesday evening in a statement released on the organization's website. 
---
[amo_member id="110708″ item-width="250″ align="left" item-margin="20″ full-width="yes" panel="right"]
---