---
---
Kayhan London –  People on social media have been outraged by video footage posted in early November which purportedly shows contractors working for the city of Ahvaz, capital of the southwestern province of Khuzestan, setting 200 to 300 dogs alight.
The footage allegedly shows Ahvaz municipality contractors shooting dead hundreds of dogs before loading their corpses, along with those animals that are still alive, onto a van and taking them to a waste dump site in the poor neighborhoods of Mahdis and Bankdaran Heights where they are set them on fire.
The authorities have offered conflicting accounts of what happened. The Ahvaz municipality first confirmed the report, then quickly denied that the incident ever took place. It finally claimed that only three dogs had been burned along with the trash. The city council released a statement saying that the district of Mahdis was part of Kazeroun County and fell outside Ahvaz municipality's jurisdiction.
Mahdis residents have been reporting rapid gunfire and smell of burning corpses at nights. "The city pays the contractors $2.50 for each dog they kill. They can make a hefty sum of money by killing 50 dogs a day," one resident said.
According to Ahvaz city officials, there have been 2,000 recorded incidents of people being bitten by street dogs in one year alone which has cost the municipal health department more $700 to treat each victim. City and provincial officials have always used public health as an excuse to kill street dogs by shooting or burning or burying them alive. There have even been reports of contractors injecting dogs with acid in Ghazvin, Tehran, and Mashhad.
Although cities allocate part of their budgets to creating animal shelters, many hire unqualified contractors who kill the dogs after declaring them sick. The animals are poorly treated at these shelters. Many of them are spayed and neutered in unsanitary conditions. An animal rescue center recently released video footage showing malnourished dogs living in filthy conditions at the Chahardangeh animal shelter in Eslamshahr County, in Tehran province.
"It is clear that the regime doesn't value human and animal life," Behnaz Mehrani, a German-based psychologist and social activist, told Kayhan Life. "It costs money to control the animal population by humanely spaying or neutering them. The regime shortens the lives of many patients with special needs by refusing them healthcare, let alone treating sick animals."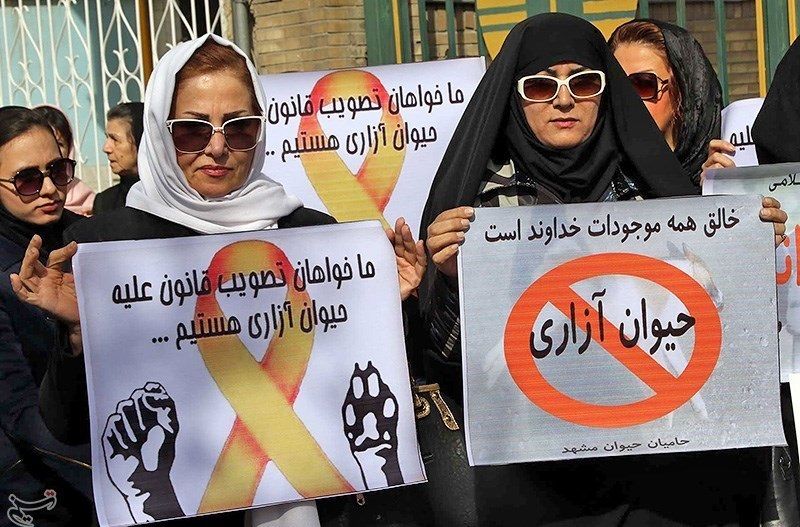 Animal rights campaigners have on many occasions confronted city officials, but the absence of animal protection laws allows contractors to abuse and kill dogs with impunity. Meanwhile, the Majlis (Iranian Parliament) has yet to review the Animal Cruelty Bill and the amendment bill to the Article 679 Penal Code which it received in November 2017. The law only protects endangered species and livestock, but not domestic pets and street dogs.
Despite a rise in the number of people who keep domestic pets in Iran, there are still many superstitious, ignorant and cruel people who consider cats and dogs as "unclean." Social media and the internet are flooded with heart-wrenching images of animals being beaten, strangled, tortured and beheaded and even tied to the back of a car and dragged on a dirt road. It is unclear why animal cruelty is so widespread in Iran.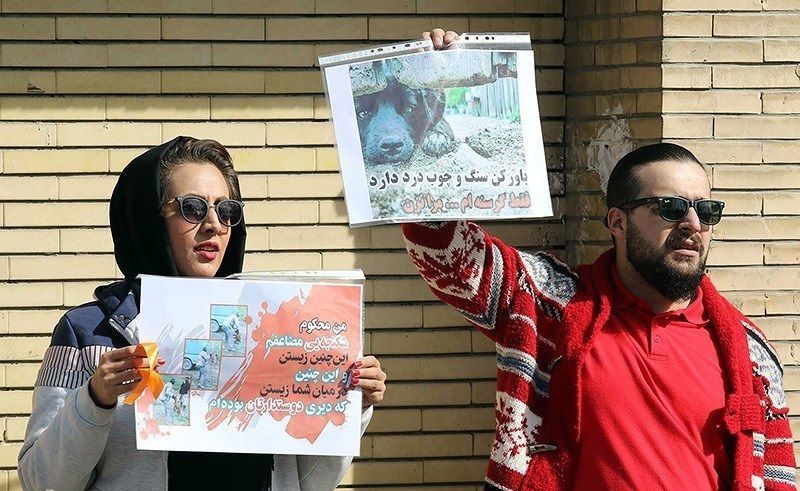 "Most of the victims of animal abuse are cats and dogs," Mehrani noted. "It stems from superstitious beliefs which give some people a license to mistreat animals. Cruelty to animals could be a symptom of bottled up collective anger that is prevalent in Iranian society these days. Widespread discontent, unhappiness, anxiety, and despair manifest themselves in a variety of ways. Children, disabled people and animals are defenseless and susceptible to abuse."
Mehrani explained: "Living with domestic pets and looking after animals is not part of the Iranian culture. Some people abuse animals thinking that cats and dogs don't have feelings and cannot experience such emotions as sadness, fear, and joy. Peaceful coexistence with animals is an alien concept to many Iranians."
Mehrani warned: "Those who are cruel to animals could also abuse humans. This is quite dangerous. People should speak out if they witness a family member, a relative or their neighbor abusing animals. That person could seriously harm or even kill a child."
Mehrani said: "There is an alarming rate of sexual abuse against animals especially dogs in Iran. Authorities didn't allow animal rights campaigners to publish their findings on this issue. The Judiciary doesn't prosecute those who commit such abhorrent acts."
---
Translated from Persian by Fardine Hamidi
---