---
By Natasha Philips
---
8 Jan – U.S. President Donald Trump said in a press briefing Sunday that Iran's government was not doing well and that it wanted to talk. The Iranian government denied any such intention. 
On his way to Camp David, Trump told journalists: "Iran is doing very poorly. Once I took the horrible Iran nuclear deal off, it has had a massive effect in Iran.  They are pulling back troops all over the place. They are not doing well. They want to talk." A transcript of the remarks was tweeted by Laura Rozen, a journalist for the Al Monitor who reports on Washington, foreign policy and the Middle East.
---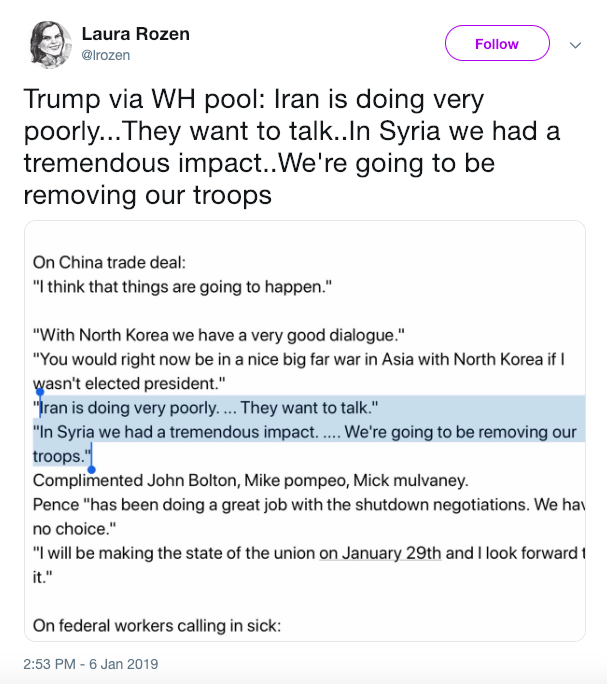 ---
Reacting to the President's comments Monday, Bahram Ghasemi, a spokesperson for Iran's foreign ministry, told Iran's Press TV that the statements were untrue and similar to "the same excessive demands and ambitions of medieval and archaic powers." 
Ghasemi told the news outlet that Trump's views were an expression of the President's "false and unattainable dreams." He added that Trump "should know that the Iranian nation will never bow to U.S. pressures, least of all to the rulers who choose sanctions over respect and walls over bridges… Throughout their turbulent but proud history, Iranians have learned how to resist expansionists and bullies and defeat those hostile to Iran." 
Press TV's report also included comments made during a security conference in Tehran Monday by Ali Shamkhani, Secretary of Iran's Supreme National Security Council. Shamkhani told conference attendees that the US was untrustworthy, and denied Trump's comments that Iran had requested an opportunity to re-open negotiations, pointing out instead that it was the U.S. government that had made requests for a meeting. 
"Iran has not sent any signal or message for negotiations with the U.S. and the Americans have proven that they are not reliable. The history of negotiations also confirms this," he said. 
"Another issue is that it is the Americans – and not the Islamic Republic of Iran – who send messages and announce through their couriers that they are ready for negotiations with Iran," he added.
Separately, reports on the subject by the semi-official Tasnim News Agency quoted Shamkhani as saying at the security conference that the U.S. had tried on two separate occasions to start negotiations with him personally, and that he viewed the U.S.'s potential withdrawal from Afghanistan as an opportunity for the war-torn country to become self-reliant. 
Tensions between Tehran and Washington have been mounting since the U.S. withdrew from the nuclear deal. Both Iran and the U.S. have  said on numerous occasions that the other side has reached out to them to initiate negotiations. 
Trump said publicly in August that he would be willing to speak to Iranian officials at "any time" and "without preconditions." U.S. Secretary of State Mike Pompeo later confirmed Trump's invitation, though he added that Iran would first have to meet certain conditions.
The offer produced mixed reactions. While some Iranians inside the country welcomed the idea of discussions between Trump and Khamenei, the New York Times was sceptical about the proposal, pinpointing Iranian officials' wariness of Trump's tendency to change his mind unexpectedly. 
---