---
---
APR. 26 – Mohsen Rezaei, the secretary of Iran's Expediency Council and a former chief of the Islamic Revolutionary Guards Corps (IRGC) has reacted with fury over Instagram's decision to remove accounts belonging to several Iranian Revolutionary Guards.
Rezaei's Instagram page was one of several accounts removed by the social media platform, depriving the Expediency Council deputy of his nearly 180,000 followers.
"Instagram is the first to declare war on the IRGC after the U.S.'s hostile act of adding the Islamic Revolutionary Guards Corps (IRGC) on the federal register as a terrorist organization," Mohsen Rezaei said on his Telegram account last week.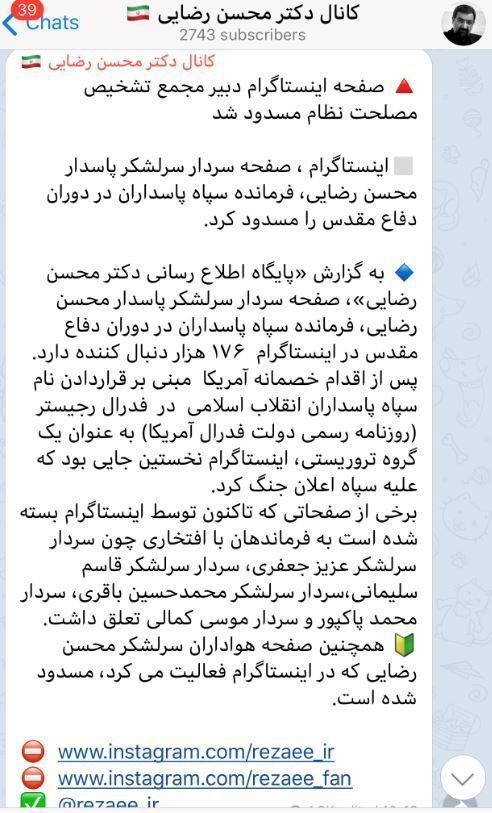 ---
The move by Instagram to shut down accounts belonging to IRGC officials comes after U.S. President Donald Trump designated the military unit a terrorist organization earlier this month. The account closures have heightened tensions between the U.S. and Iran, with both countries locked in a war of words on social media. Access to Western platforms like Instagram is important to the Iranian government, which uses the internet to promote the Islamic revolution and influence international public opinion. 
Reacting to the closures, Iran's Supreme Leader Ayatollah Khamenei shared an image of a poster on his office's Telegram account that showed ordinary Iranians next to IRGC guards walking through a windswept landscape with U.S. dollar bills floating in the air. The poster included a caption that read, "Standing in the storm."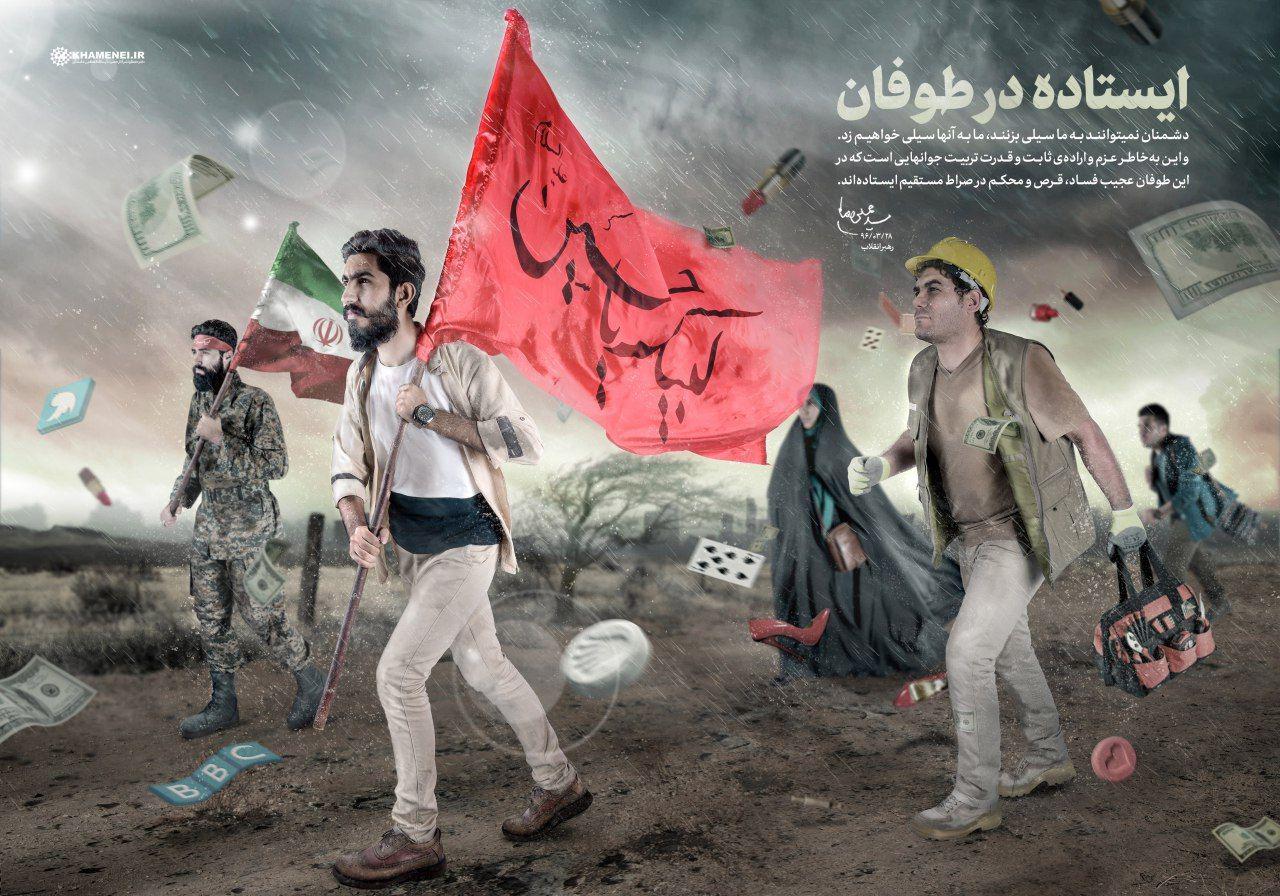 ---
Instagram's decision to remove the IRGC-affiliated accounts was most likely a legal consequence of the U.S.'s designation of the IRGC as a terrorist group, said Dr. Marco Bastos, a lecturer in Media and Communication at City, University of London, in an interview with Kayhan Life.  
"The decision shows that while social media platforms operate globally and across national borders, they're headquartered in nation states and therefore subjected to legal obligations set by local authorities, which by and large means they're constrained by U.S. law," he explained.
"These legal constraints need to be taken into consideration against the backdrop of growing animosity between the Iranian and U.S. governments," Dr. Bastos added.
At least 22 Instagram accounts belonging to IRGC officials or believed to be related to the force have been removed, according to the Iranian media outlet Tabnak Javan. Blocked accounts include those belonging to Major General Azar Jafari, the new head of Iran's Hazrat Baqiatollah al-Azam Cultural and Social Headquarters and Quds Force commander Major General Qassem Suleimani. 
Instagram's removal of the IRGC accounts has upset Iranian officials, as it hinders the government's cyber strategy to extend its influence beyond Iran.
In an attempt to avoid falling foul of Instagram's account regulations, Mohammad-Javad Azari Jahromi, Iran's Communications Minister, removed an image of newly appointed IRGC chief Major General Hossein Salami from his Instagram account after the site deleted Salami's personal page.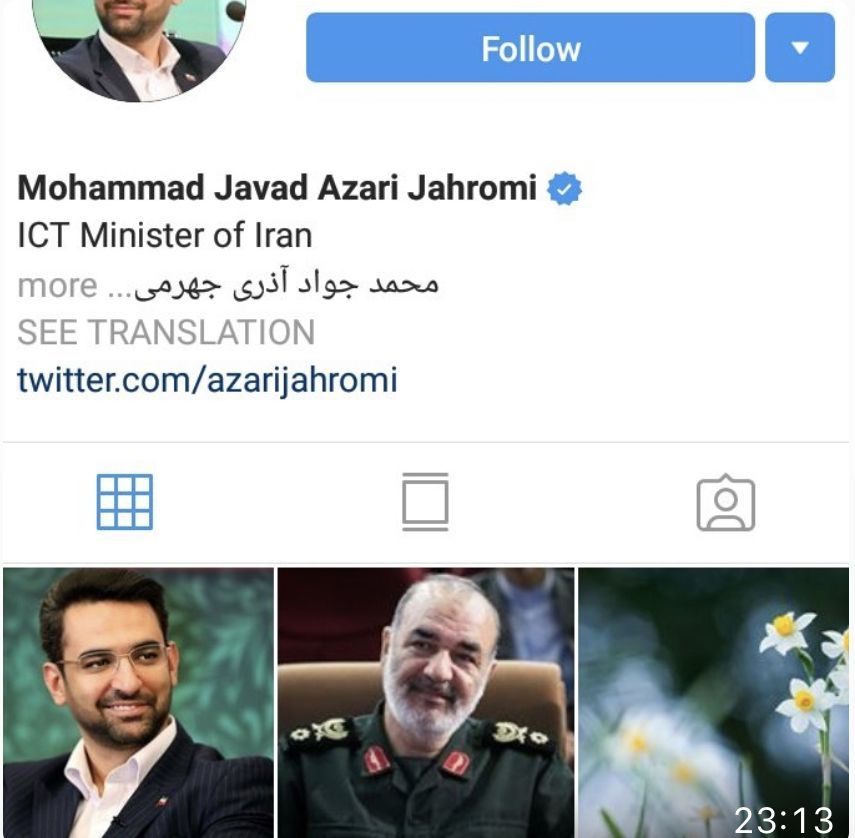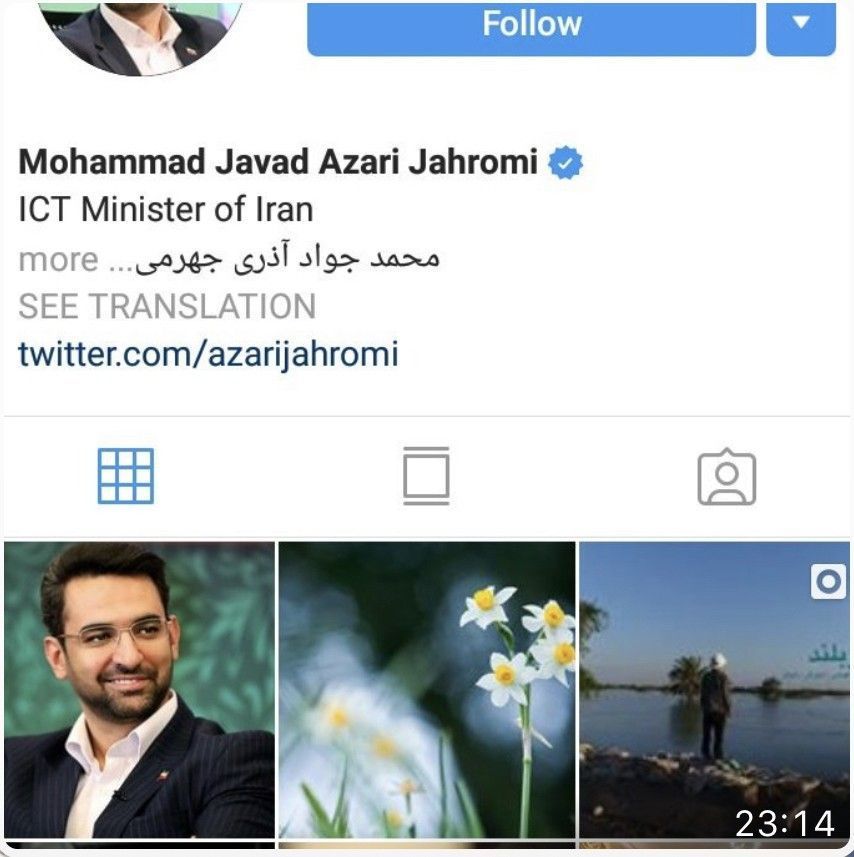 ---
Some government-affiliated accounts on Telegram scrambled to round up lost Instagram followers through their Telegram pages. An official account for General Soleimani shared a notice which read: "Following Instagram's move to block General Qassem Soleimani, this will be the only social media channel for the General moving forward. The publication of stories, messages and news will be in the same order as those on Instagram."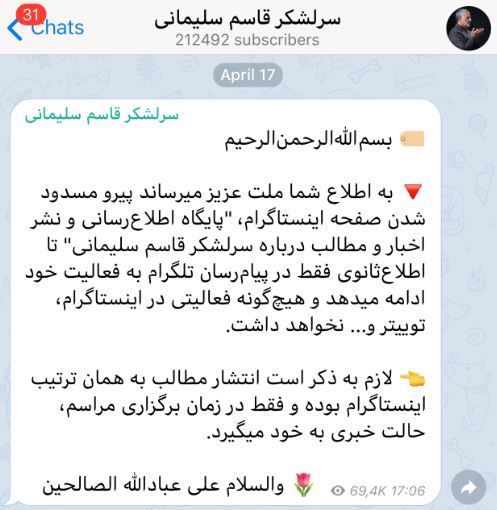 ---
With around 45 million users inside Iran, Telegram is the third most widely used social media platform after Instagram and Twitter, despite Telegram and Twitter being officially banned by the government. 
While the Iranian government has banned Iranians from using certain Western social media sites, it has encouraged its officials to create accounts on Instagram, Twitter and Facebook as part of its cyber warfare campaign. It has also been accused of trying to spread disinformation around the world through Instagram and its parent company Facebook. 
In the first reported case of its kind, Facebook confirmed in March that it had dismantled an Iranian influence operation believed to be led by the Islamic Republic of Iran Broadcasting (IRIB). The operation involved the removal of 513 Pages, Groups and accounts engaged in coordinated inauthentic behavior through multiple networks tied to Iran.
Facebook estimated that around $15,000 had been spent on Facebook advertising during the operation, paid for in U.S. dollars, Indonesian rupiah, Indian rupees, Pakistan rupees, Swiss francs and Canadian dollars. 
The IRIB was sanctioned by the U.S. in 2013 for using state-media transmissions to trample dissent.
Dr. Barcos told Kayhan Life that a similar operation had been uncovered on Twitter and that the findings had been shared publicly to highlight sections of the Iranian government's social media strategy.
"Twitter recently released a large dataset of accounts dedicated to disinformation that were identified as Iranian government-led. The data were made available to researchers and include detailed information about such operations," he said.
In January, Twitter suspended 2,617 accounts linked to Iran that were attempting to meddle in the U.S. midterm election campaign.
---