---
By Kayhan Life Staff
---
The renowned Iranian poet, master of modern ghazal and scholar of Persian literature Amir Houshang Ebtehaj, who also worked under the pen name H.E. Sayeh (meaning shadow), died on Aug. 10 in Cologne, Germany, at the age of  94.
Mr. Ebtehaj was reportedly hospitalized for a few days in June after experiencing a kidney-related health problem.
The poet's daughter, Yalda Ebtehaj, announced her father's death in a poetic tweet: "Look, look around, and search this house, where you are strangers, so explore it as visitors. Our Sayeh has now joined those who passed away long ago."
Amir Houshang Ebtehaj was born to Mirza Agha-Khan Ebtehaj and Fatemeh Rafat in February 1928 in Rasht, the capital of the northern province of Gilan. His father, Mirza-Khan Ebtehaj, was the medical director of Rasht's Poursina Hospital.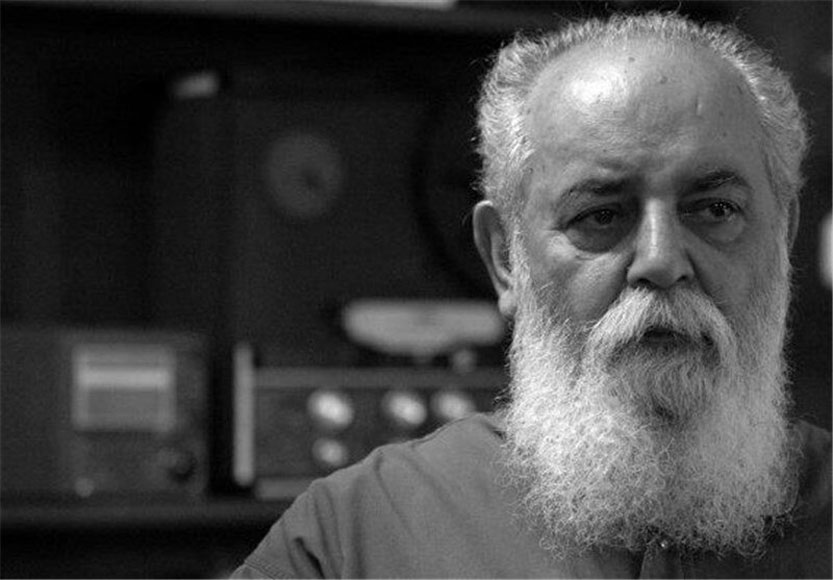 He finished secondary school in Tehran.
Mr. Ebtehaj published his first collection of poems, "Nakhostine Naghmeha" ("The First Songs"), in 1946 when he was only 19 years old.
His other published collection of poems include "Sarab" ("Mirage," 1951), "Siyah Mashgh I" ("Black Exercise" [Sheets] I, 1953), "Shabgir" ("Nocturnal," 1953), "Zamin" ("Earth," 1955), "Chan Barg Az Yalda" ("A few Pages From Yalda," 1965), "Siyah Mashgh II" (Black Practice [Sheets] II, 1973), "Ta Sobhe Shabe Yalda," (Until the Dawn of the Longest Night, 1981), "Yadegar Khoone Cyprus" (Memorial for the Blood of the Cypress, 1981), "Siyah Mashgh III" (1985), "Siyah Mashgh IV" (1992), "Aynen dar Ayneh" ("Mirror within a Mirror," 1995, selected poems compiled by M.R. Shafie-Kadkani), "Tasian" ("Dispirited," 2006), and "Hafez Be Sa'ye Sayeh" ("Hafez, With An Effort From Sayeh," 1994).
The English translations of the above titles are for reference purposes only and are not from any publication of his work in English.
Ebtehaj's career as a poet and a scholar of Persian literature spanned seven decades. He was the music director/curator of Radio Iran and the head of the famous Golha program ("Flowers"), one of the longest-running Persian music and song radio programs, on air from 1956 until the 1979 Islamic Revolution.
Ebtehaj and a few other poets and writers were expelled from the Iranian Writers Association after disputes erupted among the members in the years that followed the Revolution.
Subsequently, Ebtehaj and several other poets and writers, including Mahmoud Etemadzadeh (also known as Beh-azin, 1915-2006), Siavash Kasraie (1927-1996), and Fereydoun Tankaboni (1937-) — all members of the Tudeh party (Iranian communist party) — founded the Council of Iranian Writers and Artists.
Ebtehaj was on the left of the political spectrum and was sympathetic to the Tudeh party charter. He and others with similar political views continued working in government agencies and state radio and TV after the Islamic Revolution.
Although the Tudeh party supported the Islamic Revolution, its members were persecuted and imprisoned shortly after the establishment of the Islamic Republic.
Ebtehaj was jailed for one year in 1983.
Speaking about his time in prison, Ebtehaj said: "They kept me blindfolded in a hallway next to a toilet for 84 days. I slept on the floor tiles. They moved me to a small cell afterward."
In an interview, Ebtehaj recalled the day he and his cellmate heard the iconic song "Iran, Ey Saraye Omid" ("Iran, Place of Hope"), played on the prison's loudspeakers.
"I broke into tears as soon as the song came on the loudspeakers," Ebtehaj said. "My cellmate asked me why I was crying. I said because I wrote the lyrics for that song. He asked why I was in prison if I had written that song."
Renowned Iranian singer and master of classical Iranian music, the late Mohammad-Reza Shajarian (1940-2020) was the first artist to perform "Iran, Ey Saraye Omid."
Amir Houshang Ebtehaj lived in Cologne, Germany, for the latter part of his life.
"I was forced to leave [Iran]," he said in an interview. "One of my children moved to Germany first. Then my wife left for Germany, to be with our child. All my other children moved there afterward. I was banned from traveling abroad but ultimately could leave."
"I did not emigrate voluntarily," Ebtehaj noted. "However, if your life is threatened, you can leave the place where your life is in danger and move somewhere safe."
Asked about continuing to work and write poems while living in Germany, Ebtehaj said: "Yes. It is like a virus that would not leave your body. I am afraid I may also have to write poems in the next world. Writing poems is not contingent on whether you are in Iran, Germany, or Japan. Sometimes things come into a person's mind, and they are compelled to express their feelings. Sometimes more than other times."
Ebtehaj's poem "The Art of Stepping Through Time" is among a collection of his works that are popular with the younger generation of Iranians.
Chad Sweeny and Mojdeh Marashi's translation of Ebtehaj's selected poems titled "The Art of Stepping Through Time" was the first English version of his works published by the U.S.-based White Pine Press in November 2011.
The following is Ebtehaj's poem "The Art of Stepping Through Time" as it appeared in the book:
The world does not begin or end today
Sad and happy hide behind one curtain
If you're on the path don't despair of the distance
Arrival is the art of stepping through time
A seasoned traveler on the road to love's door
Your blood leaves its mark on every step
Still water soon sinks into the earth
But the river rolling grows into a sea
Let's hope that one reaches the target
So many arrows have flown from this old bow
Time taught me to fall out of love with your face
That's why these tears are tinted with blood
Shame this long game of decades
Plays the human heart as a toy
A caravan of tulips crossing this meadow
Was crushed under hoof by the riders of autumn
The day that sets spring's breath in motion
Will birth flowers and grasses from shore to shore
Mountain, you heard my cry today
The ache in this chest was born with the world
All praised brotherhood but did not live it
God, how many miles from tongue to hand?
Blood trickles my eyes in this corner of enduring
The patience I practice is squeezing my life
Come on, Sayeh, don't swerve from the path
A jewel is buried beneath every step
Similar Articles to This Post