---
---
A legal right to consular protection for British nationals detained abroad could prevent countries like Iran from using detainees as political leverage, Richard Ratcliffe, the husband of jailed national Nazanin Zaghari-Ratcliffe, tells Kayhan Life.
Nazanin's detention has been directly linked to a historic deal between the Shah of Iran and the U.K. government just before the Islamic revolution. By the terms of that deal, the U.K. government owes £387 million to Iran for British tanks that were paid for but never delivered. Experts say a settlement of the debt would most likely lead to Nazanin's release.
Mrs. Zaghari-Ratcliffe, who works for the Thomson Reuters Foundation, was arrested at Tehran's Imam Khomeini Airport in 2016 and charged with attempting to bring down the Islamic Republic through the "design and implementation of cyber and media projects," allegations which she denies. After Mr. Ratcliffe alerted the Foreign Office to Nazanin's detention,  it took the U.K. Foreign Office 40 days to arrange a meeting with Iranian officials.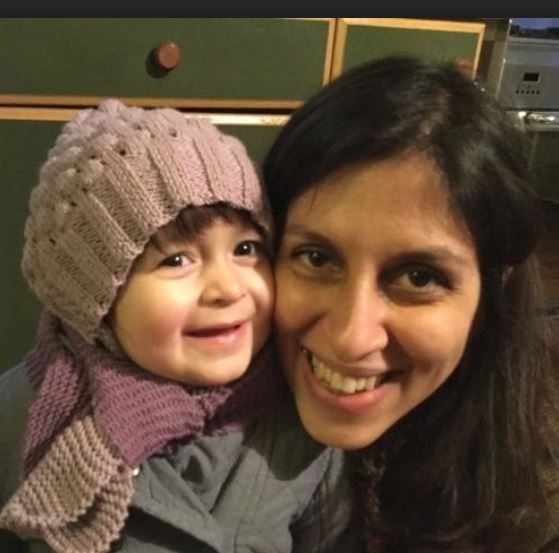 "With the Foreign Office, it is very much about watching and waiting to see what happens, which is the nature of diplomacy. But what that meant in our case was that things took a very long time before there was any clear criticism of Iran's treatment of Nazanin," Ratcliffe said.
The U.K. government's obligations on diplomatic protection and on consular aid extended to nationals detained abroad are discretionary, which means that British detainees do not have an automatic right to assistance. 
Ratcliffe and four other families who have relatives jailed abroad have called on the Foreign Office to offer stronger protections for detained nationals in a petition launched on July 29. The petition has garnered more than 200,000 signatures. 

The measures outlined in the petition would create a uniform response to detentions and make it harder for detaining countries to shirk domestic and international laws upholding the legal rights of detainees.
"If there's room to maneuver, states can refuse to cooperate. Then you get something like the Iranian situation, where the Iranian government refuses to engage, secludes people and then uses them as hostages in a bid to game the consular system."
The call comes after a fellow inmate of Zaghari-Ratcliffe said she had been arrested for being an MI6 spy and psychologically tortured inside Iran's Evin Prison. Ana Diamond, who is an Iranian-E.U. dual national, said she had been kept in the same solitary confinement unit as Mrs. Ratcliffe and had been subjected to grueling interrogations and a mock execution before being acquitted of all charges eight months later. 
In an effort to change U.K. government policy on detentions of nationals abroad, Richard Ratcliffe has collaborated with REDRESS, a charity which works with survivors of torture and campaigns to ensure that governments comply with international standards on detention. Charlie Loudon, the international legal advisor for REDRESS, said the changes proposed inside the petition could be made without infringing on detaining countries' own domestic laws. 
"In most of the cases, we see the prevailing problem being that the detaining country is not upholding its own laws in relation to detention. In essence, we are not asking countries to interfere with the rights of other countries. What we are asking is that the detaining country enforce its own laws on detention or respect international law." 
International law gives states the right to provide consular assistance to detained nationals to ensure that their fundamental human rights are protected, and can help to prevent torture, ill-treatment and exploitation, including the use of detainees as political hostages. 
A High Court decision in London which ruled that the U.K. did not need to pay any interest on the £387 million it owed Iran over the cancelled sale of tanks has complicated Zaghari-Ratcliffe's case. The judgment has increased tensions between Iran and the U.K. which could frustrate any discussions around her release.
The Foreign Office asked the Ministry of Defence (MoD) to settle the outstanding sum from the historic tanker deal in May, but the MoD demurred over concerns that the money could fall into the hands of the Islamic Revolutionary Guard Corps (IRGC), a central Iranian organization which was designated a terrorist organization by the Trump administration. 
The IRGC has also been subjected to U.S. sanctions, making any transfer of funds by the U.K. government to Iran a potential sanctions breach that could lead to hefty financial penalties.
---