---
Kayhan London, November 11: The charges against four of the eight environmentalist members of the Persian Wildlife Heritage Foundation (PWHF), some of whom have been held for more than nine months in detention on suspicion of spying, have now been amended to "spreading corruption on earth," according to the Judiciary spokesman Mohsen Ejei.
In January, agents of the Islamic Revolutionary Guards Corps' (IRGC) Intelligence Organization arrested Kavus Seyyed Emami; an Iranian-Canadian sociologist, Hooman Jokar; the director of the Conservation of Asiatic Cheetah Project (CACP), Niloufar Bayani; the CAPA project manager and former adviser to the UN Environment Programme, Morad Tahbaz; an Iranian-American businessman, Taher Ghadirian; Amirhossein Khaleghi and Sam Rajabi on espionage charges. Another environmentalist, Abdolreza Kouhpayeh, was arrested on February 25 on the same charges.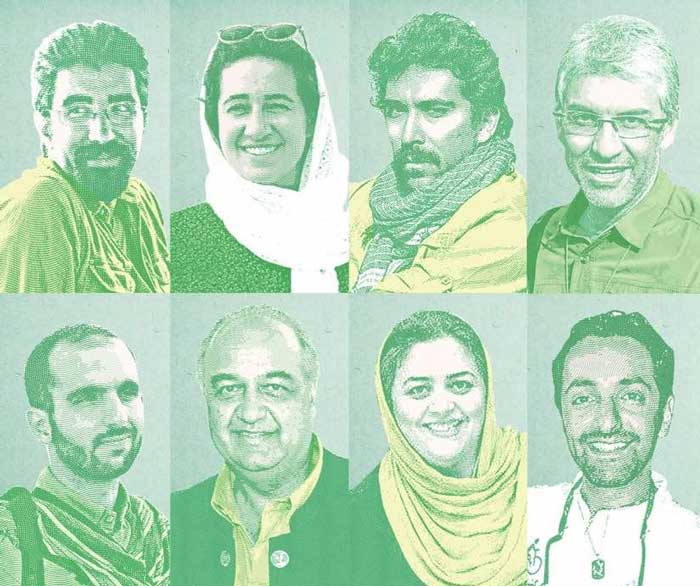 Mr. Emami died under suspicious circumstances two days after his arrest at Tehran's Evin Prison. The official report said that Mr. Emami took his own life.
"The authorities initially charged these individuals with spying, which according to Article 286 Islamic Penal Code could also include committing a financial, cultural or political crime or spreading corruption on earth," Mr. Ejei said. "While some organizations argue that these people were innocent of the charges, others are convinced that they did commit acts of espionage."
Ejei explained: "Field investigators from the General Staff of the Armed Forces [of the Islamic Republic of Iran] have provided the court with a supplementary report that corroborates various testimonies and also support the evidence collected so far. We've concluded that the damages resulting from the unlawful acts fall within the scope of Article 286 of the Islamic Penal Code which encompasses a wider range of offenses than mere spying charges."
آخرین وضعیت پرونده #فعالان_محیط_زیست از زبان غلامحسین #محسنی_اژه‌ای سخنگوی #قوه_قضاییه

#KayhanLondon#کیهان_لندن pic.twitter.com/tFAtEzx4r8

— KayhanLondon کیهان لندن (@KayhanLondon) November 11, 2018
"Espionage is a crime punishable by death if committed during war or carried out on behalf of a hostile government such as Israel – even if it's routine spying. Otherwise; the maximum penalty is a ten-year prison sentence," Ejei noted. "However, if the damages are extensive and pose a domestic or foreign security threat, then they fall within the scope of Article 286. The report by the General Staff of the Armed Forces prompted the court to amend the charges against the defendants from espionage to spreading corruption on earth. The prosecutor's office will file formal charges against the accused at the conclusion of the investigation."
Article 286 of the Islamic Republic Penal Code states: "Any person who extensively commits felony against the bodily entity of people, who commits offenses against the internal or international security of the state, lies, disruption of the economic system of the state, arson and destruction of properties, distribution of poisonous and bacterial and dangerous materials, and establishment of, or aiding and abetting in, places of corruption and prostitution, who causes severe disruption in the public order of the state and insecurity, or causes harsh damage to the bodily entity of people or public or private properties, or causes distribution of corruption and prostitution on a large scale, shall be considered as mofsed-e-fel-arz [corrupt on earth] and shall be sentenced to death."
In a recent report, the Mehr News Agency referred to the detained environmentalists as "CIA and Mossad spies whose mission was to create an environmental crisis and provide information to the U.S. through clandestine networks."
---
Translated from Persian by Fardine Hamidi
---