---
The Iran Bowling and Cue Sports Federation (IBCSF) has banned Akram Mohammadi, the world-class billiard champion and medal winner, from competing in domestic and international billiard tournaments.
Although the IBCSF has not disclosed the reason for taking this disciplinary measure, Ms. Mohammadi told ISNA (the Iranian Students News Agency) that the action was in response to her selling the last billiard table at her club so that she could enter in the 2017 United Arab Emirates (UAE) tournament.
"It was after I'd arrived in the UAE that I discovered that the Ministry of Sports and Youth had deposited funds in the IBCFS account to cover the cost of my trip to the tournament," Mohammadi explained. "I was shocked, and immediately informed the ministry's review board."
The Ministry of Sports and Youth's review board has reportedly been looking into the IBCFC's selection process for the national teams competing in international tournaments, according to ISNA.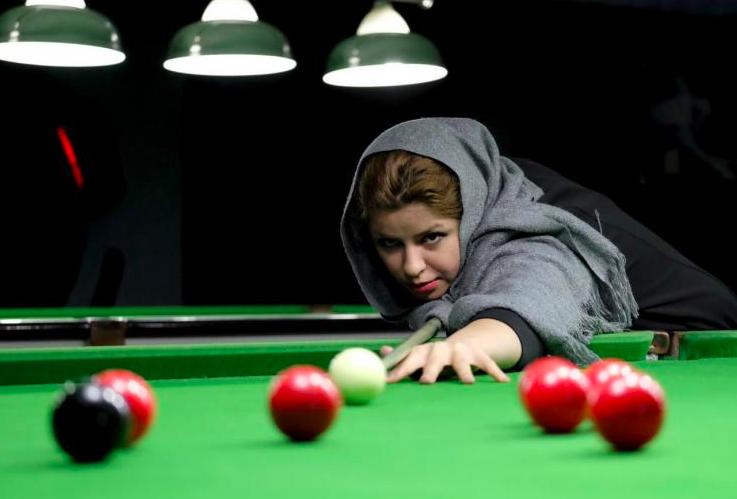 The IBCFC canceled a hearing scheduled for November 28 to review the disciplinary action against Mohammadi.
"Despite the cancellation, I went to the meeting, because I've only received verbal notifications in the past few months, and am still waiting for a written notice," Mohammadi noted. "I made a point of showing up for the meeting in case they claimed that the reason for canceling the hearing was for me not being present on the day. They have postponed the hearing until next week.  Meanwhile, I can't play in any tournaments."
When asked if her exclusion from the Iranian national team had been prompted by her violating the hijab law during the tournaments, Mohammadi said: "That's ridiculous. All the players wear the same uniform-type outfit during the billiard games." 
Mohammadi added: "I suspect that the ban might have something to do with the fact that I was asked to speak to the Sports and Youth Ministry's review board before the IBCFC could select the team. The President of the IBCFC, Hashem Eskandari, has kept his promise and sidelined many referees, committee chairpersons, and players."    
Mohammadi is a three-time Iranian snooker and billiard champion. She has won a total of nine gold medals in domestic games in her entire career. She is the first Iranian woman billiard player to win a medal in the Asian games. Mohammadi is also an accomplished swimmer, scuba diver, lifeguard and basketball player.
---
Translated from Persian by Fardine Hamidi  
---