---
The cost of learning English as a second language has soared in Iran in recent months. Many students cannot afford to enroll in courses that prepare them for the English Language Testing System (IELTS) and the Test of English as Foreign Language (TOEFL), which measure the English-language proficiency of non-native speakers who plan to pursue their university education abroad. Potential candidates must achieve specific scores in one of these two tests before they can gain admission to a university in an English-speaking country.
It currently costs a student over $650 to enroll in an IELTS course. The Central Bank of the Islamic Republic of Iran recently announced that students who enroll in an IELTS class are not entitled to the lower foreign exchange rate offered by the bank. Their families are, therefore, forced to pay considerably more for the U.S. dollar, the British pound and the euro on the open market. Many language schools have experienced a sharp drop in enrollment, causing them to reduce the number of instructors or close down altogether.
---
---
Many experts believe that Iranian schools lack a competent system of teaching English as a second language. This is partly because most teachers are poorly trained and don't have the necessary qualifications and language skills to teach English. Also, the Islamic Republic educational system has systematically omitted English and other foreign languages from the school curriculum. 
Iran's Supreme Leader Ayatollah Ali Khamenei has, on many occasions, warned against the popularity of English as the preferred second language among Iranians. In a meeting with the members of the Academy of Persian Language and Literature in 1991, Mr. Khamenei said: "For instance, I find it strange that Iranian pilots and air traffic controllers should communicate in English on domestic flights. I have banned that practice on those flights that I'm on. I don't understand why a pilot should speak English on a flight to Mashhad?"
During a meeting with teachers in 2016, Mr. Khamenei suggested that instead of English, schools should "teach Spanish, German, French or even Chinese or Japanese" as a second language.
"I'm not urging you to drop English from the school curriculum, but we need to think about what we are teaching our children," the Leader explained. Mr. Khamenei's remarks prompted many officials to call for removing English words from public places including road and traffic signs. Ultimately, elementary schools in Iran dropped English from their curriculum. Interestingly enough, religious seminaries and security forces encouraged their members to learn English.
---
---
Khamenei's deep-seated disdain for all things British was apparent in his comments in 2017, when he said: "The treacherous Pahlavi rule could not survive without the help of academics, poets, writers, and intellectuals. Reza Khan [Reza Shah, the founder of Pahlavi dynasty] tried to uproot Iranian culture with the help of his security apparatus and the support of the British government. In effect, Iranian intellectuals, the literary community and academics supported Reza Khan and served his masters in the English government. They were detrimental to the fate of the Iranian nation."
Many international language academies have been reluctant to establish schools in Iran, fearing the government and the regime's unfavorable view of such enterprises. One such institution is the British Council, which specializes in international cultural and educational opportunities. It is a registered charity which trains teachers and promotes cultural, artistic and academic ideas around the world.
Nousha Eshghipour has been a language teacher in the UK for the past 20 years. She has been working with institutions affiliated with the British Council. Ms. Eshghipour was the head of the IELTS department at London School of Business and Finance (LSBF) School of English for three years.
Eshghipour told Kayhan Life: "The British Council is a nondepartmental public body (NDPB) sponsored by the Foreign and Commonwealth Office. It promotes cultural, scientific, technological and educational understanding and cooperation around the world. It also trains language instructors and sets specific education standards for schools and teachers. The council gives operating licenses to English-language schools around the world and monitors their performances in line with its educational guideline."
Eshghipour pointed out that many teachers who attended courses in the UK had not received proper training in Iran. She said: "Although many Iranian teachers who came to the UK held university bachelors in the English language, they didn't know how to train others in IELTS's methods. They didn't have either CELTA (certificate in teaching English to speakers of other languages) or DELTA (Diploma in Teaching English to Speakers of Other Languages). Nevertheless, some of them had obtained their IELTS certification in Iran and had been teaching already. That's why Iranian language schools could not obtain licenses from the British Council."
"With the absence of British Council in Iran since 2009, the schools across the country would have missed three inspections ( BC inspections take place every three years). But no school in Iran has ever been accredited by BC. This means that Tutors are not checked for qualifications or continuous Teacher development. The use of books, supplementary materials contradict BC requirements. The courses offered, do not meet the standards offered by British Council," Eshghipour noted. 
---
---
According to Eshghipour, authorities in Iran removed pictures of women without headscarves from the British Council's textbooks. They also erased music clips from the educational DVDs and videos. Some government agencies even demanded that British employees of the council working in Iran resign. Iran-UK ties soured after the authorities brutalized young students protesting the results of the 2009 presidential election. Intelligence forces repeatedly summoned and questioned foreign employees of the council. The government eventually revoked their visas. The British Council eventually suspended all its activities in Iran in February of 2009.
---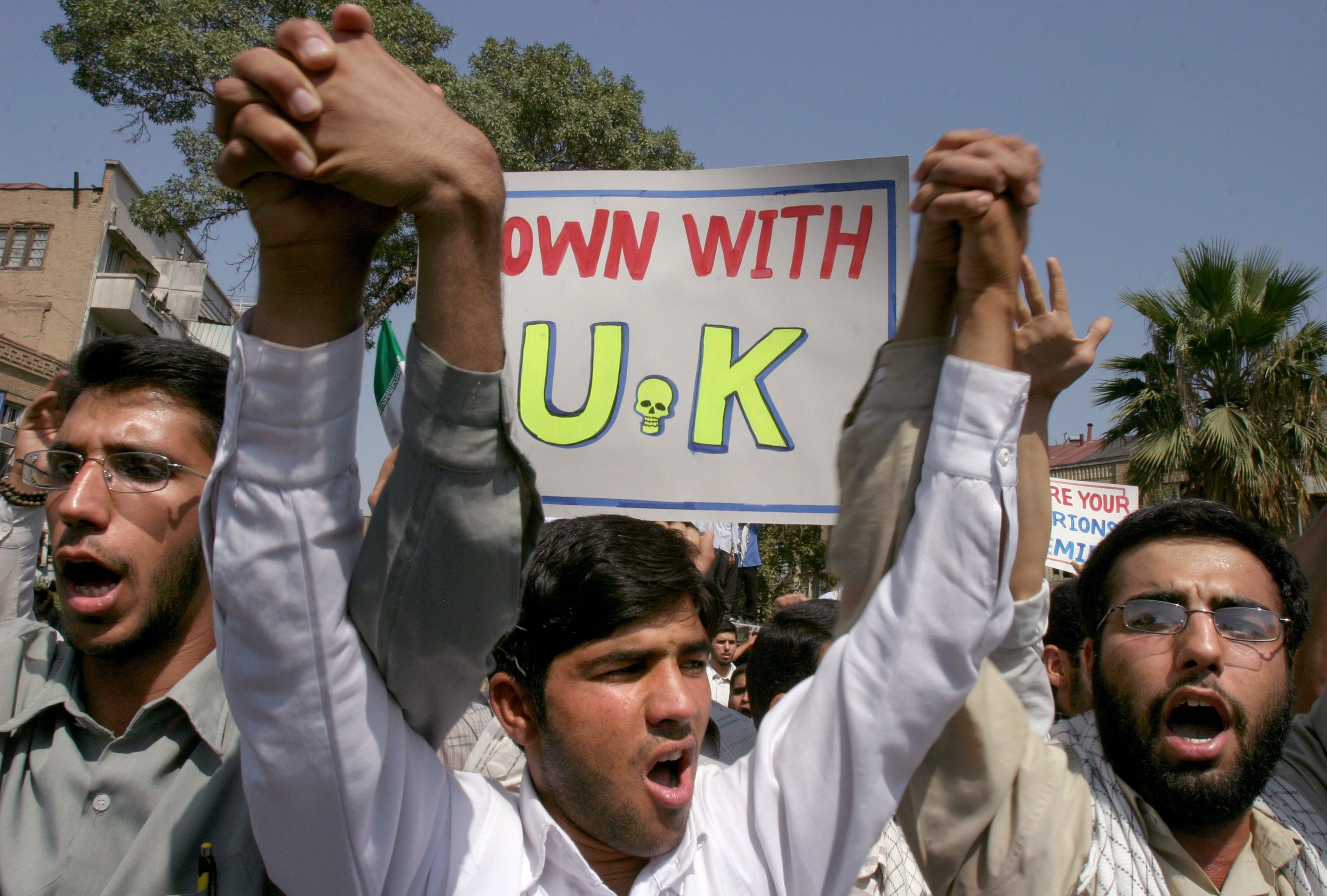 ---
Aras Amiri, a 32-year old Iranian national working for the British Council, was arrested by the authorities in 2017 while visiting her family in Tehran. Before her arrest, Amiri had been living in London for ten years. She has a residence permit and is studying for a postgraduate degree in philosophy of art at Kingston University.
A spokesperson for the British Council said: "Amiri had not been on a work assignment during her visit to Iran. She has been detained by the authorities while making a private family visit. The British Council does not have offices or representatives in Iran. We work remotely to develop long-term people-to-people cultural links with Iran as we do in over 100 other countries." 
---
Translated from Persian by Fardine Hamidi
---