---
By Ahmad Rafat
---
In early January, Nazanin Zaghari-Ratcliffe, a 40-year-old Iranian-British woman, and Narges Mohammadi, another detainee at Tehran's Evin prison, went on a three-day hunger strike after the prison authorities refused to provide them special medical care.
Speaking at a news conference on January 14 in London, Nazanin's husband, Richard Ratcliffe said: "She has developed lumps in her breast and suffers from other health issues including pain and numbness in her arms and legs which require urgent medical attention."
Monique Villa, the CEO of the Thomson Reuters Foundation — where Mrs. Zaghari-Ratcliffe worked at the time of her arrest — and the Iranian lawyer Shirin Ebadi, who founded the Defenders of Human Rights Center and received the 2003 Nobel Peace Prize, also took part in the news conference.
Mrs. Zaghari-Ratcliffe is serving a five-year prison sentence for allegedly "plotting to topple the Iranian regime." She worked as a project manager with the Thomson Reuters Foundation, which is the charitable arm of the Canadian-British news agency Thomson Reuters. At the time of her arrest in April 2016, Nazanin was on holiday in Tehran visiting her family.
Her arrest and imprisonment have received worldwide attention. However, the negotiations between the Iranian and the British governments have not resulted in her release. Iranian authorities granted Nazanin a three-day furlough on August 23.
Narges Mohammadi is an Iranian human rights activist and the vice-president of the Defenders of Human Rights Center. In May 2016, a Revolutionary Court in Tehran sentenced Mrs. Mohammadi to 16 years in prison for unspecified political crimes.
According to Mr. Ratcliffe, on January 13, his wife and Mrs. Mohammadi received verbal assurances from Abbas Khani, the head of Evin Prison clinic, that they would receive medical treatment. "He would, however. not put this in writing," Mr. Ratcliffe noted.
Mr. Ratcliffe said two interrogators from the Islamic Revolutionary Guards Corps (IRGC) visited Nazanin at the Evin prison on December 29, the 1,000th day of her incarceration. They tried to pressure her into agreeing to a three-day leave which she refused. Mr. Ratcliffe explained that Nazanin would agree to an extended leave, and only if the authorities put that in writing, because she believes that short-term visits have adverse psychological effects on her four-year-old daughter Gabriella.
At the meeting, IRGC interrogators tried to pressure Nazanin into working for the Iranian intelligence services upon returning to the UK and to spy on various organizations including Small Media, a London-based research lab and information design studio that specializes in projects supporting human rights. The Organization has published many reports on children's rights, environmental issues, and censorship in Iran.
British Foreign Secretary Jeremy Hunt summoned the Iranian ambassador to the U.K. Hamid Badienejad on January 14, demanding that Nazanin receive proper medical treatment. Mr. Hunt accused Iran of violating her fundamental human rights. "Good to meet Nazanin's inspirational husband Richard Ratcliffe earlier. We will not rest until she is home. #FreeNazanin," Mr. Hunt wrote on his personal Twitter account.
Mr. Badienejad said Hunt's intervention in the internal affairs of Iran would not help Zaghari-Ratcliffe, but rather would increase the hostility of the Iranian people towards the UK. "As with all inmates at the Evin Prison, Mrs. Zaghari will receive proper medical treatment and care," Badienejad told the Islamic Republic News Agency (ISNA).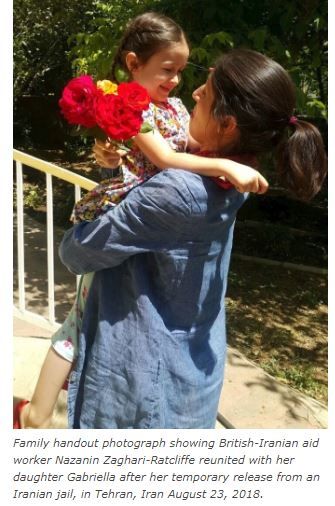 Nazanin has been arraigned twice in court without having the charges explained to her. The Iranian authorities, however, continue to refer to her as a spy.
Shirin Ebadi said: "A spy is, by definition, a person who covertly collects state secrets and passes it on to another government. It is mostly senior government officials who are privy to sensitive security information who commit espionage. Nazanin has never worked for the Islamic Republic of Iran. She has never lived in Iran, and, therefore, could not have access to sensitive state secrets."
Mrs. Ebadi added: "Unfortunately, many men and women in Iranian prisons suffer from serious health issues. Prison authorities do not provide medical treatment to many of the political prisoners who are in poor health. The Iranian regime has carefully planned the gradual and silent death of political and ideological prisoners. A sick inmate who does not receive medical treatment dies. We have known many such deaths in Iranian prisons. A political prisoner who had been gravely ill for a long time died earlier this month after the authorities refused to provide them with medical treatment."
Mrs. Ebadi noted: "The Islamic Republic is not unlike those pirates on the high seas who kidnap people for ransom. The Iranian regime holds dual nationals hostage to extort money from the West. Iran must not use Nazanin as a beginning chip to settle its financial dispute with the UK."
---
Translated from Persian by Fardine Hamidi
---