---
---
The Secretary of the Supreme National Security Council of Iran, Rear Admiral Upper Half Ali Shamkhani, and his Russian counterpart Nikolai Patrushev met on December 18 in Tehran on the sidelines of the second session of the Regional Security Dialogue attended by senior officials and diplomatic delegations from Iran, Russia, Uzbekistan, Tajikistan, Afghanistan, China to discuss security and peace in Afghanistan and war on terrorism.
"A lot has happened since our last meeting a year ago. While some events have helped the countries in the region, others have unfortunately caused more misery and hardship to these great nations," Mr. Shamkhani was quoted by the Islamic Republic News Agency (IRNA) as saying. "Our region continues to be plagued by extremism and terrorism, which threaten our peace and security. We must work together to discover the source of this threat and defeat it."
Iran, Russia and their allies argue that the U.S. military's presence in Iraq, Syria, Afghanistan, and the Persian Gulf threatens peace and security in the region.
"There is ample evidence showing that the U.S. has been supporting Daesh [an Arabic- acronym for the Islamic State of Iraq and the Levant (ISIS)] in Afghanistan. According to our latest information, there are between 2,500 and 4,000 ISIS fighters in Afghanistan," Secretary Patrushev was quoted by IRNA as saying. "America's presence in Afghanistan for the past 18 years has destabilized the country and has caused more bloodshed."
Citing the Israeli Debak-File online news site, the Russian state Sputnik news agency's Persian-language service said on December 11 that Moscow had given the Iranian military the green light to attack all Israeli aircraft flying in Syrian airspace. The report alleged that Moscow and Tehran had struck an agreement regarding Iran's air defense systems in Syria, including the deployment of the long-range road-mobile surface-to-air Bavar-373 missile system.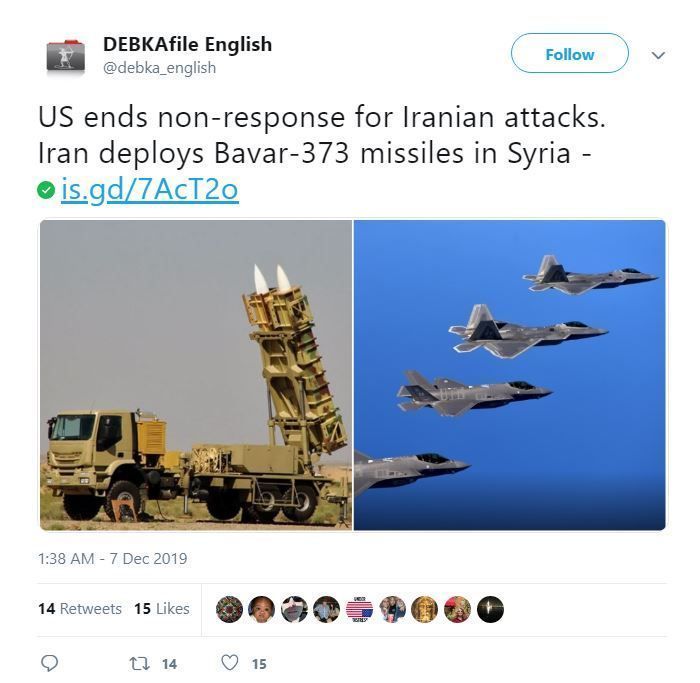 ---
Some Russian and Syrian sources have claimed that Iran has already deployed the Bavar-373 missile system in the city of Homs in western Syria. In recent weeks, Israeli sources have warned that Iran might attack that country using cruise missiles and drones.
"Defense Minister Naftali Bennett is working to intensify Israel's steps against Iranian forces in Syria, to persuade the Islamic Republic to withdraw its forces from the war-torn country soon," the English-language Jerusalem Post said on December 17. "The idea is to use increased operations to force Iran–which saw Syria as an opportunity to increase its regional hegemony–to cut its losses and understand that it is not worth remaining in the country."
"Bennett, who assumed the position in November, sees a window of opportunity to remove Iranian and Shia militia forces from Syria because of the unrest in countries like Iraq and Lebanon, and in Iran itself," the paper added. "Bennett believes that while there is a risk that increased steps against Iran could lead to an attack against Israel, it is better to act now than to wait since waiting could end with Iran having Hezbollah-style force on Syria's Golan Heights capable of launching continuous attacks against Israel."
In an interview with the American television network C-SPAN on December 12, Congressman Mac Thornberry, the Ranking Member of the House Armed Services, warned against a new wave of attacks by the Iranian military against targets in the Middle East.
"I expect Iran will take further aggressive and provocative actions in the coming weeks. I think it is the nature of that regime. They seem to be increasingly desperate, with the unrest in the country, and one way that these authoritarian regimes have of dealing with internal dissent is to lash out and try to find an external enemy," Congressman Thornberry said. "As you remember, two months ago, there were some Iranian ships attacked in the Persian Gulf. They have not retaliated so far. I expect it is coming."
"I think it is important to have a response. I nearly said a proportional response. Maybe proportional is in the beholder's eye," Mr. Thornberry added. "Iran, like other revolutionary sorts of regimes, follows that old saying attributed to Lenin: 'You probe with a bayonet, and if you encounter mash you proceed, and if you encounter steel, you withdraw.' I think that is how they go about international relations. So they will have to encounter some steel and experience some pushback."
The Islamic Republic leaders have accused the U.S. and Israel of fueling the recent massive civil unrest in Iran, Iraq, and Lebanon.
---
[
Translated from Persian
by Fardine Hamidi]
---