---
By Kayhan Life Staff
---
Homa Vahdatkhah (Lohrasb), a former colleague and long-time friend of Kayhan London, passed away on September 15.
Homa's untimely and sudden death has deeply shocked and saddened her family, friends, and colleagues, whose lives were enriched beyond measure by her generous spirit, kind heart, and irrepressible optimism.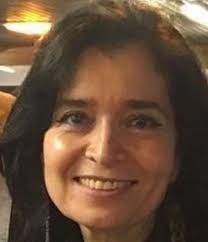 Homa was a member of the original technical team that launched Kayhan London years ago, and remained a loyal friend of the newspaper throughout.
She received a degree in computer engineering from the London Metropolitan University, graduating with honors.
Homa was a key member of the Kayhan family. Her technical expertise, professionalism, dedication, and loyalty endeared her with her colleagues, particularly the newspaper's founder, the late Dr. Mostafa Mesbahzadeh.
She was the managing director of the London-based Satrap Publishing and Translation.
Homa is survived by her husband Ahmad Vahdatkhah, a veteran Iranian journalist and prominent publisher, and their three children Shirin, Farshad, and Max.
Kayhan Life offers its sincere condolences to Homa's husband, children, family, relatives, and friends on their immeasurable loss.
---