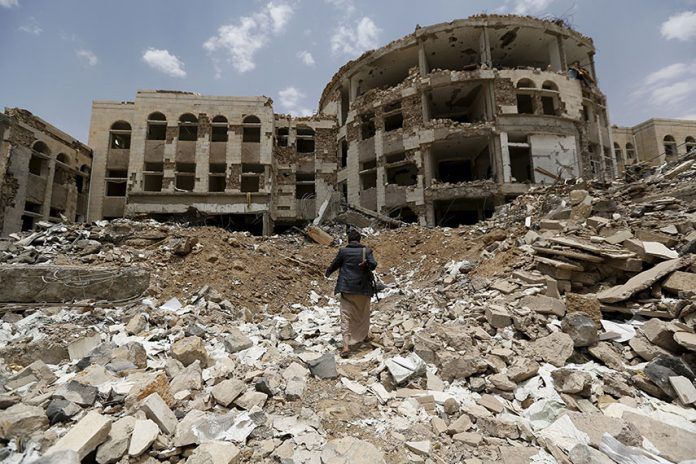 Kayhan Staff
18th March, 2018
---
On April 3rd, the United Nations and governments of Switzerland and Sweden will sponsor a meeting labeled "High-Level Pledging Event in Geneva for the Humanitarian Crisis in Yemen."
The official aim of the conference is "to support the humanitarian response in Yemen and alleviate the suffering of the Yemeni people." The meeting dovetails the UN's 2018 humanitarian appeal for Yemen in which it asked for $2.96 billion "to provide neutral and impartial life-saving assistance and protection to people in Yemen."
The notion of holding such a fundraising meeting is not new. There was a similar meeting last year, again after the 2017 UN Humanitarian Appeal for Yemen initially asked for $2.1 billion but later raised it to $2.3 billion, and raised about 72 percent of the required amount.
There is no debate that Yemen needs all the help it can get. Traditionally the poorest country in the Arab world, Yemen has plunged deeper and deeper into a political and economic abyss since 2011, when a popular uprising that overthrew the government of former President Ali Abdullah Saleh and was supposed to plant the seeds of hope, economic growth and democracy, soon gave way to armed conflict, tribal rivalries and regional proxy war.
By early 2015, it was just about all-out-war when Houthi rebels, who belong to the minority Shiite sect of Yazidis, overran the capital Sanaa and sent the government of elected President Abd Rabbo Mansour Hadi into exile in neighboring Saudi Arabia.
By early 2018, Yemen was suffering the worst humanitarian crisis in the world. According to the UN Office for the Coordination of Humanitarian Affairs (OCHA), "Some 75 percent of the population – 22.2 million people – are in need of humanitarian assistance, including 11.3 million people in acute need who urgently require immediate assistance to survive – an increase by one million since June 2017. Vulnerable populations in 107 out of 333 districts are facing heightened risk of famine and require integrated response efforts to avert a looming catastrophe."
But when delegates attend the Geneva meetings next month, the focus will not be on how to raise the required money to stem Yemen's humanitarian crisis. Saudi Arabia and the United Arab Emirates, which along with the United States, and United Kingdom, are part of a coalition that have been responsible for much of the humanitarian and economic suffering of Yemenis since 2014, last week "donated" $2 billion to stop Yemen's economy from hemorrhaging even further. The amount covers about two-thirds of the international community's humanitarian needs in Yemen this year.
What delegates will most likely be more interested in is whether the proxy war between Iran and Saudi Arabia, which has severely exacerbated the Yemen conflict, might be tempering off, if not stopping altogether.
There have been multiple reports in the past weeks –some confirmed, others simply not denied – that the Houthi leadership has held secret negotiations with Saudi officials in Oman on how to end the conflict. Weeks before that –after they had assassinated one-time ally and former President Saleh and thus could boast further military victory – the Houthi "Higher Revolutionary Committee" sent a "peace proposal" to the UN.
"We have officially submitted our proposal to the UN General Assembly and Security Council," the committee leader Mohamed Ali Al-Houthi said in tweet.
The proposal called for establishing a "reconciliation committee" to iron out differences and hold nationwide parliamentary elections.
While Iranian officials have not officially commented on the Houthi overtures, or on not having been invited to the Geneva conference, they must have seen the proverbial writing on the wall.
While Iran, by some accounts, has been shipping arms and money to the Houthis since 2009, it was not until 2014 when it saw a strategic opening with the fall of Hadi.
One reason Iran has been less successful in Yemen than in Iraq, for example, was that internal disputes never allowed for a clear policy to develop towards Yemen.
On one hand, parliament member Alireza Zakani said after the Houthis came to power in 2014 that "The 1979 Revolution has echoed in the Yemeni capital Sana'a, which became the fourth Arab capital to join the Iranian Revolution, in addition to three other Arab capitals; Baghdad, Damascus and Beirut."
On the other hand, about the same time, according to an article published by the Arabian Gulf Centre on Iranian Studies, Ali Akbar Velayati, adviser for the Supreme Leader Ali Khamenei, told a group of Yemeni scholars that Iran hoped the Houthis "would practice a parallel role to that of Hezbollah in Lebanon."
Whereas people like Zakani saw Iran's involvement in Yemen in religious terms, the senior leadership saw it as a purely strategic regional opportunity.
The same split was apparent when Houthi rebels fired a ballistic missile deep inside Saudi Arabia, with the warhead landing near the King Khaled International Airport in Riyadh. UN investigators, in a classified report, found evidence of Iranian hardware.
That led to a diplomatic frenzy with the United States and other allies wanting to pass a Security Council Resolution to condemn Iran. The resolution was never passed, but comments by an Iranian official gave further proof of internal disharmony over Yemen.
According to a Nov. 17, 2017 report in the Israeli daily Haaretz, "Mehdi Taeb, an influential hard-line cleric who is a brother to the intelligence chief of the hard-line Revolutionary Guard, said in April that Iran tried three times to send missiles to Yemen but were stopped by President Hassan Rouhanis administration over fears of disrupting its nuclear deal with world powers. The Guard, answerable only to Supreme Leader Ayatollah Ali Khamenei, oversees Iran's missile program."
That ambiguity within the Iranian ranks might be one of the three reasons why Iran might be losing the war in Yemen –thought it will likely continue to play the spoiler role.
The second reason is Saudi Arabia's and UAE's deep pockets, something Iran cannot match. Even though most Yemenis blame Saudi Arabia, the UAE, and their western allies as the main culprit for war and destruction over the past three years, the humanitarian needs in Yemen are so bad that many Yemenis will likely take any aid with gratitude, even if it is a hard pill to swallow.
But most importantly, Iran might be losing the war because there are stark differences between Yemen, on one hand, and Iraq, Lebanon, and Syria, on the other.
Throughout its history, Yemen's politics has been dominated by tribal loyalty and shifting political alliances. Despite having invested some "soft" and "hard" power in Yemen, Iran has not made the same investments in Yemen and has not earned the loyalties in the way it has in Baghdad, Damascus, and Beirut.