---
---
Prominent German lawmakers and civil society advocates explored ways of supporting the ongoing protests by women in Iran, in an Oct. 20 online conference organized by the Berlin-based research and advocacy organization Center for Feminist Foreign Policy (CFFP).
Nationwide protests in Iran erupted on Sep. 16 following the death of Mahsa Amini, a 22-year-old Iranian Kurd. She was detained by the country's morality police for breaching the country's strict female dress code, and died in custody. The protesters — men, women and children from a wide range of ethnic backgrounds — began as a show of resistance against Iran's compulsory hijab laws, then grew into a collective call for regime change. The rallies entered their fourth week on Oct. 16 and now include oil workers, teachers and laborers.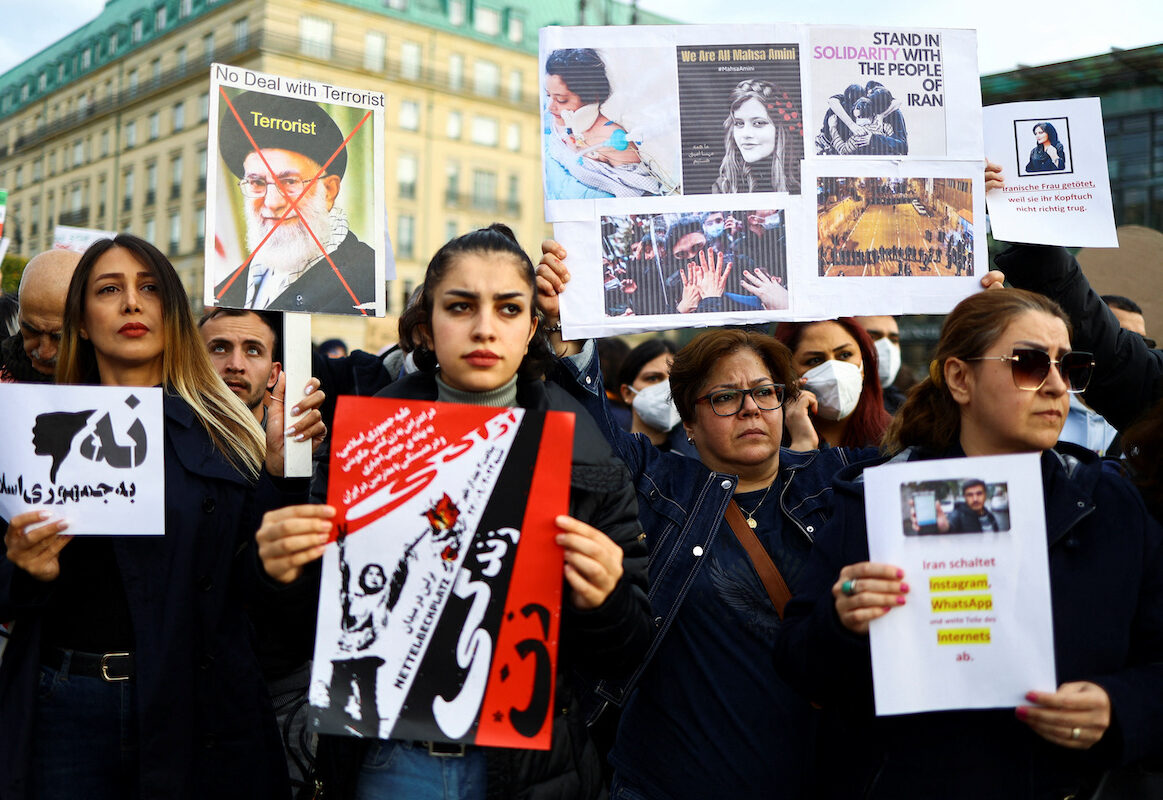 The webinar — titled "In solidarity with the women on the streets: Feminist Foreign Policy Demands towards Iran" —  examined the recent protests through a feminist lens, and stated that the demonstrations were the first of their kind because they were started by women.
Earlier that day, a virtual meeting was held between Nobel Laureate and judge Shirin Ebadi and 40 female foreign ministers from around the world to discuss the state of women's rights in Iran.
The webinar was opened by CFFP co-founder Kristina Lunz, and the keynote speaker was Sanam Anderlini MBE, founder and chief executive of the Washington-based non-profit International Civil Society Action Network (ICAN), which focuses on women's rights and security.
The panel participants were Annalena Baerbock, Germany's foreign affairs minister who was present at the virtual meeting with Ebadi; Sawsan Chebli, a German politician of the Social Democratic Party (SPD); Dastan Jasim, a doctoral fellow at the German Institute for Global and Area Studies (GIGA); journalists in Germany, Gilda Sahebi and Natalie Amiri; and Enissa Amani, an artist and political campaigner.
"If you live in a society where the suppression of women is part of the structural regime, then this is part of the power game," Baerbock said at the conference. "This is not a coincidence, this is a main power tool."
Baerbock added that as part of the Iranian government's response to women protesting, officials had threatened parents that if their teenage daughters were arrested and taken to prison they would be raped and sent home, pregnant. Baerbock said the report had been posted by a verified account on social media, and that "this was not only a war crime, it was a crime against humanity."
On calls to close down the German embassy in Iran, Baerbock said it was better for the embassy to stay open so that there was a German presence to monitor what was happening on the ground, and offer help in cases where people needed to get out of the country.
As regards the 2015 nuclear deal, Chebli said the advantages and disadvantages of the deal remained up for debate. "I asked myself, and many ask themselves, would Iran actually look different today if [former US President Donald] Trump had not withdrawn unilaterally from the deal and had not imposed sanctions on Iran?" she asked. "I would say it's both: it's Trump, but it's also the regime and its foreign and domestic policy."
The panelists went on to discuss the use of sanctions against the Iranian regime and its government, and suggested that targeted sanctions were less likely to disproportionately affect Iran's general population.
They agreed that women in Iran did not need help from outsiders, and that any support given did not obstruct their initiatives to establish freedom. The panel also spoke about the plight of Kurdish women in Iran and the regime's ongoing repression of the country's minority Kurdish and Balouch communities.
The Iranian government's protests were addressed by the UN in a Sept. 27 statement, which said: "UN Women stands with the women of Iran in their rightful demands to protest injustice without reprisal, and to be free to exercise their bodily autonomy, including their choice of dress, and also supports them in seeking accountability, and the upholding of their basic human rights as stipulated in the Charter of the United Nations."
The statement called on the Iranian government to enable women's human rights "without fear of violence, prosecution, or persecution." The UN body expressed its condolences to Mahsa Amini's family at the end of its statement and said: "We remain steadfast in upholding the rights of women and girls in every part of the world."
Similar Articles to This Post