---
By Kayhan Life Staff
---
Kayhan Life has obtained a classified letter sent by the chief of the security organization of the Ministry of Agriculture Jihad to all deputy ministers, heads of departments of the ministry, and managers of other office operating under its auspices, directing them to keep "completely confidential" the content of all official correspondences on prices of food products, including "proposed prices for regulating the market."
The letter, dated May 10 and signed by Mohammad Ali Nasiri, the head of the ministry's security organization, stressed "the need for classifying documents, support material, and official correspondence."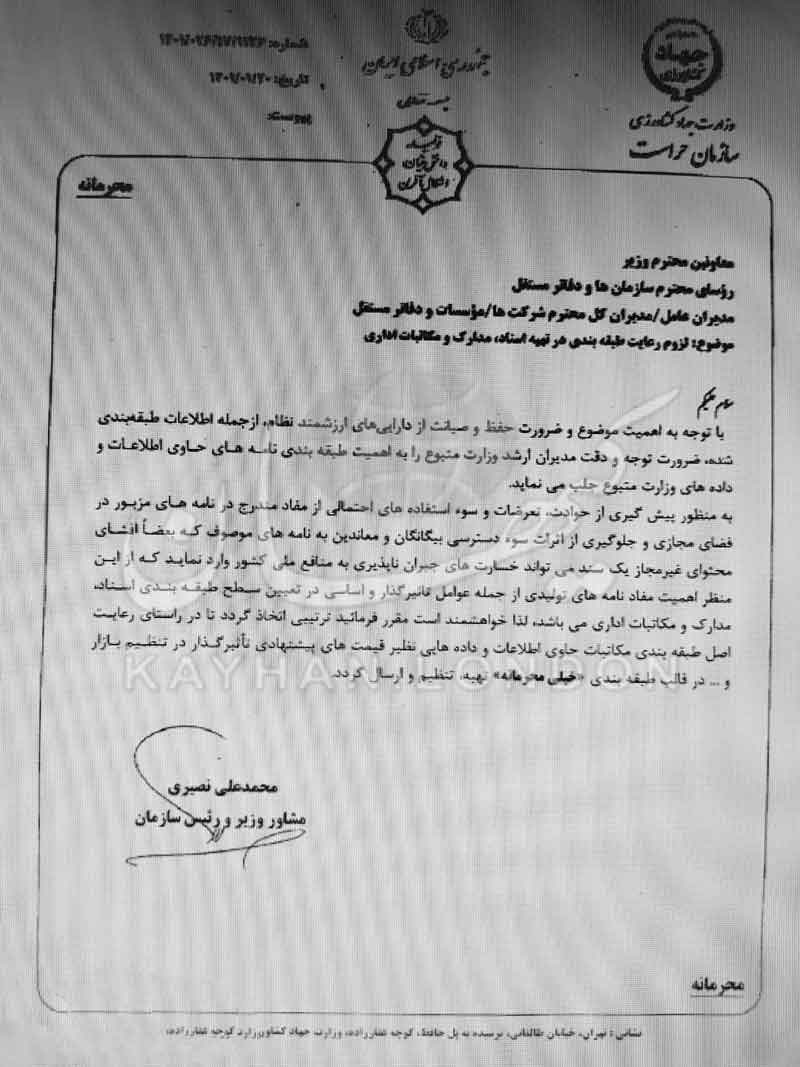 Mr. Mohammadi noted that the measure "aims to prevent incidents, objections and misuse of letters' contents on social media, and stop enemies from obtaining and exploiting the letters."
"The unauthorized disclosure of a letter could inflict irreparable harm to national security," Mohammadi warned. "Therefore, the sensitive nature of the letters about production make their classification a necessity."
The letter urges the deputy ministers, heads of departments, and managers of various offices to maintain the content of all correspondence, including those about prices of food products and proposed prices to regulate the market, "extremely confidential."
Protests over the high cost of living and rising prices of goods, which started in several cities in the southwestern province of Khuzestan and the southeastern province of Sistan and Baluchestan last week, have now spread to some 40 cities around the country.
Protesters are not only dissatisfied with the successive governments' handling of the economy but also have questioned the legitimacy of the Islamic Republic system itself and called for a regime change. Crowds in various cities were chanting "Shah of Iran, come back to Iran," "Reza Shah, God bless your soul," "What a mistake to start a revolution," and "Death to Khamenei."
The government recently rolled out its new subsidy scheme after a massive hike in the cost of industrial-grade wheat flour that pushed up the price of bread and caused a severe shortage of pasta. Under the new scheme, the government increases its subsidies for poultry, eggs, cooking oil, and dairy products.
A large segment of the Iranian population has difficulty making ends meet because of the high cost of living, the rising price of goods, the shortage of food products, and the ongoing economic crisis. Several conservative and reformist politicians have warned President Ebrahim Raisi of possible protests and unrest.
Fearing another nationwide protest by various segments of the Iranian society over the high cost of living, the government has tried to cover up its failure to regulate prices.
The Ministry of Intelligence has directed state media not to report on the protests over the high cost of living and the rising price of goods.
In a meeting with the managing editors of state media, the ministry urged them to publish reports on "the destruction of public properties by agitators and infiltration by foreign elements."
---
---
Similar Articles to This Post