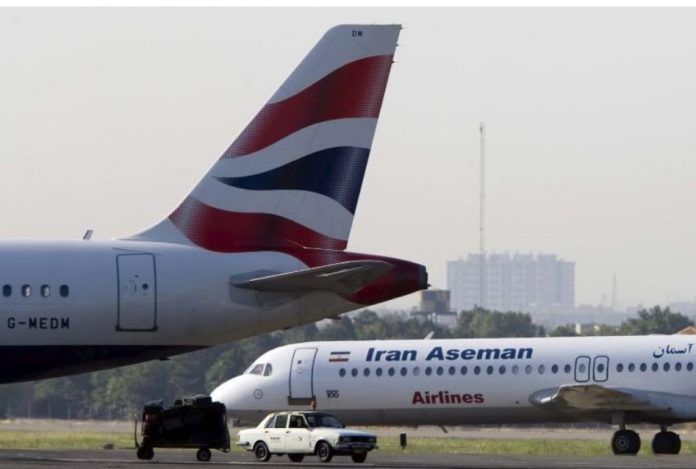 ---
---
The European Union Aviation Safety Agency (EASA) has advised all European airlines to avoid Iranian airspace until further notice, Reuters reports.
"The advice expands on an earlier EASA recommendation that national authorities bar airlines from overflying Iran below 25,000 feet," Reuters said.
The warning by EASA follows an announcement by Iran that its military had "unintentionally" shot down a Ukrainian Passenger plane shortly after it took off from Tehran's Khomeini International Airport on Jan. 8, killing all 175 people on board.
The victims of the crash included 82 Iranians, 57 Canadian citizens, 11 Ukrainian flight crew, and several Afghan, German, and Swedish nationals.
The Islamic Revolutionary Guards Corps (IRGC) shot down the Ukrainian passenger plane a few hours after firing a series of missiles at the Al Asad Air Base in Iraq, which houses Iraqi and U.S. troops.
Iran Says Its Military Shot Down Ukrainian Passenger Plane in Error
While the attack on Al Asad Air Base did not kill any American or Iraqi troops, it served as a facesaving measure for Iranian leaders seeking to avenge the death of Brigadier general Ghasem Soleimani, the commander of the IRGC's Qods Force (IRGC-QF) who died in a targeted U.S. drone strike at Baghdad Airport on January 3.
The U.S. Federal Aviation Administration (FAA) has now banned all American passenger planes from flying over Iraq, Iran, the Persian Gulf and the Gulf of Oman.
The Swedish Transport Agency also temporarily suspended all flights by Iran Air to Stockholm and Gutenberg on January 13. Iran Air flies twice a week, typically on Saturdays and Wednesdays to Stockholm and once a week on Mondays to Gutenberg.
Iran Air has informed all its passengers of the cancellations and changes to flight schedules. The airline has reportedly sold out all flights to the two Swedish cities for the Nowruz vacations (Iranian new year starting March 21). The airline will incur a massive loss in revenue because of the cancellations.
While German airline Lufthansa has canceled flights to Iraq, Air France and Dutch carrier KLM have suspended all flights over Iranian and Iraqi airspace until further notice.
The public relations office of Imam Khomeini International Airport released a statement on Jan. 12 advising all passengers traveling abroad to check the status of their flights with the airline before heading to the airport, given the massive cancelation of flights to Europe.
---
[Translated from Persian by Fardine Hamidi]
---