---
By Ahmad Rafat
---
A two-day summit on maritime security in the Persian Gulf, the Strait of Hormoz and the Sea of Oman, attended by senior diplomats from 63 countries, ended on October 22 in Manama, capital of Bahrain.
Poland and the U.S., which sponsored the summit, had also organized a similar event titled "Ministerial to Promote a Future of Peace and Security in the Middle East" back in February in Warsaw.
Iran was not invited to either summit.
The meeting in Warsaw, however, coincided with the 4th trilateral Syrian peace conference, held in the Black Sea resort of Sochi, between Iranian President Hassan Rouhani and his Russian and Turkish counterparts Vladimir Putin and Recep Tayyip Erdogan.
Washington, Riyadh and their allies believe that Tehran was behind the attacks on two oil tankers — the Panamanian Kokuka Courageous, and Norway's Front Altair — in the Strait of Hormoz on June 13, and drone strikes on Saudi Arabia's Abqaiq and Khurais oil facilities in the southern part of the country on September 14.
Tehran has called the allegations "ridiculous," insisting that it had nothing to do with the attacks on the oil tankers. It has also said that Shia Houthi rebels in Yemen had launched the missiles that hit Saudi oil fields.
The heightened tensions in the region prompted the U.S. to form an international coalition in July and to launch "Operation Sentinel" aimed at ensuring maritime security in the Persian Gulf, the Strait of Hormuz, the Bab el-Mandeb Strait (BAM) and the Gulf of Oman.
In his opening remarks in Manama, Bahraini Foreign Minister Sheikh Khaled bin Ahmed Al Khalifa highlighted the need for a concerted and coordinated effort to deal with threats to maritime security in the Strait of Hormuz waterways following recent attacks on several oil tankers in the Persian Gulf.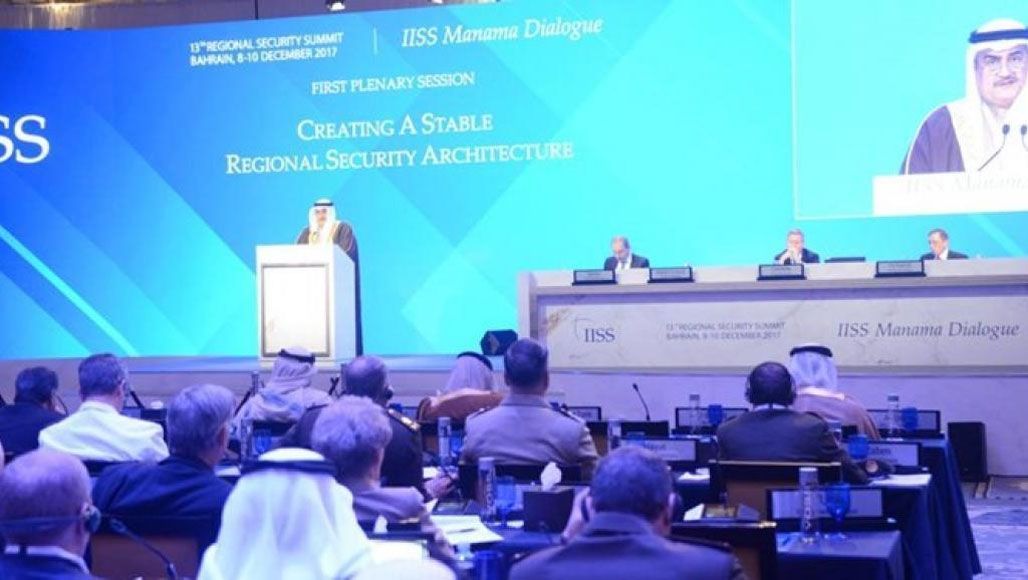 "These actions threaten international commerce, the stability of our global and interconnected economy, and the security of our region. The threat is serious and must be addressed," Foreign Minister Al Khalifa said. "We must condemn such acts and take the necessary steps to protect our nations against rogue states and terrorist groups that aim to destabilize our globe by carrying out such attacks."
Mr. Al Khalifa also accused Iran of trying to destabilize Bahrain by arming militant groups in that country.
"The number of arms that Bahrain confiscated was sufficient to destroy half of the capital," Al Khalifa said in an interview with the English edition of the Arabic-language London-based newspaper Asharq Al-Awsat on October 18. "Iran should send a message of peace and good neighborliness, or else, Tehran should be held responsible for its actions in the region."
Iranian Foreign Ministry Spokesman Abbas Mousavi, however, dismissed the allegations by Al Khalifa that Iran was meddling in his country's internal affairs.
"These are unfounded accusations," Mr. Mousavi said at a news conference on October 21. "Iran seeks dialogues and close ties with these countries."
Dana Benvenisti-Gabay, director for regional security and counter-terrorism at the Israeli Foreign Ministry, also took part in the Manama meeting. Her participation in the conference was significant, because Israel and Bahrain do not have formal diplomatic ties. Also, this was the first time that a senior Israeli official attended an Arab summit.
"This meeting comes at a critical moment in history," U.S. Secretary of State Mike Pompeo said in a letter read at the start of the Manama summit. "The proliferation of weapons of mass destruction (WMD) and their means of delivery, whether by air or sea, poses a serious threat to international peace and security. Together, we must all be committed to taking the necessary actions to stop countries that continue to pursue WMD at great risk to all of us."
Britain and Australia recently joined the U.S.-led coalition, but EU member states have been reluctant to deploy any carriers to the Persian Gulf.
Japan recently announced that it planned to deploy several Navy ships to escort its tankers in the Sea of Oman, but not in the Persian Gulf, to avoid upsetting Tehran.
The Bahrain summit coincided with a meeting between senior military commanders from the Cooperation Council for the Arab States of the Gulf (GCC) and their counterparts from Egypt, Pakistan, Britain, France, Germany, Italy, Greece, Netherlands, South Korea, New Zealand and the U.S. in Saudi capital Riyadh on October 21 to discuss maritime security in the Persian Gulf, Strait of Hormoz and Sea of Oman.
In his opening remarks, Chairman of the Joint Chiefs of Staff of Saudi Arabia General Fayyad al-Ruwaili pointed out that 30 percent of the world's energy supply moved through the Strait of Hormuz and called for greater cooperation in addressing security concerns in the region.
"The region has been in a state of perpetual crisis since the Islamic Republic regime came to power," General al-Ruwaili said. "The regime has tried to destabilize the region and spread its revolutionary ideology throughout the world. It has also violated several international treaties. The Islamic Republic has exploited sectarian conflicts and used militias and armed groups to export its revolutionary doctrine and wreak havoc in the region."
Speaking to reporters on the sidelines of the Riyadh summit, the commander of the U.S. Naval Forces Central Command/Fifth Fleet, Vice Admiral James Joseph Malloy, said: "Iran has not drawn back to a less threatening military posture in the region following the September 14 attack on Saudi Arabia."
Following his meeting with Saudi Arabia's Crown Prince Mohammed bin Salman on October 22 in Riyadh, U.S. Defense Secretary Mark Esper tweeted: "I had a very productive meeting this evening with HRH Crown Prince Mohammed bin Salman. We discussed many bilateral issues. Most importantly, I wanted to reinforce the U.S. commitment to helping Saudi Arabia defend itself in a time of destabilizing Iranian activity."
Mr. Esper said that the primary purpose of his visit to Riyadh was to discuss ways to curb "Iran and Russia's influence in the region."
Russian President Vladimir made an official visit, only his second, to Saudi Arabia on October 14, to discuss economic and security cooperation with Crown Prince Mohammed bin Salman. During Mr. Putin's visit, the two countries signed several trade agreements worth $10 billion. Mr. bin Salmon reiterated Saudi Arabia's commitment to cooperate with Moscow to "promote peace and stability, fight terrorism, and create economic and trade opportunities in the region."
Europe and the U.S. are concerned about Russia's increasing influence in the Middle East.
Bahrain also hosted another conference earlier in June on Palestine called "Peace to Prosperity," which included discussions on maritime security in the Persian Gulf.
"Iran has engaged over the past couple of months in a long series of unprovoked and unjustifiable attacks," Former U.S. National Security Advisor John Bolton on the sidelines of the Palestinian peace conference. "It would be a big mistake for Iran to continue this kind of behavior."
---
[
Translated from Persian
by Fardine Hamidi]
---