---
By Kayhan Life Staff
---
In an interview with the Iranian Labor News Agency (ILNA) on Aug. 15, Javad Karimi-Ghodoosi, a member of the Majlis (Iranian Parliament) National Security and Foreign Policy Committee, rejected any suggestions that the knife attack on the award-winning author Salman Rushdie was part of an organized conspiracy.
Mr. Karimi-Ghodoosi, a staunch conservative Majlis deputy representing the Mashhad and Karat electoral district in the northeastern province of Khorasan Razavi, is one of the few senior state officials who has spoken publicly and at length about the attack on Mr. Rushdie.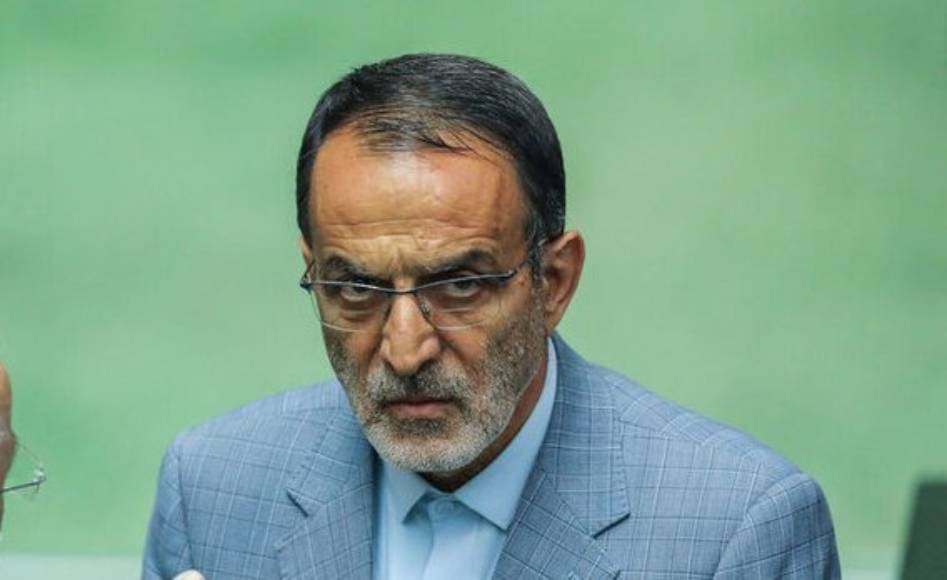 He also denied that Iran sent a member of the Islamic Revolutionary Guards Corps (IRGC) to assassinate the former US National Security Advisor John Bolton.
Rushdie, an acclaimed Indian-born British-American author, was attacked on Aug. 12 in Chautauqua County, New York, at an event where he was scheduled to discuss the U.S. "as an asylum for writers and other artists in exile and as a home for freedom of creative expression."
Mr. Rushdie survived the attack but suffered life-changing injuries.
Hadi Matar, a 24-year-old man from Fairview, New Jersey, was charged with attempted murder and assault and held without bond.
Two days before the attack on Rushdie, U.S. authorities charged a 45-year-old Iranian man, Shahram Poursafi, for plotting to kill former U.S. National Security Advisor John Bolton, who served in former U.S. President Donald Trump's administration from 2018 until 2019.
U.S. officials believe that Mr. Poursafi, a member of the IRGC, is currently in Iran. He is wanted by the U.S. authorities for alleged "use of interstate facilities in the commission of murder for hire; providing and attempting to provide material support to terrorists." He allegedly tried to pay a hitman $300,000 to kill Secretary Bolton.
U.S. Charges Iranian With Plotting to Murder Ex-Trump Adviser Bolton
According to the U.S. authorities, Poursafi was likely seeking revenge for the U.S. strike that killed General Ghasem Soleimani.
Iran promptly denied any connection to the attack on Rushdie and the alleged assassination plot against Bolton.
"Iran strongly warns against any action taken against Iranian citizens under the pretext of these ridiculous and baseless accusations," Iranian Foreign Ministry Spokesperson Nasser Kanaani said on Aug. 12.
Mr. Kanaani also denied that Iran had a hand in the attack on Rushdie.
"We categorically deny any link with the attack," Mr. Kanaani said during his weekly press conference in Tehran on Aug. 15. "No one has the right to accuse the Islamic Republic of Iran."
Kanaani blamed Rushdie and his supporters for the attack on the author.
"We believe no one else but Salman Rushdie and his supporters is to blame and condemned for the attack," Kanaani said. "By insulting sacred Islamic principles and crossing the red lines of 1.5 billion Muslims and all followers of the divine religions, Salman Rushdie has exposed himself to the anger and rage of the people."
Echoing the Iranian Foreign Ministry's views, Javad Karimi-Ghodoosi told ILNA: "What happened in New York was that an American-born young man carried out Salman Rushdie's apostasy sentence. It was not connected to any party or organization. According to the CIA, he was an amateur and received no help."
"He already had an opinion about Salman Rushdie and knew about the Imam's [Ayatollah Ruhollah Khomeini] decree, and as a religious person who followed the Prophet's message, he tried to execute the decree," Karimi-Ghodoosi argued.
"This strong evidence rejects the White House's claim that Iran sent an IRGC officer to America to kill former U.S. National Security Advisor, John Bolton. This incident refutes that claim," He added.
Rushdie's book "Satanic Verses," first published in 1988, sparked controversy over its depiction of the Prophet Mohammed. A year later, the late Ayatollah Ruhollah Khomeini, the founder of the Islamic Republic, issued a fatwa (religious edict), ordering Muslims to kill Rushdie.
Rushdie went into hiding for years following the death threat.
Several hardline newspapers in Iran, including the Tehran-based Kayhan, have praised Rushdie's assailant.
Kayhan's front-page headline on Aug. 14 said: "God Has Exacted Revenge on Salman Rushdie. Trump and Pompeo are next."
Another of @khamenei_ir's newspaper celebrates the assassination attempt on #SalmanRusdhie, writing:

"Satan's eye has been blinded!" pic.twitter.com/wtHZpAcUS7

— NUFDI (@NUFDIran) August 13, 2022
"A thousand bravos to the brave and dutiful person who attacked the apostate and evil Salman Rushdie in New York," the paper added. "The hand of the man who tore the neck of God's enemy must be kissed."
Echoing Kayhan's warning to former U.S. officials, Javad Karimi-Ghodoosi said: "The reason that [former U.S. Secretary of State Mike] Pompeo, [Donald] Trump, and others are on Iran's list of sanctioned individuals is that they have accepted responsibility for crimes they committed in their official capacity, including the assassination of martyr Soleimani, and Abu Mahdi al-Muhandis."
The late Lieutenant Ghasem Soleimani, the former Commander of the IRGC's Qods Force (QF), and Abu Mahdi al-Muhandis, the Commander of Kata'ib Hezbollah (Hezbollah Brigades), died in a U.S. drone attack on Baghdad International Airport on Jan. 3, 2020.
Arguing that Iran was not behind John Bolton's assassination plot, Karimi-Ghodoosi said: "The Islamic Republic does not need to send a member of the IRGC to the heart of the enemy because they are proud people in that country [U.S.] who know our stance and have the means, so when an opportunity presents itself, they will take revenge on Pompeo, Trump, and others."
"Given that fact, international intelligence agencies and experts in this field consider the White House claim as amateurish and ridiculous. Everyone knows that a security agency never sends its main agents to the field, as long as there are foreign nationals who can carry out such operations," He added.
"Even if Iran wanted to exact revenge, it could do so from afar by finding and paying local street gangs in New York's Manhattan to carry out the job," Karimi-Ghodoosi argued. "They can do the job instead of sending an IRGC member from Iran to New York, which is more dangerous. Therefore, there is no technical merit in this claim. It only serves for speculation and analysis."
Karimi-Ghodoosi also refuted suggestions that the alleged assassination plot against John Bolton and Mike Pompeo would impact the ongoing Vienna talks on reviving the 2015 Joint Comprehensive Plan of Action (JCPOA) Iran nuclear talks.
"Some people believe the story about Bolton and Pompeo is connected to the [Vienna] talks and possible new [nuclear] agreement. There is no truth to that," Karimi-Ghodoosi asserted. "The Zionist regime can disrupt the talks easily if it wants to, given its influence in the White House and through its lobbyists."
While Iranian officials have denied involvement in the attack on Salman Rushdie, hardline newspapers praised the attacker.
Jame Jam newspaper, owned by the Islamic Republic of Iran Broadcasting (IRIB), placed a picture of Rushdie with devil horns on its front page, saying: "Devil's eye was blinded," referring to news that Rushdie could lose an eye because of the attack.
On Aug. 14, U.S. Secretary of State Antony Blinken lambasted Iranian media's coverage of the attack on Salman Rushdie, describing it as "despicable," and blamed the incident on rhetoric out of Iran.
"Iranian state institutions have incited violence against Rushdie for generations, and state-affiliated media recently gloated about the attempt on his life. It is despicable," Secretary Blinken said. "While law enforcement officials continue investigating the attack, I am reminded of the pernicious forces that seek to undermine these rights, including through hate speech and incitement to violence."
"His insight into humanity, his unmatched sense for the story, and his refusal to be intimidated or silenced stand for essential, universal ideals. Truth. Courage. Resilience. The ability to share ideas without fear," U.S. President Joe Biden said about Rushdie. "These are the building blocks of any free society. And today, we reaffirm our commitment to those deeply American values in solidarity with Rushdie and all those who stand for freedom of expression."
I was mesmerized by this incredibly smart conversation between @EliLake and @NazeninA breaking down the Iranian regime's culpability. I was only disappointed the conversation ended. ▶️ https://t.co/s6XChEwxaC https://t.co/DJwDPclTjC

— Len Khodorkovsky (@MessageFromLen) August 19, 2022
Meanwhile, some believe the attack on Rushdie was a "warning to the murderers" of Soleimani.
A social media user, @malekshariati, tweeted on Aug. 13: "If the attack on Salman Rushdie, the apostate: 1-was a direct work of Iran, it proves Islamic Iran's power. 2-was the work of a Muslim 'who was not influenced by Khomeini' and was independent of Iran, proves the Revolution's penetration of the enemy's heart. 3-was the work of the U.S. and Britain, then it was a lesson in trusting the West. In all three cases, it was a warning to the murderers of martyr Soleimani."
Similar Articles to This Post