---
By Ahmad Rafat
---
Josep Borrell — the current foreign minister of Spain, and soon-to-be High Representative of the European Union for Foreign Affairs and Security Policy — has, in the past, described Iran as a "regional power" which plays an "essential role" in Syria.
On November 1, Borrell will replace Federica Mogherini, who has held that office since 2014.
Borrell, like Mogherini, is a strong supporter of the 2015 Joint Comprehensive Plan of Action (JCPOA), better known as the Iran nuclear deal, and believes that Tehran must fulfill its commitments to the accord. He, however, seems to be far more sympathetic to the Islamic Republic regime than Mrs. Mogherini, which could signal a significant change in EU policy towards Tehran.
"Iran is a key country in the Middle Eastern region. It has had an essential role in the Syrian war, helping [Syrian President Bashar al] Assad while the Americans withdraw," Mr. Borrell said in a series of tweets on February 11. "Today marks 40 years of the Islamic Revolution. This regional power has changed a lot in this time."
"In 1976, the literacy rate was 35 percent. Now it is 84 percent. In 1980, 5 percent of women with jobs were university students. Now they are 47 percent, and16 percent of the workforce is female, and the unemployment rate of women doubles that of men," Borrell added. "Iran remains an obsession for the US Government. They still have no diplomatic relations, and Trump has also withdrawn from the nuclear pact and imposed sanctions."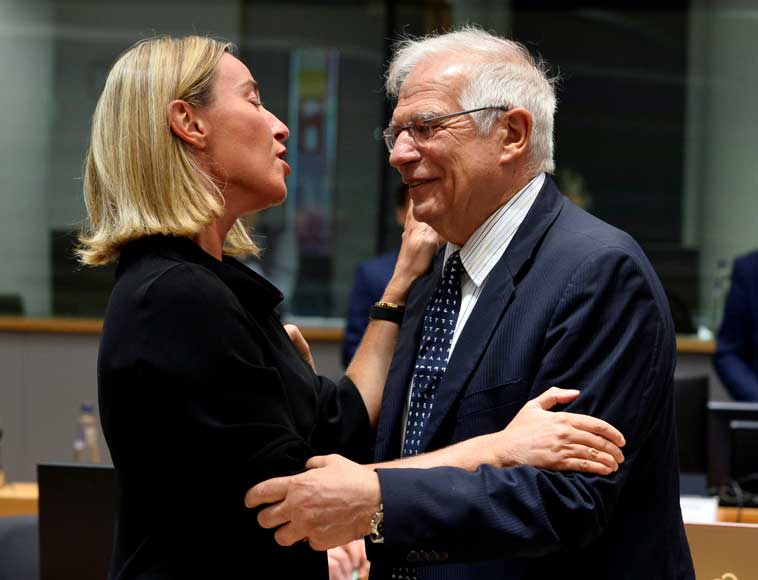 "Iran can surely survive the sanctions if Trump is not reelected. Otherwise, the regime could reactivate the nuclear program for military purposes and multiply its interventions in the region," Borrell argued.
Western media recently quoted Borrell as saying that "Tehran had not violated the articles of the nuclear agreement" by scaling back its obligation to the deal in the past few months. Borrell has also noted that "there was nothing new about Iran wanting to wipe out Israel."
Borrell is a strong supporter of the transatlantic alliance and NATO and a staunch critic of U.S. foreign policy in Venezuela, Iran, and Syria.
"We have legitimate concerns about unilateral [U.S.] moves that go against decades of cooperation. I strongly believe that a strong European Union foreign policy requires democratic support," Borrell said during his confirmation hearing on October 6. "We must aim for a Europe capable of defending itself while working for multilateral and peaceful world order."
"We have the instruments to play power politics," Borrell added. "The EU has to learn to use the language of power. European countries are increasingly vulnerable to external pressure that prevents them from exercising their sovereignty. The EU needs to learn to think like a geopolitical power."
Borrell did not grant any interviews to media outlets during his confirmation hearing, perhaps fearing that any comments on Iran, Syria, or the U.S. might jeopardize his nomination.
Following a three-hour deliberation on October 8, the European Committee on Foreign Affairs elected Borrell with a majority vote as the new High Representative of the European Union for Foreign Affairs and Security Policy.
Besides the French and Italian right-wing coalition in the EU Parliament, the rest of the 75 members of the European Committee on Foreign Affairs voted in favor of Borrell's nomination as the new EU top foreign policy chief.
Following his confirmation, Borrell announced his plan to visit the Balkans. Serbia, Bosnia-Herzegovina, Montenegro, Croatia, Macedonia, and Kosovo are waiting in the wing to join the EU.
"My first visit will be to Pristina. I have never been in Kosovo, for obvious reasons, but my first trip will be there," Borrell said during his confirmation hearing. "So long as Russia, India, and China don't recognize Kosovo, [it] will not become a full-fledged [UN] member. Kosovo and Serbia have to reach an agreement, and I will do my utmost to fulfill this. If we, as Europeans, can't solve a problem in the immediate vicinity, then we can't be a world power."
Borrell also believes that the EU must keep the sanctions on Russia for its annexation of Crimea.
"Ukraine remains central to the strategic challenge that Russia poses," Borrell said. "Until Russia changes its attitude on Crimea and territorial violations, those sanctions must remain."
Political observers believe that Borrell's appointment will have a profound impact on the EU's relationships with Israel and Palestine, since he is a staunch supporter of a two-state solution. He has also called for the EU member states to curb their sale of arms to Saudi Arabia.
The 72-year-old Borrell served as the President of the European Parliament from 2004 until 2007. He has an impressive resume which includes serving as the ministers of foreign affairs and the environment in several Spanish governments. He is also a member of the Spanish Socialist Workers' Party (PSOE).
Borrell was born in the small Catalan village of Pobla de Segur near the French border with Spain. His father owned a small bakery. Borrell has recalled delivering bread to villagers while riding a donkey when he was a young boy. After finishing high school, Borrell received a scholarship to study aeronautical engineering and economy at the Technical University of Madrid.
He also received several other scholarships, including from the March Foundation and Fulbright Program, which enabled him to continue his postgraduate studies in business management at Stanford University and in energy economics at the University of Paris.
---
[
Translated from Persian
by Fardine Hamidi]
---