---
By Roshanak Astaraki
---
On April 22, U.S. President Donald Trump ended sanctions exemptions on Iranian oil imports for China, India, Japan, South Korea, Italy, Greece, Taiwan, and Turkey. The measure will go into effect on May 2. The U.S. government aims to reduce Iran's oil export to zero, depriving the Islamic Republic regime of its primary source of revenue.
A second and more stringent set of U.S. sanctions, targeting Iran's oil, banking, shipping, and ship-building sectors, which went into effect in November of last year, has gradually brought the country to the brink of an economic collapse.
The Iranian people will soon experience the economic impacts of the country's inability to sell its oil. Except for a small segment of Iranian society, most people have been struggling with the high cost of goods which quadrupled in April and hyperinflation which has increased by 50 percent.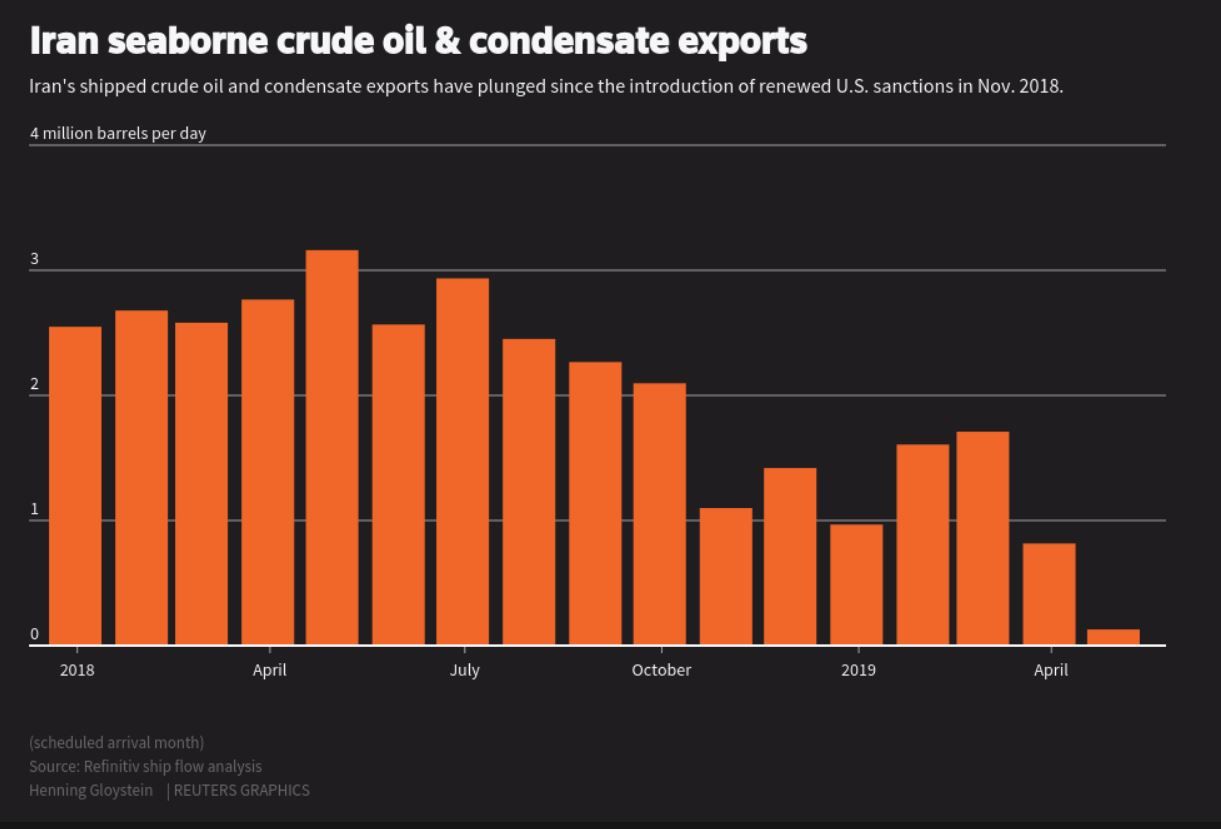 ---
Iran's Index of Industrial Production (IIP) has contracted by 7.9 percent. Government revenue can only meet three-quarters of its total debt, meaning that the 2019-20 budget deficit will increase by 25 percent. Ending sanctions exemptions will further raise the deficit. Negative economic growth, banking restrictions, inability to conduct international trade and the high cost of raw material will make it almost impossible for domestic manufacturers and suppliers to survive.
Many small businesses are on the verge of bankruptcy or have already shut down to cut their losses. According to trade unions, many shops have not renewed their retail licenses.
Recent flash floods have also inflicted $9 million in damages. Swarms of desert locusts that have ravaged farmland in southern Iran have exasperated an already critical economic situation.
The tightening of sanctions will harm the foreign exchange market. It will also prompt investors to take their cash out of the stock and commodities markets. The Department of Treasury's Office of Foreign Assets Control (OFAC) sanctions could bring Iran's economy to a complete halt.
Meanwhile, Tehran remains defiant despite increasing pressure from Washington. Iran's Supreme Leader Ayatollah Ali Khamenei recently said on his official website that "Iran can export as much oil as it needs."
Speaking at Asia Society in New York on April 24, Iranian Foreign Minister Mohammad Javad Zarif said: "The U.S. takes any crazy measure against Iran to prevent it from transporting its oil. Iran will continue to find international buyers for its oil and use the Strait of Hormuz to transport it, and if the U.S. tries to stop Tehran, it should be prepared for consequences."
تحلیل‌های ناکام در «شورای راهبردی و روابط خارجی» امرداد ۱۳۹۴
هم #آمریکا با «یک گردش قلم» از برجام خارج شد
هم بقیه گوش کردند و هم نظام مقدس نتوانسته کاری بکند!#برجام #تحريم #تحريم_نفت #ظریف#کیهان_لندن pic.twitter.com/JE4oTIa5c5

— KayhanLondon کیهان لندن (@KayhanLondon) April 25, 2019
It is unclear how Iran plans to sell its oil, and who the buyers are, given that the U.S. will penalize any country and company that violates the OFAC sanctions. After the signing of the 2015 Joint Comprehensive Plan of Action (JCPOA), also known as the Iran nuclear deal, Mr. Zarif famously said: "the next U.S. president cannot withdraw from the agreement, and even if the U.S. were to reimpose sanctions, no country would follow suit."
Iranian leaders have always claimed that they have contingency plans to overcome any obstacle including economic sanctions. However, they have not tackled severe economic problems that have gripped the country including chronic unemployment, hyperinflation and the high cost of living.
The question is what the Islamic Republic plans to do after sanctions exemptions on buying Iranian oil ends on May 2. So far, Tehran has only spewed angry rhetoric and empty threats. Iranian oil export has dropped from 2.5 million barrels per day (bpd) in April 2018 to one million this year. We can expect a further drop now that the grace period for sanctions exemptions has ended.
The governor of the Islamic Republic Central Bank Abdolnaser Hemmati posted a message on his Instagram page in early April which read: "The Central Bank and the government are implementing a safe, secure and lasting plan to stabilize the foreign currency exchange market. Washington's new measures against Iran will not have a serious impact on the market. Iran's Central Bank has a strong presence in the foreign exchange market. We advise people against risky investments. Central Bank's primary mission is to stabilize the market and counter U.S. sanctions and develop the country's economy."
However, Mr. Hemmati and his colleagues have a dismal record of managing the country's economy so far. Iran seems to pin its hopes on its ability to circumvent the OFAC sanctions and sell its oil illegally on the black market. Tehran may also bypass banking regulations and sell its oil and gas to China, India, Turkey, and Iraq at hugely discounted prices. However, the Islamic Republic cannot make up for the massive loss of revenue even if it could sell its oil to these countries.
Iran's manufacturing sector could have made up for the loss of oil revenue if it had solid economic foundations. However, none of the governments of the past 40 years has done anything to develop and strengthen domestic production and non-oil economy. The current government's plan to stimulate the economy by developing the country's tourism industry to generate foreign currency, increase taxes and issue bonds have all failed. Widespread corruption, illegal export of foreign currency and inability to collect taxes from large businesses have rendered the government of President Hassan Rouhani ineffective.
The Iranian public has lost all confidence in the government and, therefore, would not rush to buy bonds. Also, the government's budget deficit and debt are so massive that even the next five administrations cannot pay it off. The government will most likely resort to printing money as a short-term remedy which will raise inflation and ultimately cause the economy to collapse.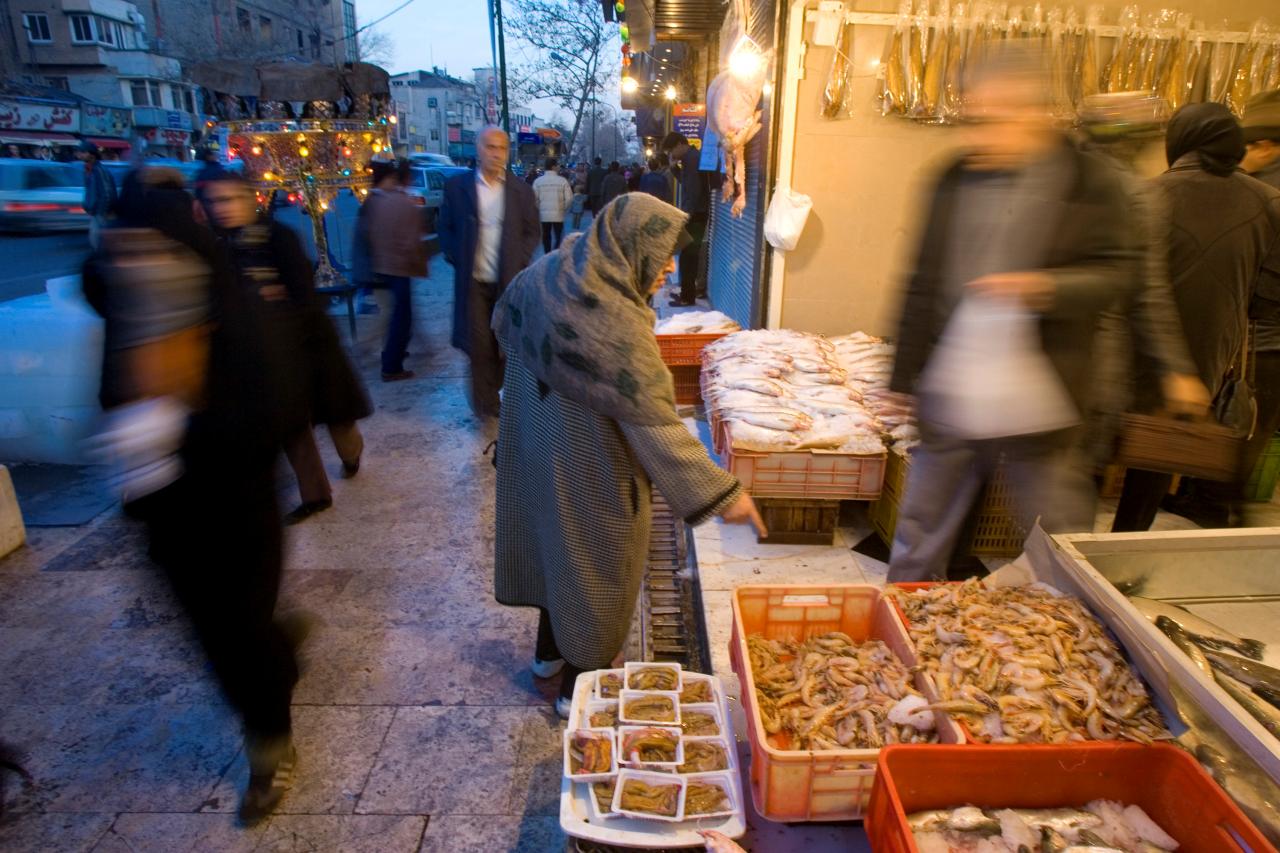 We shall have to wait and see if Iran will defuse the current tension and accept U.S. conditions for lifting the sanctions or will escalate the current economic dispute to a dangerous level.
---
[
Translated from Persian
By Fardine Hamidi]
---
[amo_member id="111027″ item-width="250″ align="left" item-margin="20″ full-width="yes" panel="right"]
---