---
By Ahmad Rafat
---
Germany, Britain, and France have warned that they will withdraw from the 2015 Joint Comprehensive Plan of Action (JCPOA), better known as the Iran nuclear deal, if Tehran were to continue to scale back its commitments to the agreement.
The announcement came after a ministerial meeting between the remaining five members of the P5+1, namely France, Germany, Britain, Russia, and China, held on the sidelines of the 74th session of the United Nations General Assembly late last month in New York. The meeting was co-chaired by the outgoing EU High Representative of the Union for Foreign Affairs and Security Policy Federica Mogherini and Iranian Foreign Minister Mohammad Javad Zarif.
It followed a series of bilateral meetings between Iranian President Hassan Rouhani and German Chancellor Angela Merkel, French President Emmanuel Macron and British Prime Minister Boris Johnson in New York.
U.S. President Donald Trump withdrew from the JCPOA in May 2018 and re-imposed new sets of sanctions on Iran. Subsequently, France, Germany, and Britain devised INSTEX, a special purpose vehicle (SPV), in January 2019 to facilitate non-dollar trade with Iran. However, the mass exodus of European companies from Iran and additional U.S. sanctions that crippled the country's economy prompted Tehran to scale back its commitments to the JCPOA.
Following her meeting with Mr. Zarif in New York, Mrs. Mogherini, who has been a staunch supporter of the nuclear agreement, struck a positive note by insisting that the EU was committed to the nuclear deal. She stressed that diplomacy was the only realistic path to resolving the dispute. Zarif, however, said it was becoming "increasingly difficult to keep the JCPOA alive."
Meanwhile, the European signatories to the JCPOA have warned that they will have no choice but to withdraw from the nuclear deal if Iran were to abandon its commitments to the agreement. Tehran has, however, ignored all warnings. It has  increased its stockpile of enriched uranium beyond 300 kilograms, pushing the purity of its uranium above 3.67 percent and developing a new generation of centrifuges. The Islamic Republic has also announced that it will further scale back its obligations to the JCPOA in November.
According to some European diplomats, France, Germany, and Britain have warned that the EU could trigger the JCPOA's dispute mechanism resolution if Iran fails to comply with articles of the agreement which could lead to the re-imposition of the UN sanctions. If that happens, China and Russia cannot exercise their power of veto to stop the process.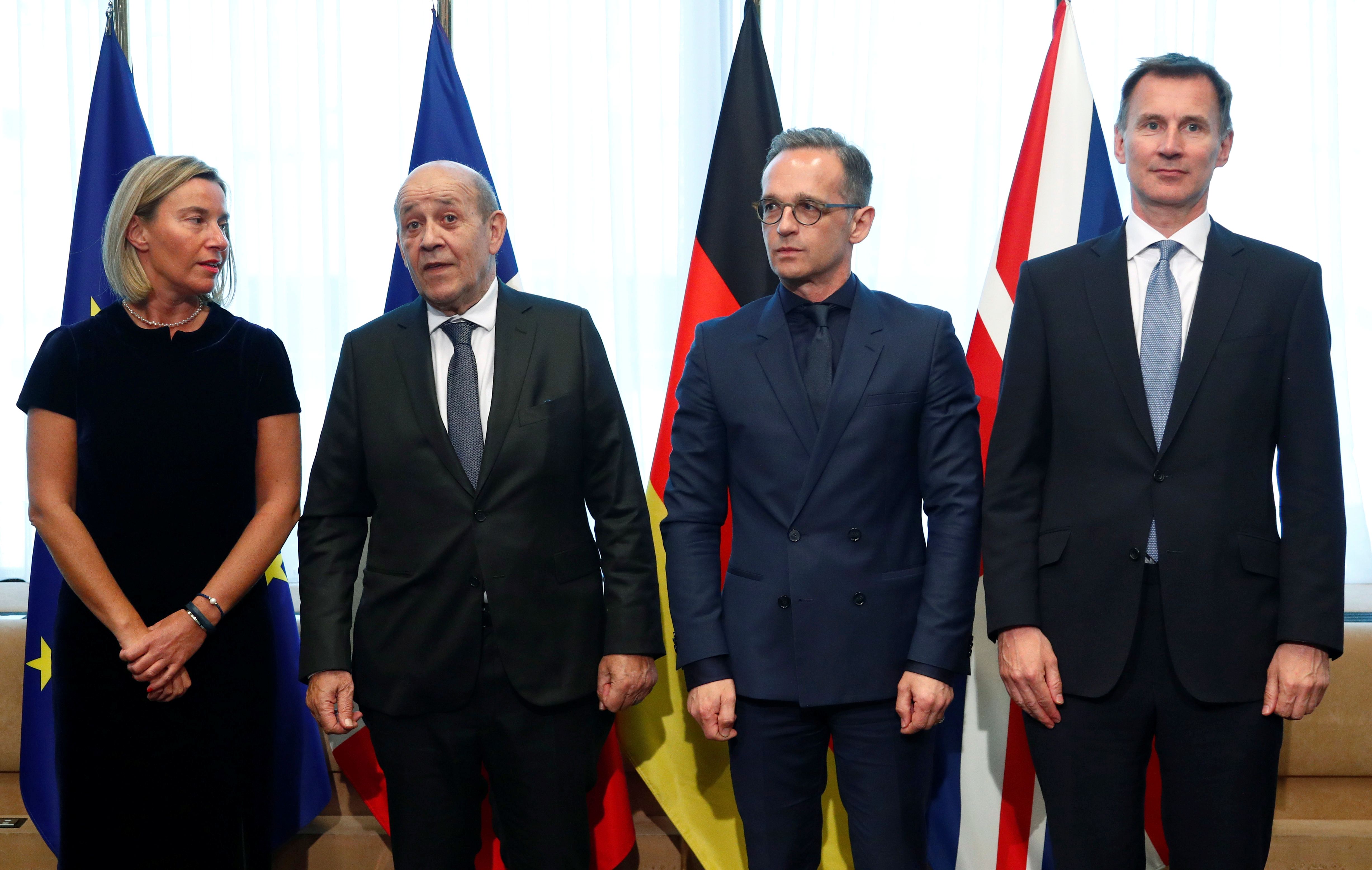 "The difficulty is that Iran says the steps are reversible, but if they learn about building a nuclear bomb, that is irreversible," an unnamed source told the Guardian newspaper on September 27. Europe is not prepared to take any chances. Following her meeting with Mr. Rouhani in New York, German Chancellor Angela Merkel told reporters that "Iran's demand for the U.S. to lift all sanctions before any high-level talks take place is unrealistic."
The U.S. says it will lift the sanctions only if talks are fruitful. Rouhani and Trump have diametrically opposed views. Trump claims he rejected a request by the Islamic Republic to lift the sanctions before Rouhani would meet with him in New York.
Meanwhile, after returning to Tehran, Rouhani said the U.S. was prepared to lift all all sanctions to facilitate a meeting with him, but he had opposed the idea because, in his words, "it would have been impossible to predict the outcome of the talks." Either Rouhani does not know that it is pointless to enter a negotiation if the outcome is a foregone conclusion, or his comments were meant only for his domestic audience.
European governments have accepted U.S. intelligence reports that Iran was behind a series of missiles and drone attacks on Saudi Arabia's Aramco oil in the southern part of the country on September 14. Aligning themselves with the U.S. marks a significant shift in European governments' relationships with Iran.
Following his meeting with Rouhani, Prime Minister Johnson said the talks were "productive but so far inconclusive and I think we still have much progress to make," adding that the EU was working on a "comprehensive successor [nuclear] deal with Iran." President Macron linked the new deal to a need for "addressing [Iran's] ballistic missile program."
The Islamic Revolutionary Guards Corps (IRGC) and the Iranian Foreign Ministry have repeatedly stated that Iran's regional activities and ballistic missile program are not up for discussion.
The Islamic Republic knows that the honeymoon with Europe is over and the relationship is heading for a divorce.
A neutral observer can easily detect this palpable despair in recent comments by Iran's Supreme Leader Ayatollah Ali Khamenei who, at a meeting with members of the Assembly of Experts, said: "Europeans act, ostensibly, as mediators, and although they have a lot to say, their words are meaningless. They are as hostile as the U.S. towards Iran. We should not trust those countries that are the enemies of the Islamic Republic. Several European governments and the U.S. are also hostile towards the Iranian people."
Mr. Khamenei knows only too well that the U.S. and European governments feel no animosity towards the Iranian people. They do, however, take issue with the Islamic Republic regime, as is clear from their remarks.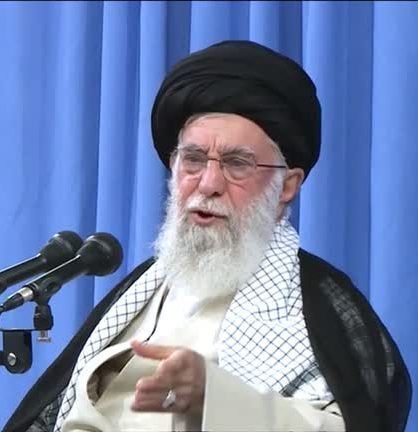 "Iran's leaders will have turned a proud nation into another cautionary tale of what happens when a ruling class abandons its people and embarks upon a crusade for personal power and wealth," Trump said in his UN address on September 24.
The next day, the White House announced severe travel restrictions on senior Iranian government officials and their families who are visiting or living in the U.S.
A diplomatic note from the U.S. Mission to the UN to Iran advised Tehran's U.N. diplomats of the new restrictions: "Iranian diplomats, their relatives, and mission support staff are confined to a narrow stretch along the length of the United Nations, from 42nd to 48th Street, as well as a six-block patch surrounding Queensboro Plaza in Long Island City. They can travel to the Iranian mission on 3rd Avenue or the Iranian ambassador's residence on 5th Avenue."
Meanwhile, both reformist and conservative politicians have difficulty believing Rouhani's claim that "Iran's Gross Domestic Product (GDP) and its non-oil economy have shown positive signs in recent months."
All indications are that Iran continues its downward economic spiral. Triggering the JCPOA's dispute mechanism resolution could bring the Iranian economy, already crippled by severe sanctions, to the brink of complete collapse.
---
[
Translated from Persian
by Fardine Hamidi]
---