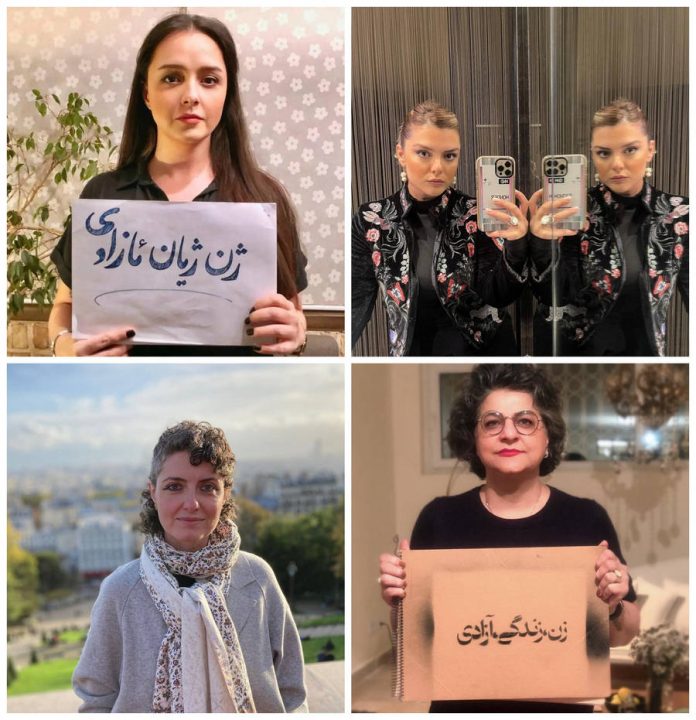 ---
Angered by the world's reactions to its brutal crackdown on weeks of mass protests, Iran's clerical regime has turned on both prominent and less prominent voices and faces in the arts and sports, to silence their support for the protests. The regime has come to characterize any backing of the popular movement as "hostile propaganda."'
On Saturday, actress Taraneh Alidoosti was arrested in Tehran, considered internationally the highest profile figure targeted.
Alidoosti had posed online without her mandatory headscarf, or hijab, and was arrested following her denunciation of the first execution of a protestor, 23-year-old Mohsen Shekari. She had warned authorities to "expect the consequences" of his killing.
According to fellow filmmaker Mani Haghighi, Alidoosti has had a consistent and clear track record on human rights, and on the protests that erupted in the wake of the death in police custody of 22-year-old Mahsa Amini, who had let her headscarf slip on the street.
In remarks broadcast on Voice of America, Haghighi, a friend of Alidoosti, also mocked the Iranian Culture Minister Muhammadmehdi Ismaili for asking artists to "resume their artistic activities" amid the protests.
Filmmakers and artists were mourning for the dead in Iran, and "don't have time to dance for you," Haghighi said.
Rapper risks death sentence
Among the first VIPs to be arrested was prominent rapper Toomaj Salehi, who was taken into custody several weeks ago, and reportedly risks facing the death penalty.
Official state media have denounced other actors and artists, like Hamid Farrokhnezhad, many of whom are backing the protests from abroad. Farrokhnezhad — who had reportedly been in Turkey but may have since left for the United States –called Supreme Leader Ali Khamenei a "deranged" dictator, and compared him to figures like Cambodia's Pol Pot and Uganda's Idi Amin.
He wrote on Instagram that Khamenei could expect the fate of all dictators who cling to power.
He wrote on Instagram that Khamenei could expect the fate of all dictators who cling to power and enrage their people–namely, to meet a "messy death." Before the protests, Farrokhnezhad was active in official media and acted in works produced by state television.
Iran's official IRNA agency observed that before leaving for Turkey, Farrokhnezhad had signed an affidavit promising he would do nothing "against the best interests of Iranian laws, but [violated his pledge] once he knew he had a foothold in America."
The IRNA-affiliated paper, Iran, said his posts were "planned," and wondered why Farrokhnezhad had said nothing to support the protests earlier. Others in the industry have reportedly received private warnings on their conduct.
FIFPRO is shocked and sickened by reports that professional footballer Amir Nasr-Azadani faces execution in Iran after campaigning for women's rights and basic freedom in his country.

We stand in solidarity with Amir and call for the immediate removal of his punishment. pic.twitter.com/vPuylCS2ph

— FIFPRO (@FIFPRO) December 12, 2022
Actor, clothing designer, soccer player
The regime has shown it has little time for artists and their ilk. Private conversations recorded by Iran's Fars news agency indicate that the head of the Revolutionary Guards, Hussein Salami, wants the arts, entertainment, and sports "curbed."
This is evidently underway. Other recent measures to "curb" dissenting Iranians included a death sentence issued against the stage actor Hossein Mohammadi, for his alleged role in an attack on the militiaman Ruhallah Ajamian — for which Mohsen Shekari was hanged just last week.
Courts have also sentenced to death a soccer player, Amir Nasr-Azadani. On December 19, the conservative Tehran paper Kayhan (no affiliation with Kayhan-London), urged authorities to jail the soccer star Ali Karimi for having cheered the protests.
On December 17, authorities shut down Cheshmeh, an arts publisher based in Tehran. Vajihe Parizanganeh, a designer from Isfahan, separately faces six years in jail for pinning the words Bayad khun gorist, or "weep blood," on her clothes.
---
---