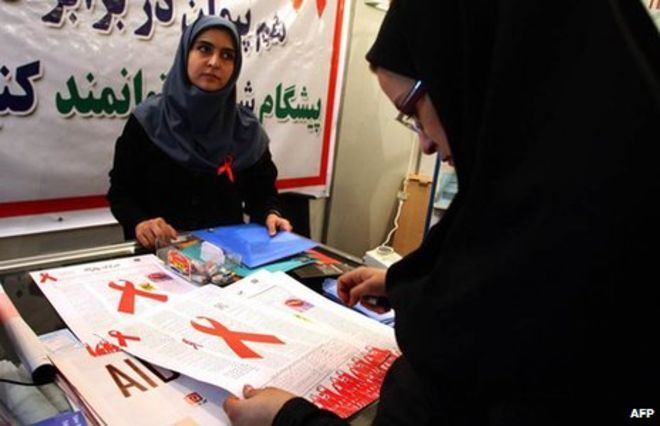 ---
By Ahmad Rafat
---
December 1 is designated as World AIDS Day. The day has been marked around the world every year since 1988 in an effort to raise awareness of the AIDS pandemic caused by the spread of HIV infection.
In 2016, there were roughly 1.8 million new HIV infections worldwide — a decline from the 2.1 million new infections in 2015, according to a report by the Joint United Nations Program on HIV/AIDS (UNAIDS.) The data, however, shows that new HIV infections have increased in Iran by 21 percent since 2010. The populations most affected in Iran are sex workers, with an HIV infection rate of 2.1 percent, and people who inject drugs with an HIV infection rate of 9.3 percent.  
Dr. Minoo Mohraz is Iran's foremost AIDS specialist. Her clinic at Imam Khomeini Hospital is the biggest in the country. She is a member of the Iranian Research Center for HIV/AIDS and teaches at the Tehran University of Medical Sciences. In a recent interview with the Arman newspaper, Dr. Minoo said: "We've seen an alarming increase of HIV infection among women. Unfortunately the situation will only get worse."
Dr. Minoo who is working with the University of San Francisco on a program to find patterns of risky sexual behavior, added: "The actual number of people with AIDS is much higher than the official figure of 35,000."
Dr. Minoo also warned of the rising number of street children with HIV infection. She said: "Children shouldn't be peddling goods in the street, but that is the harsh reality of life in our urban centers. We must protect these children against violence and rape. They are used for sex or selling drugs. Most of them end up using drugs. These children are among the high-risk groups that are most likely to contract HIV."
About 70 percent of those infected with the HIV virus in Iran are either unaware of their condition or simply hide it. There are 36,029 confirmed cases of people with AIDS so far this year, according to Dr. Parvin Afsar Kazerooni, the director of Health Ministry's office for HIV/AIDS and Infectious Diseases.
"About 84 percent of those living with the disease are men and the rest are women. About 52 percent of them are between the ages of 21 and 35," Dr. Kazerooni said. According to official figures, a quarter of those infected with HIV are people who inject drugs, and half catch the virus through sex. Dr. Kazerooni said she believed that lack of knowledge about the disease and unprotected sex are the main causes for the rampant spread of HIV in Iran.
Shirin Ahmadnia, the director of the Harm Reduction Office of Iran's Welfare Organization, however, said she believed that most women "contract the virus from their husbands." Ahmadnia cited [Shia Islamic] temporary marriage [siqeh] as the main culprit for the spread of AIDS among women. But she admitted that there was "no hard data to support the assertion." She claimed that the actual number of married women who contracted the virus from their husbands was higher than the official figure. "Many of the women don't seek out medical treatment and hide their disease," Ahmadnia explained.
"There is a stigma attached to being infected with the HIV virus, especially for married women. They are afraid of being judged by society, even if they've contracted the virus from their husbands. It is obvious that those men have caught the disease through extramarital affairs," Ahmadnia pointed out. She also said she believed that lack of proper knowledge, unprotected sex and economic hardships were contributing factors to the spread of the disease.
Experts and health officials believe that education and raising social awareness are the most effective ways of preventing the spread of the disease. The government has, however, cut the budgets of many health organizations that tackle the AIDS pandemic. Some AIDS specialists have even been arrested and charged with "plotting to overthrow the regime."
Dr. Kamiar Alaei and his brother Dr. Arash Alaei are two AIDS researchers who developed harm-reduction programs and HIV/AIDS prevention care centers treating injecting drug users and prisoners. They also developed an HIV/AIDS training program for regional health experts. They were arrested in 2008 and charged with "communications with an enemy government." Kamiar was eventually released in 2010 and Arash in 2011. After their release, the brothers moved to the U.S. where they are continuing their work.  
Since the start of the epidemic, an estimated 78 million people have become infected worldwide with HIV and 35 million people have died of AIDS-related illnesses. In 2016, 1 million people died of AIDS-related illnesses in the world.
---