---
By Kayhan Life Staff
---
Iranian manufacturing, production, and service industry workers are continuing to fight for better wages, back pay, health insurance, improved work environment, and other benefits.
Given the soaring cost of food, essential goods, housing, and healthcare, Iranian workers in various sectors are struggling to support their families.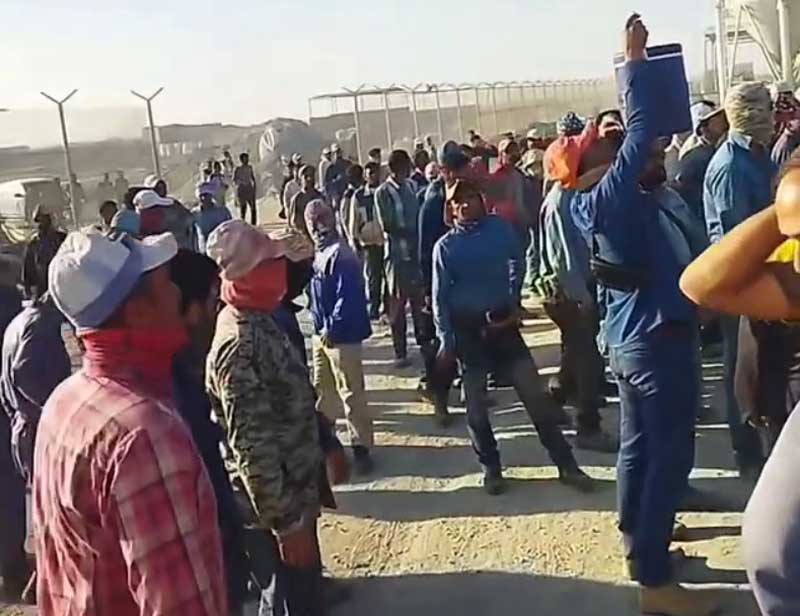 On April 22, workers in eight Iranian provinces in the oil, gas, petrochemical, and steel industries went on strike.
The absence of strong trade unions in Iran makes it impossible for workers in smaller production, manufacturing, and service industries to stage organized industrial actions.
The Iranian Labor News Agency (ILNA) reported that many smaller production, manufacturing, and service industry workers had yet to receive their salaries for the pay period from March 21 to April 20.
Also, some employers withheld New Year holiday pay from workers' wages. The Iranian New Year starts on March 21.
"Zero oversight" of smaller factories and businesses enables employers to violate workers' rights, the report added. Most workers refrain from complaining, fearing that they might get fired.
The Supreme Labor Council, operating under the auspices of the Ministry of Labor and Social Affairs, recently raised the minimum wage by 27 percent, which might be the reason why some businesses failed to pay workers' salaries.
While most workers in smaller workshops only received basic pay and no benefits in March, others had their holiday pay deducted from their wages.
ILNA's report included an interview with a worker named Ali, who said: "We did not receive housing and food benefits, which we are entitled to under the new pay guidelines. The employer said they did not have the money to pay us when we complained."
"Workers received 7.2 million tomans ($138.9) in wages [based on the current exchange rate of 51,850 tomans per U.S. dollar.] However, a worker with no prior experience or family to support should not have received less than 8.3 million tomans ($160) last month," Ali argued, referring to the March-April period.
"I have worked for four years in this warehouse," Ali told ILNA. "We are not paid overtime, housing allowance, or other befits. The employers claim they cannot pay benefits because they made no sales in March and April."
"We receive salary and benefits only in those months when sales go up, but our employer reduces our pay other times, citing a lack of funds. Who protects our salary and wages?" Ali asked.
Workers in various sectors of the Iranian economy face similar problems.
ILNA also spoke to Morteza, a professional mover, who said: "For eight years, I carried people's refrigerators, sofas, and beds on my back from the third floor of one building to the fourth floor of another building. I have a broken back, an exhausted spirit, and empty pockets. What do I have to show for that? How will I spend the rest of my life?"
Morteza, who worries about the future of his only child, explained: "I am prepared to endure any hardship for my child's future, but I am housebound and cannot do anything. I am more concerned about my child's future than for myself."
Another worker, Reza, who works for a moving company, told ILNA: "I get paid $3 for four to five hours of work, carrying objects up and down the stairs in three- or four-story apartment buildings, many of which have no elevators."
"Younger movers can work two shifts daily, carrying items on their heads. I am 35 years old and do not have the strength to do this job, so I can only do one shift," Reza added.
Most Iranian workers do not have workplace and health insurance. The monthly premium of private health insurance equals seven percent of a worker's minimum wage, which they cannot afford.
The pay for day laborers who do not have irregular work patterns is less than the minimum wage. The high-cost of living, especially in big cities, makes it impossible for this group of workers to afford private insurance.
Not having insurance is a big problem for movers who are prone to workplace accidents and could suffer severe long-term and even life-threatening injuries.
Striking workers who demand their rights face harassment and intimidation.
According to the Free Union of Iranian Workers (FUIW), four workers representing 200 metro ticket sales agents, who had a meeting with senior management to discuss employees' rights and demands, were fired and told that they were "troublemakers."
The FUIW argues workers demand their minimum rights as stated by the Labor Law, including basic wages, paid overtime, and structured shifts.
Yet some employers do not pay workers' salaries and even fire them for demanding their fundamental rights, deterring other workers who may want to go down the same road.
Meanwhile, most workers, pensioners, and welfare recipients argue that the 27 percent pay increase falls far short of the inflation rate and the cost-of-living index.
Under the Labor Ministry's new pay guidelines, workers' monthly wages increased from $81 to $121. If you include all of the benefits a worker is entitled to, that works out to a total of $164, which is still far below the inflation rate and the cost-of-living index.
In comments reported by the Entekhab news online on March 26, Hamidreza Amini, the executive director of Isfahan's Workers' House, said: "According to the Ministry of Labor, a family of four needs a minimum of $250 a month to make ends meet. However, the current monthly salary is only $97, which is under the legal amount set by the government, prompting workers to protest."
Mr. Amini argued that the recent 27 percent increase in salary and wages was way below the inflation rate and the cost-of-living index, making it even more challenging for workers to provide for themselves and their families.
"We are not trying to get salaries adjusted to the inflation rate, but workers cannot live on current wages and salaries if inflation keeps increasing," Amini added. "Otherwise, only a handful of people will benefit, and no other significant changes will happen."
Similar Articles to This Post