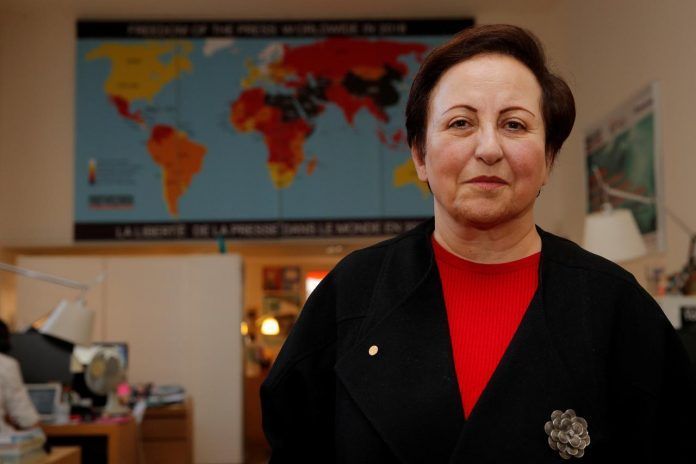 ---
---
Nobel Prize winner and attorney Dr. Shirin Ebadi has condemned the sentencing of prominent human rights activist Narges Mohammadi by an Iranian court.
"Narges Mohammadi's human rights activism has led once again to her being sentenced in a new court. To condemn a person to lashing is without doubt an unacceptable punishment, " Ebadi told Kayhan Life. "I hope that these inhumane and medieval punishments will not be applied to Narges or any other person."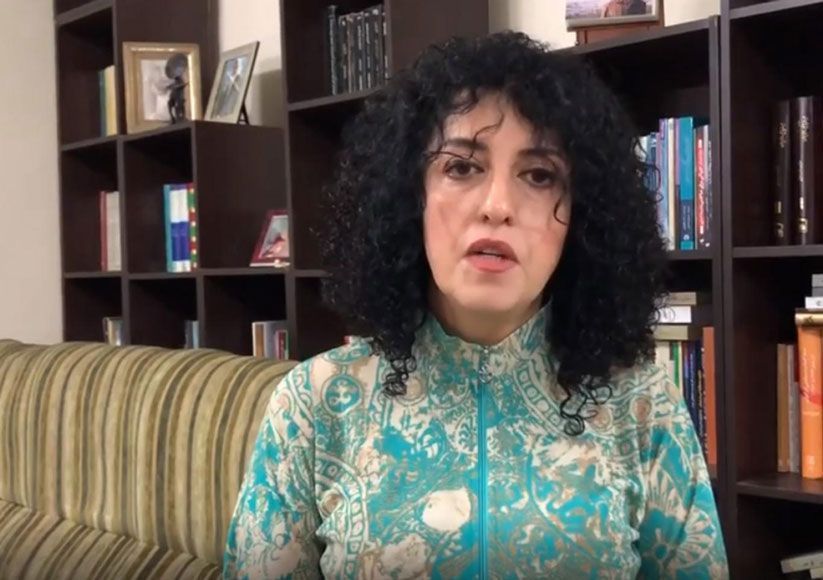 Mohammadi was given another 8 years and 2 months in prison and 74 lashes, according to her husband Taghi Rahmani, who lives in France. In a tweet posted on Jan. 26, Rahmani said the sentence was preliminary and currently included a two-year ban on political activity, social media use and talking to the media; and two years' exile from Tehran. The charges remain unclear.
Mohammadi was the vice president of the now banned Tehran-based Defenders of Human Rights Center. She was arrested on Nov. 16 after attending a memorial service for Ebrahim Ketabdar, a man killed during the November 2019 protests by Iran's security forces.
Following her arrest, her husband tweeted that she had been charged with spying for Saudi Arabia. Mohammadi was given a custodial 30-month prison sentence and 80 lashes and ordered to pay two separate fines.
Iranian Political Prisoners Held In Evin Jail Warn Against Use of 'White Torture' 
A previous Mohammadi arrest on Sep. 8 while attending an anti-Taliban protest outside the Pakistan embassy in Tehran prevented her from delivering a speech at an online conference hosted by the Washington-based Georgetown Institute for Women, Peace, and Security (GIWPS). Mohammadi was scheduled to talk about the state of women's rights in Iran. As she could not attend, Mohammadi produced a video recording of her speech which was later broadcast at the event.
"Civil disobedience could play a key role in social movements," Mohammadi said in the recording. "Undoubtedly, some people pay a heavy price in an oppressive, patriarchal, theocratic, and autocratic system. Women sacrifice a lot for challenging such systems."
In a Jan. 24 press release the New York-based advocacy group the Center for Human Rights in Iran (CHRI) said Mohammadi's arrest and sentence were part of an "ongoing campaign to silence human rights defenders and crush dissent in the Islamic Republic."
The group also called on world governments "especially those with whom the Islamic Republic is presently negotiating" and UN bodies to "forcefully condemn these unlawful imprisonments and call for their immediate end."
Mohammadi is an experienced human rights campaigner who has been routinely harassed by Iran's security forces. She co-founded the Defenders of Human Rights Center with Ebadi, who won the Nobel Peace Prize in 2013 for promoting human rights in Iran with a special focus on the rights of women and children.
Mohammadi has also been recognized internationally for her work. In 2018, she was awarded the Andrei Sakharov Prize by the American Physical Society for outstanding leadership and achievements in upholding human rights. Mohammadi is the recipient of the Per Anger Prize, the Swedish government's international award for human rights.
Similar Articles to This Post