---
July 11 (Reuters) – Iraq will begin trading crude oil for Iranian gas to end the recurring issue of payment delays to Tehran due to the need for U.S. approval, Iraqi Prime Minister Mohammed Shia Sudani said on Tuesday.
Sudani said Iran had cut gas exports to Iraq by more than 50% as of July 1 after Baghdad failed to secure U.S. approval to disburse owed funds, but Tehran had now agreed to resume gas exports in exchange for crude oil.
The deal was reached during talks with an Iranian delegation that was in Baghdad since Saturday, Sudani said in a televised speech.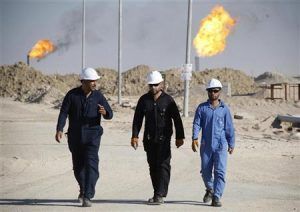 Iraq imports electricity and gas from Iran that total between a third and 40% of its power supply, especially crucial in sweltering summer months when temperatures can top 50 Celsius (122 Fahrenheit) and power consumption peaks.
Iraq has had trouble paying for those imports. It owes Iran around 11 billion euros ($12.1 billion) in outstanding debts, Sudani said, and struggles to pay due to U.S. sanctions that only allow Iran to access funds to buy non-sanctioned goods, such as food and medicine.
Iraq Says Iran Blames Reduced Gas Exports on 'Technical' Matter
Even those procedures are complicated, and "contribute to unwanted delays in making the payments, and subsequently the funds are not paid to the Iranians", Farhad Alaaldin, foreign affairs adviser to the prime minister, told Reuters.
By trading Iraqi crude for Iranian gas, Sudani said, Iraq would avoid rolling power cuts every summer while working to complete gas capture and extraction projects that would help make the country self-sufficient.
"We can't for the next two or three years come to citizens every summer and tell them: 'They stopped the gas, they started the gas'," he said.
A State Department spokesperson declined comment on the reported barter deal between Iraq and Iran, and did not address whether such an arrangement might violate U.S. sanctions.
"There has been no change in U.S. policy towards Iran or Iraq, and the Biden Administration continues to implement all U.S. sanctions on Iran," the spokesperson said, adding that Washington "strongly supports Iraq's path to energy autonomy."
Henry Rome, an analyst with the Washington Institute for Near East Policy think tank, said a barter pact was unlikely to stop Iran from continuing to seek hard currency from Iraq.
"I am not convinced that a pure barter arrangement as described by Sudani is satisfactory for Iran, given its need for hard currency," he said. "Even if this arrangement is implemented, it would likely not obviate Iran's pursuit of the billions of dollars still held in Iraqi accounts."
The United States has pushed Iraq, OPEC second-largest producer, to cut its reliance on Iranian gas.
Iraq spends roughly $4 billion per year on imports of Iranian gas and power while burning massive quantities of natural gas as a byproduct of its hydrocarbons sector.
It has taken steps to change course. On Monday Iraq signed a massive deal with French oil major TotalEnergies that includes plans to capture gas from oilfields in the southern Basra region.
($1 = 0.9083 euros)
---
(Reporting by Timour Azhari in Erbil, Iraq; Additional reporting by Arshad Mohammed in Washington; Editing by David Gregorio and Stephen Coates)
---
Similar Articles to This Post