---
A protest is taking place today in the village of Garmash in Kurdistan (Iran) to highlight the death of Donya Veisi, a seven-year-old girl who made headlines this week after Iranian officials said she died when a wall collapsed on her in a school yard. The protest comes as new claims published by Iranian media outlet AVA Today and a journalist at Ghanoon Daily, suggest that the young girl, who died on World Children's Day, may have been brutally raped, and then murdered.
Further reports by the Ghanoon Daily journalist and Iran Human Rights Monitor, claim that her body was hidden under the structure's rubble to conceal the attack. The Iranian government denies the claims.
Iranians took to Twitter this week to condemn the incident, with some suggesting that it was a classroom ceiling rather than a wall that had collapsed:
---
---
Details of the incident, which took place in Garmash Village, were released on Monday by Rashid Ghorbani, the general director for the Department of Education. In his statement, Ghorbani said that Donya had been severely injured after an old wall in her school yard had collapsed. Ghorbani told the semi official Tasnim News agency that he had reported the building's worn out infrastructure to other Education Ministry officials, who had dismissed his concerns.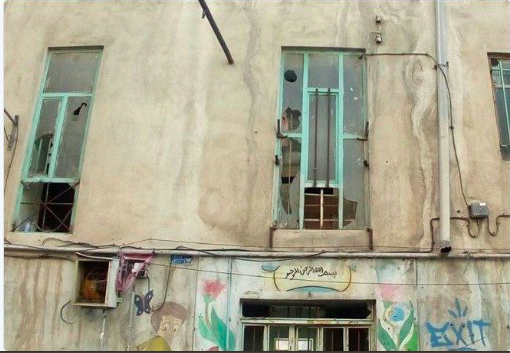 After Donya was discovered, she was taken to the Be'ssat Hospital in Sanandaj, where she later died due to the severity of her injuries.
Information leaked from the Coroner's Office in Sanandaj on Wednesday suggests that the seven-year-old had been raped, and had then suffered a direct blow to the head which led to her death. A journalist working for Iranian news outlet Ghanoon Daily, accused the Iranian government, on Twitter, of a cover up, after speaking with a physician at the Coroner's Office. The tweet has since been removed from the social media platform.
Speaking on Thursday to U.S. based media outlet AVA Today, an eyewitness told the online media channel that the nurses and doctors treating Donya at the hospital, noticed that her hymen had been torn and that her vagina was covered in blood. The witness also said that Sanandaj's General Prosecutor told the nurses and doctors not to speak about the injuries.
The case has sparked outrage amongst Iranians in the Kurdistan province, who are demonstrating today to raise awareness around gender based violence and the spread of child sexual abuse in Iran.
Iran is facing a child abuse epidemic, which has led to international media coverage of several high profile cases involving adult males in educational settings, who have been found guilty of raping young girls but who have had their sentences either overturned, reduced or the initial charges dropped.
---