---
By Kayhan Life Staff
---
Javad Foroughi, a shooter representing the Islamic Republic at the Tokyo Olympic Games, has won the gold medal in the 10m Air Pistol Men's event. Mr. Foroughi set a new Olympic record of 244.8 points.
Foroughi, a member of the Islamic Revolutionary Guard Corps (IRGC) forces, served as a nurse in Syria. His victory in Tokyo has drawn criticism from human-rights groups.
"The Islamic Republic of Iran's Javad Foroughi has triumphed in the men's 10m Air Pistol final, setting a new Olympic record of 244.8 points to take gold at the Asaka Shooting Range," an official Olympics press release said. "The 41-year-old shooter held his nerve to win a thrilling final, with Serbia's Damir Mikec finishing second on 237.9 points and People's Republic of China's PANG Wei winning bronze with 217.6 points."
In a tweet, the Tokyo Olympics organizers added: "Golden Debut! Javad Foroughi wins gold in the air pistol men's final, breaking the Olympic record on his first Olympic appearance. Well done!"
Foroughi's win was Iran's first medal in shooting in the history of the Olympics. At 41, Foroughi became the oldest medalist in Iranian Olympic History.
Foroughi is a nurse at the Baghiyyatollah al-Azam Military Hospital in Tehran, which is affiliated with a public and medical university of the same name. The hospital is reportedly linked to the IRGC. The Baghiyyatollah Hospital reportedly treats many injured Iran-backed militias active in the area.
"I started shooting in the -2 floor [basement 2] of the hospital by pure accident," Iranian Labor News Agency (ILNA) quoted Foroughi as saying: "I was introduced to the air pistol in 2010 or 2011. The first time [at the range], I scored 85, and the person in charge urged me to pursue the sport."
In an article titled "Exclusive Interview with Javad Foroughi: From Syria to Tokyo, Who Did Iranian Gold Winner Dedicate His Medal To?" published in the July 24 Issue of the Tehran-based Tasnim News Agency, Foroughi said: "I cannot achieve a greater prize than an Olympic gold medal. There is no greater medal than that. I dedicate this medal to Imam-e Zaman [Shia 12th Imam Hujjat Allah ibn al-Hasan al-Mahdi], and my leader [Iran's Supreme Leader Ayatollah Ali Khamenei.]."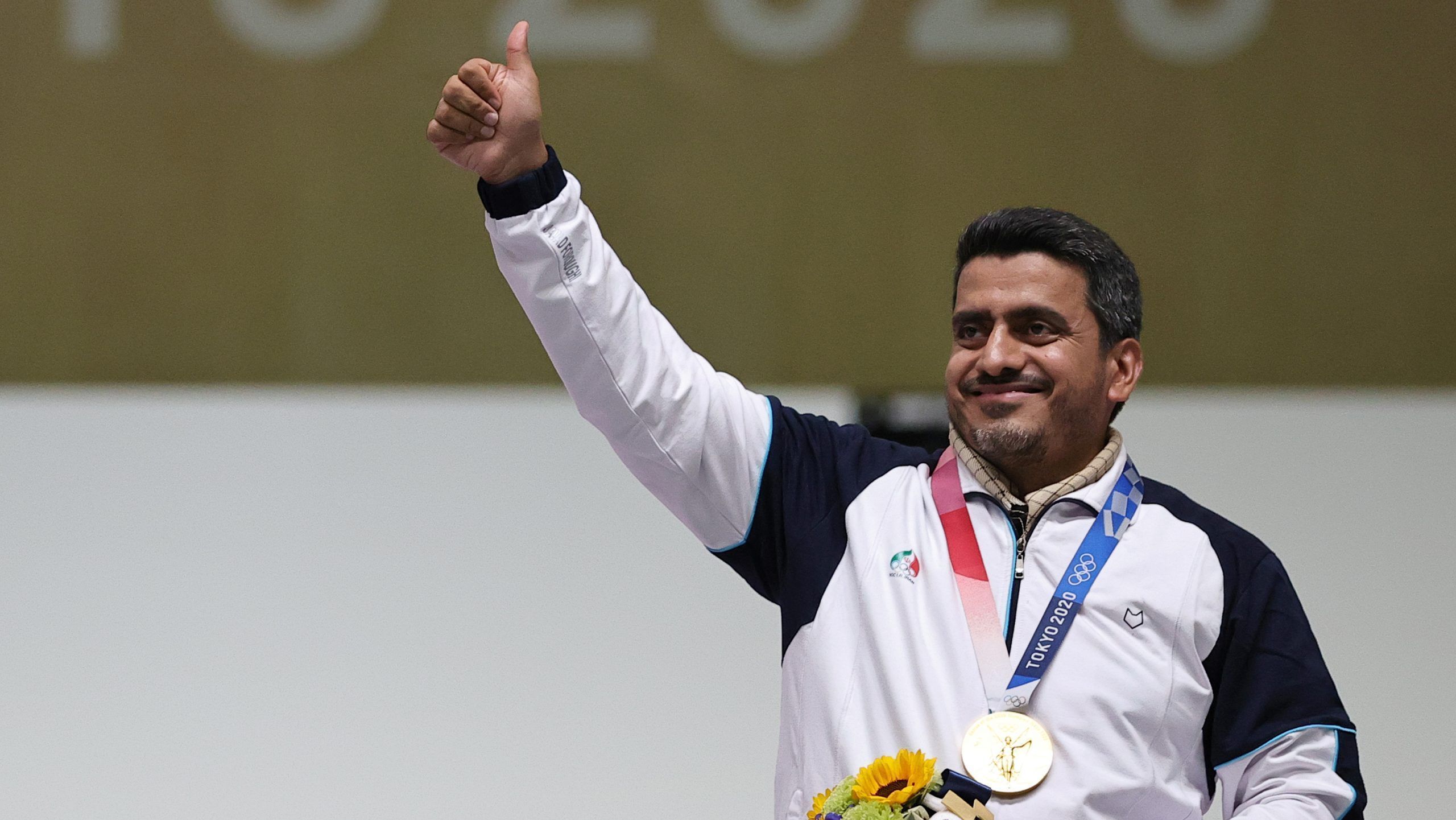 Asked By Tasnim if he had served in the Syrian conflict, Foroughi answered: "Yes. I had the privilege of serving in Syria from 2013 to 2015."
A report by the semi-official Fars News Agency said: "He showed military honor when the sacred flag of our country was raised and boosted our national pride and showed that a Pasdar [IRGC member] works effortlessly at any front to elevate our country." His gold "was a massive reward for the athletes. Besides training hard, he relied on God, so he did not need to make a deal with anyone else."
In a filmed interview with the "Mahe Mah" program of the Islamic Republic of Iran Broadcasting's (IRIB) Salamat TV channel, Foroughi said he had attended to injure Daesh (ISIS) fighters during his tour of duty in Syria.
"I attended to a few [ISIS members]," Foroughi explained. "I stressed how we must treat them and be kind to them because our religion demands it. Being a prisoner is enough [punishment], so we must not show violence and mistreatment. He [prisoner] is tied up and has surrendered to us, so we must give him the best bed and food and provide him with good [medical] treatment. He will not enjoy himself because he is a prisoner, and that is enough punishment for him. We must then hand him over to our legal institutions. It is not our responsibility to deal with them."
IRIB described Foroughi as a "defender of Shia shrines" and a "protector of health."
Brigadier General Gholamreza Soleimani, the IRGC's Basij Forces commander, was one of the first senior officials to congratulate Foroughi on his Olympic win.
"To our brother and Basij athlete, Javad Foroughi. Congratulations to you, your esteemed family, dear Basijis, and all Iranian sports enthusiasts on winning the first gold medal for the Iranian Olympic team in the men's 10m Air Pistol final," the IRIB News Agency reported General Soleimani as saying. "I hope by continuing to emulate Imam Ali [1st Shia Imam Ali ibn Abi Talib], you exemplify courage and forgiveness in the service of the disadvantaged and the oppressed to the glory of Islam. And, with the blessing of Imam Mahdi and his rightful representative, the exalted Imam Ayatollah Khamenei, achieve further success."
Mostafa Ghamari Vafa, IRIB's managing editor for domestic news, tweeted: "What did daughter of Javad Foroughi, the winner of the Tokyo Olympic gold medal, say about her father? While back, IRIB spoke to Javad Foroughi, the first gold medal winner [of the Iranian ream] in the [10m] Air Pistol final at the Olympics, and his daughter, who highlighted an important point."
The tweet contained a 38-second undated video of an interview with Foroughi, which showed Foroughi with his son and daughter. The caption read: "Foroughi, a champion at the Olympics and of health."
"Last year, with God's blessing, I won two bronze medals in Qatar and secured a place for the Tokyo Olympics," Foroughi told the reporter.
"Which makes you prouder? That your father is a champion shooter or a champion nurse?" the interviewer asked Foroughi's daughter. "He being a nursing champion," Foroughi's daughter replied. "Because shooting is just a sport, but a nursing champion is a champion who saves people's lives."
Foroughi won a bronze medal in the 10m Air Pistol at the 2019 Asian Shooting Championship in Doha, Qatar. The competition acted as the Asian qualifying tournament for the 2020 Summer Olympics in Tokyo. Foroughi and Golnoush Sebghatollahi won a bronze medal in the 10m Air Pistol Team (Mixed) at the same championship in Doha.
Others in domestic and foreign media have praised Foroughi and his achievement at the Olympic games.
Fereshteh Ghazi, an Iranian journalist, tweeted: "Well done, Mr. Javad Foroughi, a champion. We desperately need such recognitions and joyful occasions. We praise you for distinguishing yourself and making history."
However, many have criticized the Tokyo Olympics for awarding a medal to an IRGC member who served in Syria.
Sam Ehsan Rajabi, a U.S.-based Iranian athlete and a former member of the Iranian national Judo team, tweeted: "After receiving his gold Olympic medal in [air pistol] shooting, Javad Foroughi, kissing a prayer rug with an agate ring. Next, he will probably be dispatched to Khuzestan. This regime robbed me of many Olympics. I was in first place in two different weight classes. I had even beat the Olympic champion, but I never kissed Khamenei's ring or prayed."
Mr. Rajabi's tweet includes four photographs of Foroughi after winning the gold medal at the Tokyo Olympics. In one still image, Foroughi is kneeling on a prayer rug.
Rajabi won the gold medal at the World Master IBJJF Jiu-Jitsu Championship in 2020.
Some human rights organizations have also criticized the Tokyo Olympics for awarding Foroughi a gold medal.
In its July 24 online issue, The Jerusalem Post said: "In a statement sent to The Jerusalem Post, United for Navid wrote that it 'considers the awarding of an Olympic Gold Medal to Iran marksman Javad Foroughi not only a catastrophe for Iranian sports but also the international community, and especially the reputation of the International Olympic Committee (IOC). The 41-year-old Foroughi is a current and longtime member of a terrorist organization [IRGC].'"
Following the death of Navid Afkari, a 27-year-old Iranian champion wrestler who was executed on Sept. 12 in Shiraz, a group of athletes formed the United for Navid campaign.
Afkari was charged with murdering a security guard at the Shiraz Water and Wastewater Management Company during the nationwide protests of 2018 and was hanged hurriedly and secretly without prior notice to him, his family, or his lawyer.
Some social media users have even gone further in their allegations against Foroughi and his military record.
Yarr-e Dabestani (@Yaar-ii) retweeted the congratulatory message by the Tokyo Olympics to Foroughi, which read, "Golden Debut! Javad Foroughi wins gold in the air pistol men's final, breaking the Olympic record on his first Olympic appearance. Well done!".
"You can mention the Olympics' account or add your comments to this tweet and explain that Javad Foroughi served for five years in the terrorist IRGC Qods [IRGC-QF] forces in Syria. He was involved in the [nationwide] November [protests] killings," @Yaar-ii alleged. "And demand that his world championship and Olympic gold medals be taken away."
---
---