---
---
17 Dec – Laily Khatami, a child and women's rights activist from Kermanshah, Iran, has been arrested and charged with espionage. A report from the Campaign for the Defense of Political and Civilian Prisoners claims that Fariborz Shahraki, a lawyer who tried to follow up Khatami's detention has also been arrested.
The Campaign for the Defense of Political and Civilian Prisoners, a humanitarian organization focusing on unlawful detentions and support for political prisoners around the world, posted an interview on their website Friday with Laily Khatami's sister Muness Khatami, and Shahed Alavi a Washington-based journalist. In the interview Muness and Shahed discuss the details of Laily's arrest.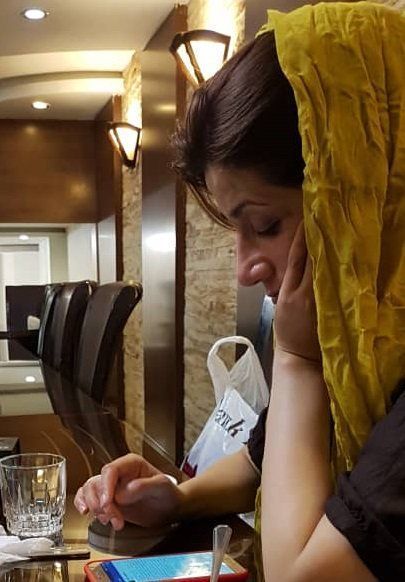 Ms Khatami's sister told Alavi that Laily was apprehended by security forces on 19 November in Zahedan while doing relief work in the city's most deprived areas. Laily had planned to stay in Zahedan for a week and was arrested on the last day of her trip. The child welfare campaigner visited children around the country delivering drama programs, group therapy and storytelling sessions. Muness told Alavi that Laily often travelled to remote villages located in provinces such as Kermanshah, Sistan, Baluchestan and Mazandaran, where children experienced particular hardship. Laily had also worked with children affected by the earthquake which struck Kermanshah in November of last year, living in a tent and providing support to the children in the area. 
Her sister confirmed that Laily was taken to Tehran where she remains in custody on spying charges, although the exact nature of the charges remains unknown. Laily has to date not been allowed to secure a defence lawyer. Their father has visited Laily twice since her arrest and has been able to speak on one occasion with Laily, on the telephone. Muness told Shahed Alavi that this was the first time Laily had been arrested. 
In a tweet posted on 14 December, Alavi said that Zahedan-based lawyer Fariborz Shahraki had been arrested on or around 2 December after trying to get information about Laily Khatami's arrest. According to Alavi, Shahraki was badly tortured during the interrogation process. 
---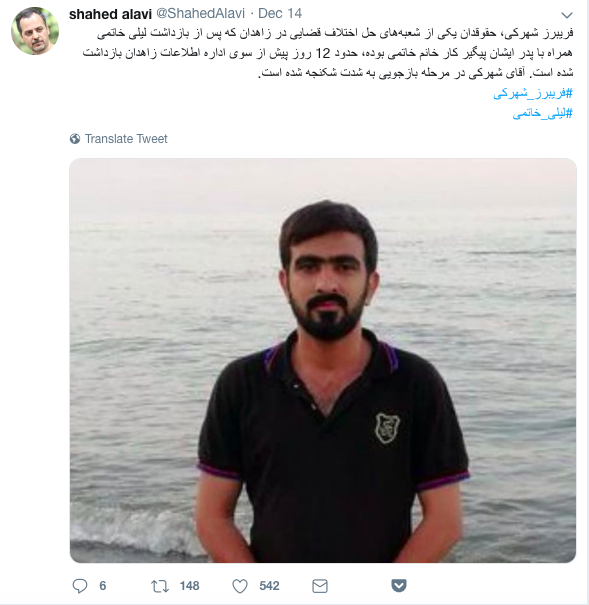 ---
The hashtag #Laily_Khatami, written in Persian, went viral on Twitter over the weekend as the platform's social media users picked up on the news. Kaveh, an Iranian father tweeted Saturday, "In the Islamic Republic, everyone is free but on bail" . The tweet included photos of several Iranians who had been arrested by government officials, including Laily Khatami. A twitter account with the handle @Heroes_of_Iran, which shares news about the status of detained Iranians, posted a tweet expressing outrage at the detention of the child rights activist. The tweet was liked over 240 times and shared by more than 80 tweeters.  
---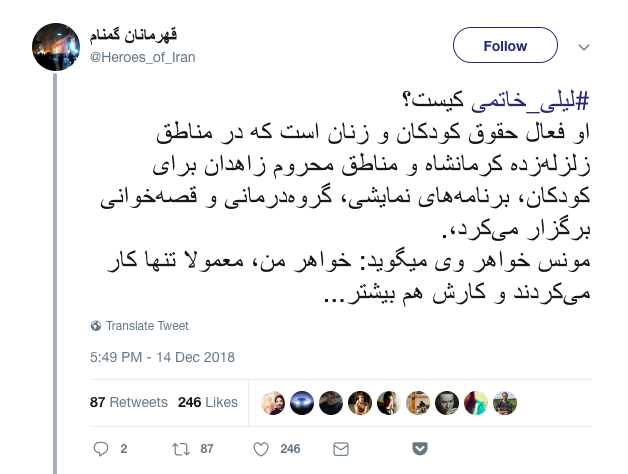 ---
Twitter user Maktoub posted a photo of Laily and wrote, "Everyone should recognize these noble children of Iran. Laily Khatami has done nothing but help and do good things for children, and today she faces a ridiculous spying charge". His tweet was liked over 400 times and shared by 118 people on Twitter. 
Another tweeter, Mahnaz Ejtehadian, questioned whether the government had moved on from arresting environmentalists and was now focusing instead on targeting human rights activists. 
A report by Human Rights Watch released last Thursday suggests that the Iranian government may be increasingly detaining lawyers, particularly those specializing in civil liberties. A sharp rise in lawyers being arrested and given what appear to be disproportionately lengthy jail sentences has led to the charity calling the development an escalated crackdown on legal professionals and human rights activists inside Iran. In the last month, Iran's revolutionary courts have sentenced at least three lawyers for human rights activism, with one other arrested on like charges. Human rights lawyer Mohammad Najafi, is serving a three-year sentence for exposing torture in prison and has recently been sentenced to a further 13 years on two other sets of charges. 
Iranian activist Narges Mohammadi, who was sentenced to 16 years in prison in 2015 for opposing the death penalty and for "colluding against national security, and spreading propaganda against the regime," (Iran is currently the world's second most prolific executioner of adults and the country which sentences the most children to death), has told Middle East news outlet Al Arabiya that she has been unable to see a doctor despite needing medical treatment. Mohammadi says she suffers with several conditions including lung disease, gynecological complications and problems with her gallbladder. Prison doctors have said that she needs to be treated outside of the prison, however Iranian officials are refusing to release her so that she can receive medical attention and have not given any explanation as to why they will not allow the treatment.
Several prominent human rights activists remain in detention, including Nasrin Sotoudeh and her husband Reza Khandan, both arrested for their peaceful protests against laws in Iran which make wearing the hijab compulsory.According to news site Radio Farda, Sotoudeh will be tried by Judge Mohammad Moghiseh, the same judge Sotoudeh tried to sue last September. Sotoudeh's suit, brought by her legal team, accused Judge Moghiseh of unlawful sentencing and a lack of impartiality in her own case. In response to international concerns over her detention, the European Parliament passed a motion on 13 December calling for Nasrin's immediate and unconditional release, which was carried by 552 votes in favor of the resolution.
In a post published 14 December, Hadi Ghaemi, Executive Director of the Center for Human Rights in Iran (CHRI) called on the international community to remain focused on unlawful detentions in Iran. Ghaemi went on to say, "failing to do so will give Iran's judiciary and security establishment, including the Revolutionary Guards, a green light to continue imprisoning citizens for their peaceful actions while trampling on the rights to counsel and a fair trial". 
---