---
LONDON, Aug 19 (Reuters) – Iran's foreign minister said on Sunday that a newly established Iran Action Group in the U.S. State Department aims to overthrow the Iranian state, but it would fail.
U.S. Secretary of State Mike Pompeo on Thursday named senior policy adviser Brian Hook as special representative for Iran in charge of the Iran Action Group to coordinate President Donald Trump's pressure campaign against the Islamic Republic following Washington's withdrawal from a nuclear deal with Tehran.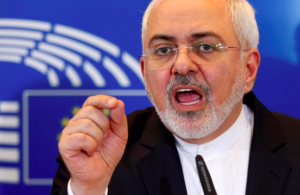 Iranian Foreign Minister Mohammad Javad Zarif tweeted: "65 years ago today, the US overthrew the popularly elected democratic government of Dr. Mossadegh, restoring the dictatorship & subjugating Iranians for the next 25 years. Now an "Action Group" dreams of doing the same through pressure, misinformation & demagoguery. Never again."
In 1953, the United States helped orchestrate the overthrow of freely elected nationalist Prime Minister Mohammed Mossadegh, restoring to power Shah Mohammed Reza Pahlavi. The shah was toppled in Iran's 1979 Islamic Revolution.
---
(Reporting by Bozorgmehr Sharafedin Editing by Mark Heinrich)
---