By Francois Murphy
VIENNA (Reuters) – Iran has stayed within limits on its nuclear activities imposed by a 2015 deal with world powers but is close to once again breaching a ceiling on its stock of one chemical, a quarterly report by the U.N. atomic watchdog showed on Friday.
The report was the second since the January inauguration of U.S. President Donald Trump, who has called the pact between six powers and Iran "the worst deal ever negotiated" and branded Tehran an enemy in contrast with his predecessor Barack Obama.
Iran's stock of low-enriched uranium as of May 27 was 79.8 kg (175.5 pounds), well below a 202.8-kg (446-pound) limit, and the level of enrichment did not exceed a 3.67 percent cap, the International Atomic Energy said in a confidential report sent to IAEA member states and seen by Reuters.
"Everything is running smoothly at this point in time," one senior diplomat said, referring to Iranian compliance with the restrictions under the deal.
Obtaining enough highly enriched uranium or plutonium is the biggest hurdle to producing a nuclear weapon. The 2015 deal aimed to extend the time Iran would need to build an atomic bomb, if it chose to, to a year from a few months. Weapons-grade uranium has an enrichment level of around 90 percent.
But Iran's stock of heavy water, a chemical used as a moderator in a type of nuclear reactor that can produce plutonium, reached 128.2 tonnes, just below a 130-tonne limit, the IAEA report said. Iran was building one such reactor but it has had its core removed under the deal and is being redesigned.
Tehran has already breached that limit twice since the deal took effect, prompting the IAEA to express "concerns" and drawing rebukes from Washington and other Western powers.
The deal calls for any excess amount to be sold to a foreign buyer, and Iran has shipped the surplus to Oman while it looks for one.
HEAVY WATER PLAN SHUTDOWN
Iran is not now making heavy water because its production plant has been shut down for maintenance. Diplomats said this could have been due to Tehran not wanting to raise tensions around its May 19 presidential election, which was won by pragmatist Hassan Rouhani, who championed the deal.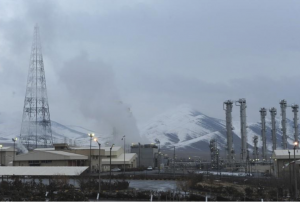 The IAEA verified the shutdown on May 16.
It is not clear when the heavy-water production plant will reopen but if it happened today a realistic time by which Iran would reach the 130-tonne limit would be "somewhere in the second half of July", the senior diplomat said.
The Trump administration indicated its support for the Oman arrangement in April by acknowledging Iran was meeting its commitments under the 2015 deal, which also lifted tough economic sanctions against the Islamic Republic.
Washington has, however, voiced concern about other Iranian actions, including ballistic-missile testing and what it calls Tehran's role as a "state sponsor of terrorism".
Those actions spurred Trump to accuse Iran of violating the spirit of the nuclear agreement. However, Trump extended sanctions relief against Iran last month, indicating he has decided to keep backing the deal, at least for now.
At the same time, his administration has launched a wider policy review on how to deal with the Islamic Republic.