DUBAI, March 4 (Reuters) – Emergency teams have recovered the flight recorders of a plane that crashed into a mountaintop in southwest Iran two weeks ago, killing all 66 passengers and crew, state news agency IRNA reported on Sunday.
Iran has suffered several plane crashes in recent decades and Tehran blames U.S. sanctions for preventing it from importing new aircraft or spare parts.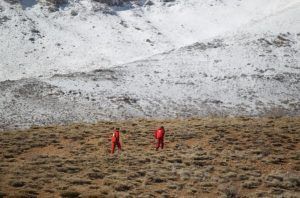 The Aseman Airlines plane disappeared from radar screens 50 minutes into the February 18 flight from Tehran to the southwestern city of Yasuj.
Reza Jafarzadeh, head of public relations at Iran's Civil Aviation Organization, told IRNA that the flight recorders had been handed over to judicial authorities before being analysed by experts.
Glacial temperatures and mountainous terrain hampered search efforts, adding to the grief and anger felt by families of the victims in a society plagued by risky air travel.
The twin-engined turboprop ATR 72 that crashed was more than 24 years old. The Flight Safety Foundation's aviation-safety.net website said the plane was restored to service about three months ago, after being in storage for six years.
Based in the French city of Toulouse, ATR is a joint venture between Airbus and Italy's Leonardo.
Aseman Airlines had earlier said 65 people were on board the plane after one passenger missed the flight, but it later corrected the number to 66.
A Boeing 727 crashed in northwest Iran in 2011, killing 78 people, and in 2009 all 168 people on board died when a Caspian Airlines Tupolev crashed en route for Armenia. In 2003 an Ilyushin-76 troop carrier crashed in southeast Iran, killing all 276 Revolutionary Guard soldiers on board as well as crew.
Although a deal with world powers on Tehran's nuclear programme in 2015 has lifted some of the sanctions officials blame for the fleet's antiquity, many older planes are still in service, particularly on domestic routes.
(Reporting by Dubai newsroom Editing by Alexander Smith)