---
By Bozorgmehr Sharafedin and Andrew Torchia
---
LONDON/DUBAI, April 10 (Reuters) – Iran clamped a 10,000-euro ($12,400) ceiling on the amount of foreign currency that citizens can hold outside banks and sent police to patrol exchange shops on the first day of its drive to stamp out a currency black market and support the plunging rial.
Iran's currency had lost close to half its value on the free market since September, driven in part by fears of a return of crippling sanctions if U.S. President Donald Trump carries out his threat to exit a nuclear deal with Tehran.
Late on Monday, authorities abruptly announced they were unifying official and free-market exchange rates for the rial in favor of a single rate set at 42,000 against the U.S. dollar, and warned that those caught trading the dollar at other rates would face arrest.
From Tuesday morning, hundreds of people queued at exchange shops in central Tehran to buy hard currency, a witness told Reuters, but many shops posted signs saying they were no longer trading the dollar.
Police intervened at several currency exchange shops in the capital, the official ISNA news agency reported.
The new measures will inconvenience Iranians who study, travel or do business abroad, and those who keep their savings in dollars, but are more likely to draw anger if they fail to support the currency.
The government is already under fire for its management of the economy. In January public protests over corruption and economic hardship were crushed by the authorities. At least 25 people were killed.
Addressing parliament on Tuesday, Central Bank Governor Valiollah Seif was interrupted by angry lawmakers who surrounded him and tried to push him off the microphone, shouting he should resign for failing to stop the fall of the rial. The currency hit a record low of 60,000 on the free market this week.
"Why didn't you take this decision earlier, and why do you announce this when the country is already in mayhem?" Parliament Speaker Ali Larijani said of exchange rate unification.
Seif blamed the United States and other nations. "The recent volatility in the foreign exchange market is a plot by enemies and we should not worry about it," he was quoted by state media as telling parliament. "Even countries like Saudi Arabia and the United Arab Emirates are partly to blame for it."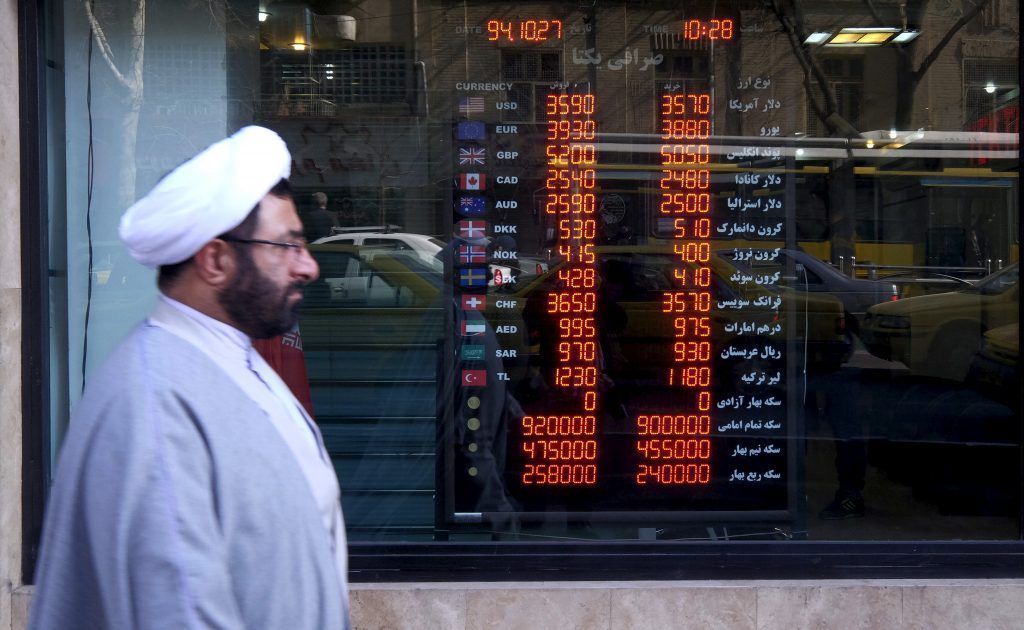 NO CHOICE
Mehrdad Emadi, an Iranian economist who heads energy risk analysis at London's Betamatrix consultancy, said officials may have felt they had no choice as the rial's free-market plunge was pushing prices of many imports up sharply.
Long-term weakness of the rial developed into a nationwide dollar-buying panic after local media quoted officials in recent days as saying Iran had suffered capital outflows of $30 billion in the past four months, he said.
Other than the threat of legal action, it is unclear how authorities plan to enforce the ceiling on foreign currency holdings and prevent the re-emergence of a black market in dollars.
When First Vice President Eshaq Jahangiri announced the new official rate for the rial late on Monday, he did not say how and under what conditions it might change in future.
"It depends how much of the country's foreign exchange reserves they are willing to sacrifice," Emadi said. "The reserves are in very limited supply, so I think depleting them would be short-sighted and a high-risk option."
Tehran tried twice in the past couple of decades to unify the exchange rate system. Both efforts quickly failed.
Iran's official foreign reserves were estimated by the International Monetary Fund at over $130 billion early last year, but many official figures are doubtful, and Emadi said conversations with private bankers suggested the amount of easily accessible reserves might be $35 billion to $55 billion.
Emad Mostaque, co-chief investment officer at Capricorn Fund Managers in Britain, said: "Iran is entering a full-blown banking crisis, so it is unsurprising to see dramatic moves."
Many Iranian banks are under heavy pressure because of years of poor management and economic difficulties caused by international sanctions.
"They should have enough firepower for the new unified rate as the black market rate overshot, but this could be derailed by external factors," Mostaque said.
Jahangiri was quoted as saying by state media on Tuesday that the country's foreign reserves were "in good shape" and that the government would not allow the new policy to push up prices, especially of food and medicine.
(Editing by Raissa Kasolowsky, Larry King)