---
DUBAI, Sept 22 (Reuters) – Gunmen fired on a military parade in southwestern Iran on Saturday, killing 11 members of the Revolutionary Guards, the semi-official Tasnim news agency reported, in one of the worst attacks on the elite force.
State television said the assault, which wounded more than 30 people, targeted a stand where Iranian officials were gathered to watch an annual event marking the start of the Islamic Republic's 1980-88 war with Iraq.
A video distributed to Iranian media showed soldiers crawling on the ground as gunfire blazed in their direction. One soldier picked up a gun and got to his feet as women and children fled for their lives.
Ali Hosein Hoseinzadeh, deputy governor in Khuzestan province, was quoted as saying the death toll was expected to rise. One of those killed was a journalist.
The bloodshed struck a blow to security in OPEC oil producer Iran, which has been relatively stable compared with neighbouring Arab countries that have faced upheaval since the 2011 uprisings across the region.
There was no immediate claim of responsibility for the attack in Iran's southwest.
---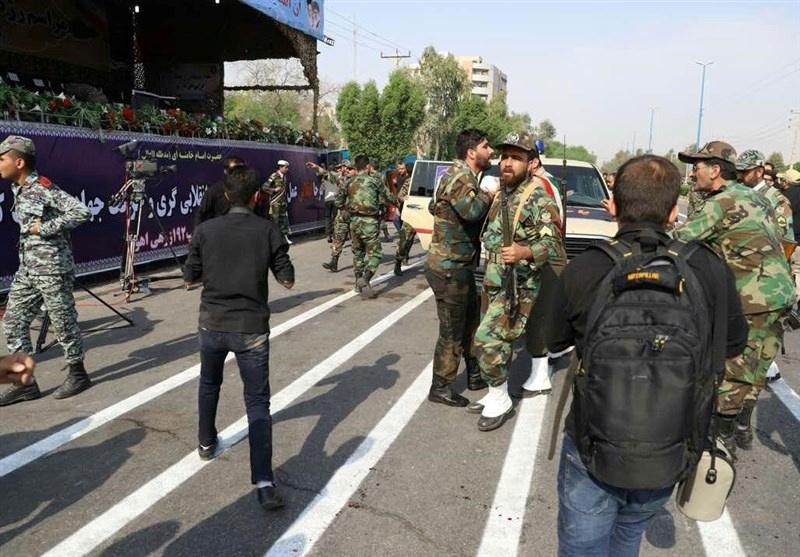 ---
State television blamed "takfiri elements", a reference to Sunni Muslim militants, for the attack. Ahvaz is in the centre of Khuzestan province, where there have been sporadic protests by the Arab minority in mainly Shi'ite Iran.
Foreign Minister Mohammed Javad Zarif blamed the bloodshed on "regional terror sponsors", language that usually refers to Iran's enemies Saudi Arabia and Israel, and "their U.S. masters", and vowed that Tehran would respond decisively.
A video on state television's website showed confused soldiers at the scene of the attack. Standing in from of the stand, one asked: "Where did they come from?" Another responded: "From behind us."
Four militants carried out the attack and two of them were killed, according to ISNA. There has been no claim of responsibility for the attack in the city of Ahvaz.
Iran was holding similar parades in several cities including the capital Tehran and the port of Bandar Abbas on the Gulf.
"Shooting began by several gunmen from behind the stand during the parade. There are several killed and injured," a correspondent told state television.
The semi-official news agency Mehr said further shooting broke out as some of the attackers who managed to escape were being chased.
ISNA said an unnamed spokesman for the Revolutionary Guards blamed Arab nationalists backed by Saudi Arabia for the attack.
Tensions between Iran and Saudi Arabia have surged in recent years, with the two countries supporting opposite sides in wars in Syria and Yemen and rival political parties in Iraq and Lebanon.
Attacks on the military are rare in Iran.
Last year, in the first deadly attack claimed by Islamic State in Tehran, 18 people were killed at the parliament and mausoleum of Ayatollah Ruhollah Khomeini, the founder and first supreme leader of the Islamic Republic.
---