---
By Trevor Hunnicutt and Jeff Mason
---
WASHINGTON, Nov 15 (Reuters) – U.S. President Joe Biden and China's Xi Jinping met for about four hours on Wednesday to discuss issues ranging from military conflicts to drug-trafficking.
Biden welcomed the Chinese leader at the Filoli estate, a country house and gardens about 30 miles (48 km) south of San Francisco, ahead of a summit of the Asia-Pacific Economic Cooperation (APEC) forum.
Here's the key issues discussed.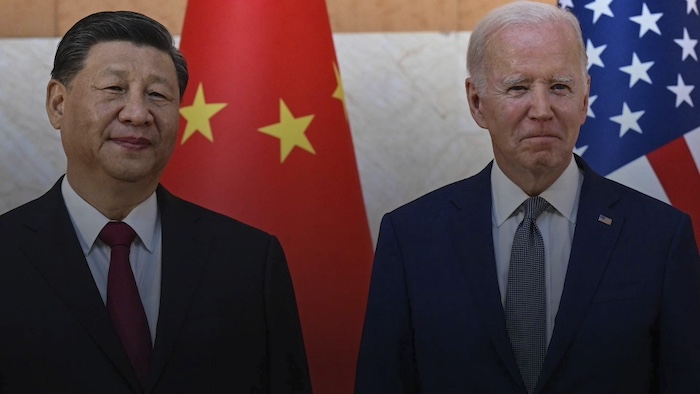 TAIWAN
The two leaders had a "substantial" discussion on Taiwan, with Xi telling Biden that Taiwan was the biggest, most dangerous issue facing the two superpowers, a senior U.S. official told reporters.
The Chinese leader said that China had no plans for military action against Taiwan in coming years, but also discussed conditions under which force could be used, the official said.
Biden said he "stressed the importance of peace and stability in the Taiwan Strait." He also asked Xi to respect Taiwan's electoral process, the U.S. official said.
Xi responded: "Look, peace is … all well and good but at some point we need to move towards resolution more generally," the U.S. official said.
MILITARY TALKS
Beijing said the two leaders agreed to resume military contacts that China severed after then-House of Representatives Speaker Nancy Pelosi visited Taiwan in August 2022.
Biden made a "very clear request" that both countries institutionalize the military-to-military dialogues, and U.S. Secretary of Defense Lloyd Austin will meet his Chinese counterpart when that person is named, a senior U.S. official said.
LEADER TO LEADER TALKS
Biden said he and Xi agreed to high-level communications.
"He and I agreed that each one of us can pick up the phone call directly and we'll be heard immediately," Biden told reporters after the meeting.
COOPERATION AND CONCILIATION
Beijing's report of the meeting, via the Communist Party-controlled Chinese state media, emphasized the need for more cooperation, dialogue and respect. China and the United States should set an example for other countries, Xi told Biden, according to Chinese media, and promote cooperation on trade, agriculture, climate change and artificial intelligence.
An official briefed on the talks said Beijing was also seeking a show of respect from the trip.
FENTANYL
Biden and Xi agreed to cooperate on addressing the source of the opioid fentanyl, a leading cause of drug overdoses in the United States, the U.S. official said.
Under the agreement, China will go directly after specific chemical companies that make fentanyl precursors.
IRAN
The two leaders also discussed the unfolding crisis in the Middle East, with Biden asking China to weigh in with Iran and urge it to avoid steps that could be seen as provocative, the senior U.S. official told reporters.
Chinese officials told the U.S. side that they had engaged in discussions with Iran on regional risks.
ARTIFICIAL INTELLIGENCE
The two leaders also discussed artificial intelligence (AI)and agreed that AI was used in military or nuclear operations, it created real risks.
The senior U.S. official said both sides were "very much focused" on practices regarding AI that could be dangerous or destabilizing, but not ready for any mutual declaration.
(Reporting by Jeff Mason, Trevor Hunnicutt; writing by Andrea Shalal; Editing by Heather Timmons and Stephen Coates)
Similar Articles to This Post