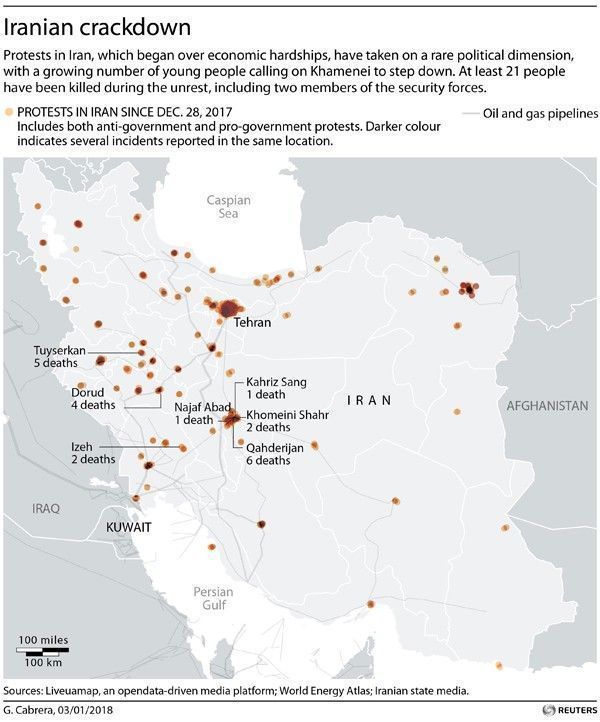 Guards send forces to Isfahan, Lorestan, Hamadan provinces
Tens of thousands march in bid to counter wave of unrest
Protests challenge clerical elite, most serious since 2009
Iranians fuming over inequality, corruption, elite's wealth
Trump vows support for protesters at "appropriate time"
Rouhani tells Erdogan he hopes unrest will end in a few days (Adds Revolutionary Guards sent to three provinces, Trump tweet, U.N. rights chief)
By Bozorgmehr Sharafedin LONDON, January 3 (Reuters) – Iran's elite Revolutionary Guards have deployed forces to three provinces to put down an eruption of anti-government unrest, their commander said on Wednesday, after six days of protests that have left 21 people dead.
Thousands of Iranians took part in pro-government rallies in several cities on Wednesday in a state-sponsored show of force aimed at countering unrest posing the most sustained challenge to the Islamic Republic's clerical elite in almost a decade.
State television broadcast live pictures of rallies in the southwestern cities of Kermanshah and Ilam and in the northern city of Gorgan, where marchers waved Iranian flags and pictures of Supreme Leader Ayatollah Ali Khamenei.
But, in a sign of official concern about the resilience of the protests, the Revolutionary Guards commander, Major General Mohammad Ali Jafari, said he had dispatched forces to Isfahan, Lorestan and Hamadan provinces to tackle "the new sedition".
Most of the casualties among protesters have occurred in those regions. The Revolutionary Guards, the sword and shield of Iran's Shi'ite theocracy, were instrumental in suppressing the 2009 uprising, killing dozens of protesters then.
In the Shi'ite holy city Qom, pro-government demonstrators chanted "death to American mercenaries". There were similar rallies in Isfahan, Iran's third largest city, and Abadan and Khorramshahr in the oil-rich southwest, state TV footage showed.
Marchers chanted, "The blood in our veins is a gift to our leader (Khamenei)," and, "We will not leave our leader alone." They accused the United States, Israel and Britain of inciting protests, shouting "the seditionist rioters should be executed!"
The protests began last week out of frustration over economic hardship among the youth and working class but have evolved into broader unrest against the hardline clerical establishment dominating since the 1979 Islamic Revolution.
RARE ANTI-GOVERNMENT OUTBURST
Political rallies held in defiance of the pervasive security services have called for the overthrow of all Iranian leaders.
The protests, organised on social media, have largely been held after dusk. They continued into Tuesday night with social media videos showing demonstrators on the streets and riot police in several cities including Ahvaz in the southwest.
U.S. President Donald Trump, who has sought to isolate the Tehran leadership, reversing the conciliatory approach of predecessor Barack Obama, said Washington would throw its support behind the protesters at an "appropriate time".
"Such respect for the people of Iran as they try to take back their corrupt government. You will see great support from the United States at the appropriate time!" Trump wrote in the latest of a series of tweets on Iran's turmoil.
On Tuesday, Khamenei had accused Iran's adversaries of fomenting the protests, some of which have criticised him by name and called for him to step down.
An Iranian judicial official said on Wednesday a European citizen was arrested in protests in the Borujerd area of western Iran, but did not specify the nationality of the detainee.
"(This) European citizen … had been trained by European intelligence services and was leading the rioters," Hamidreza Abolhassani, head of Borujerd's Justice Department, was quoted by Tasnim news agency as saying.
In Geneva, the U.N. human rights chief urged Iran to rein in security forces to avoid further violence and respect the right of protesters to freedoms of expression and peaceful assembly.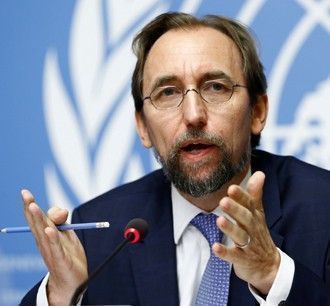 Zeid Ra'ad al-Hussein, U.N. High Commissioner for Human Rights, said more than 20 had been killed and hundreds arrested across Iran in the past week. He called for "thorough, independent and impartial investigations of all acts of violence…"
An official in Iran's hardline judiciary warned that some of those arrested could face the death penalty.
The outburst of dissent is the most serious since 2009, when Iranians took to the streets over accusations of vote-rigging in the re-election of then-President Mahmoud Ahmadinejad.
The protests have heaped pressure on President Hassan Rouhani, who championed a deal struck with world powers in 2015 to curb Iran's disputed nuclear programme in return for the lifting of most international sanctions against Tehran.
Many of the protesters are fuming over what they see as the failure so far of his government to deliver on promises of more jobs and investment as a payoff from the nuclear accord.
Rouhani, who has said Iranians have a right to protest peacefully, told Turkish President Tayyip Erdogan in a phone call on Wednesday he hoped the unrest would end in a few days.
"We are certain about Iran's security and stability … People are free in Iran to protest within the framework of law," Rouhani was quoted as saying by the state news agency IRNA.
TOUGH CHOICE ON SANCTIONS
Trump has said in tweets that Iranians have lost patience with alleged graft and what he called a terrorist regime.
Trump must decide by mid-January whether to continue waiving U.S. sanctions on Iran's oil exports under the terms of the nuclear deal that he opposed.
But, given that the unrest began over high unemployment and prices, if he reimposes sanctions on oil it could increase the economic pain for Iran's people, analysts say.
"If the Americans' sympathy with Iranians were real, they would have not imposed cruel sanctions on the our nation," Jafari, the Revolutionary Guards commander, said on Wednesday.
Referring to Rouhani's policy of detente with the West, Jafari told Fars news agency that "friendship with the United States" would never bring prosperity and that the Guards were ready to help the government overcome economic challenges.
ECONOMIC DOLDRUMS
Resentment over economic stagnation and reputed graft within the clerical and security hierarchies sparked the protests after Iranians took to social media to vent their discontent.
The anger has been building up since last month. Thousands of Iranians joined a hashtag campaign on Twitter and other sites to express frustration over the slow pace of reforms.
Under the "#I am regretful" hashtag, they expressed disappointment with Rouhani, who was elected on promises of tackling high unemployment and granting more social freedoms.
They focused on his latest budget bill. It has allocated, as usual, billions of dollars to religious universities and institutions while the government said it lacks the cash needed to aid the unemployed, including the 28.8 percent of youth who are jobless.
Both the arch-conservative Khamenei and the pragmatist Rouhani have pledged to crack down on high-level corruption and create economic prosperity for all Iranians.
But there have been few changes. The Revolutionary Guards, for example, still control a vast, lucrative economic empire.
While more than 20 million out of 80 million Iranians live below the poverty line, the wealthy, including relatives of government officials, import tens of thousands of luxury cars every year, causing widespread resentment.
While young, impoverished Iranians have dominated the current protests across the Islamic Republic, some members of the urban middle class are also taking part.
In an attempt to control the flow of information and calls for anti-government gatherings, Tehran authorities have restricted access to the Telegram messaging app and Instagram, owned by Facebook Inc.
(Reporting by Bozorgmehr Sharafedin, with; additional reporting by Stephanie Nebehay in Geneva and Doina Chiacu in Washington; editing by Mark Heinrich)
Videos obtained by Reuters show Iranian protesters scuffling with police officers on Monday (January 1), the fifth day of anti-government demonstrations, as they marched in the streets of the capital, Tehran.
More than 450 protesters have been arrested in the capital over the last three days, Tehran's deputy provincial governor said on Tuesday (January 2). Hundreds of others were detained around the country, with judicial officials saying they would be severely punished.
The death toll from the protests rose to 21 on Tuesday.
The footage shows Iranian protesters chanting "death to dictator" and "down with clerical regime" as security forces struggle to contain the boldest challenge to Iran's clerical leadership since unrest following controversial election results in 2009.
The demonstrations that broke out last week were initially focused on economic hardships and alleged corruption but turned into political rallies.