---
By John Irish and Juliette Jabkhiro
---
PARIS, June 19 (Reuters) – France has banned an upcoming Iranian opposition rally over the risk of an attack, according to a letter sent to the organisers and seen by Reuters, after the release of an Iranian diplomat convicted of masterminding a plot to bomb the group in 2018.
The ban comes as Western powers seek to defuse tensions with Iran and a few weeks after Tehran released several Europeans from prison, including two French nationals. French President Emmanuel Macron held a 90-minute call with Iranian President Ebrahim Raisi on June 10.
Aid Worker Back in Belgium After Iranian Diplomat Prisoner Swap
The Paris-based National Council of Resistance of Iran (NCRI), political arm of the People's Mujahideen Organisation of Iran (PMOI), has held frequent rallies in the French capital over the years, often attended by high profile former U.S., European and Arab officials critical of the Islamic Republic.
In February, the NCRI attracted several thousand people to an event in central Paris, and plans its annual rally on July 1.
However, given a recent spate of mass anti-government protests in Iran over the death of a 22-year-old woman while in morality police custody, a "tense context" had developed posing "very significant security risks" to NCRI gatherings, said the document, a letter from Paris police chief Laurent Nunez.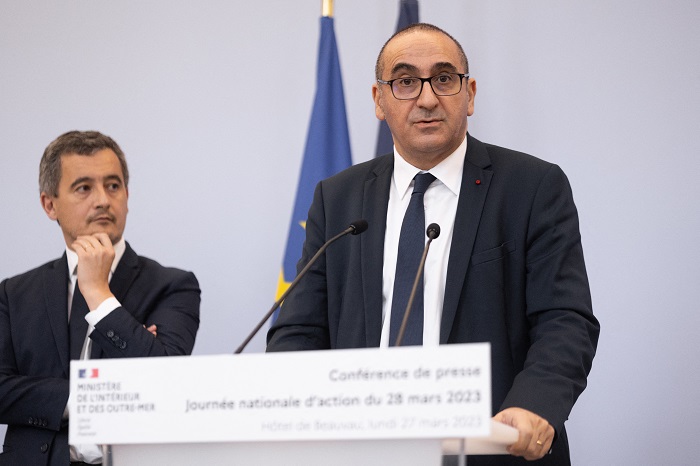 Therefore, "this meeting, organised every year since 2008, cannot be held…" read the letter, sent to the NCRI rally's organising committee.
In response to an inquiry, Paris police issued a statement to Reuters confirming that they had informed the committee of the decision to ban the rally as it could "generate disturbances to public order due to the geopolitical context".
"Moreover, given the terrorist risk cannot be neglected, the holding of such an event would make its security but also the security of sensitive guests extremely complex," said the statement.
A senior NCRI official condemned the decision when asked about it by Reuters, before the police confirmation.
"If French authorities take such a stance, it will represent a brazen disregard for democratic principles, caving in to the ruling religious tyranny's blackmail and hostage-taking," Shahin Gobadi, a member of the NCRI's Foreign Affairs Committee, said.
ANALYSIS: How Hostage Taking Is An Integral Part of Iran's Foreign Policy
FOREIGN SUPPORT FOR IRAN UNREST
Mahsa Amini's death in custody sparked months of nationwide protests, prompting Tehran to accuse the United States, its Western allies and Israel of exploiting the unrest to try to destabilise the Islamic Republic.
Thousands of supportive rallies have been held around the world since her death September, although the nationwide unrest has subsided after Iranian security police clamped down on it.
To dampen rising tensions, the United States has been holding talks with Iran to sketch out steps that could limit the disputed Iranian nuclear programme, release some detained U.S. citizens and unfreeze some Iranian assets abroad, according to Iranian and Western officials.
ABORTIVE PLOT
Nunez's letter put the July 1 NCRI rally in the context of the abortive plot led by Vienna-based Iranian diplomat Assadolah Assadi in October 2018 and three others.
Assadi, who French officials said was running an Iranian state intelligence network and was acting on orders from Tehran, was sentenced in Belgium to a 20-year prison term in 2021. He was exchanged in May for four Europeans held in Iran.
"This attempted attack, which underlines the operational capacities for attacking the PMOI, falls into a series of violent and lethal operations in France and Europe, in the form of assassinations and kidnappings of Iranian opposition figures," the letter said, without providing details.
"Partner countries have in this regard recently mentioned many planned violent attacks, potentially targeting Iranian opposition figures."
Nunez also said in his letter to the NCRI that given the group's rally would attract several hundred important foreign dignitaries and PMOI members coming from overseas, "securing the event would be particularly complicated".
There have been three attacks on an NCRI building in a Paris suburb since the end of May, the letter said, and these were under investigation. Two sources close to the investigation said gunshots, petrol bombs and other incendiary devices had been used to target the building. It was unclear who was responsible.
The letter said there was also an elevated risk of conflict between the NCRI and rival Iranian opposition groups at the rally, although there had been no incidents at past rallies.
Tehran has long called for a crackdown on NCRI activities in Paris, Washington and the Saudi capital Riyadh. The group, whose sources of funding and support are unclear, is regularly lambasted by Iranian state media.
Belgian Foreign Minister in Turmoil Over Iran, Russian Delegates Invitations
OPINION: The Solution to the 'Iran Problem' is Regime Change
Prince Reza Pahlavi : 'The Alternative to the Islamic Republic is the Iranian nation'
Iranian Protesters Remain Defiant in the Face of Violent and Brutal Regime Oppression
---
(Reporting by John Irish; editing by Mark Heinrich)
---