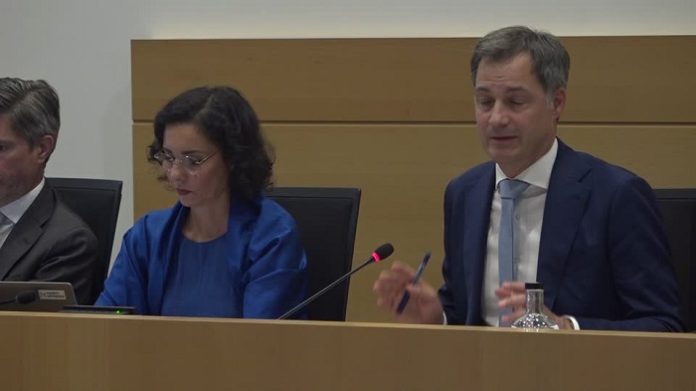 ---
By Charlotte Van Campenhout
---
BRUSSELS, June 21 (Reuters) – Belgian Prime Minister Alexander De Croo and Foreign Minister Hadja Lahbib were quizzed by lawmakers on Wednesday after delegations from Iranian and Russian cities were granted visas to attend a mayors' convention in Brussels last week.
Lahbib especially is under scrutiny for having approved visas requests for citizens from two countries under international sanctions and only three weeks after Belgian NGO worker Olivier Vandecasteele was released from an Iranian jail.
De Croo and Lahbib said they didn't want to risk a diplomatic row with Iran close to the release of Vandecasteele and three other Europeans, but lawmakers from opposition as well as coalition parties contest that reasoning.
ANALYSIS: How Hostage Taking Is An Integral Part of Iran's Foreign Policy
LETTER: Don't Encourage the Islamic Republic's Hostage Diplomacy
When in Brussels, the Iranian delegation filmed Belgo-Iranian lawmaker Darya Safai and Iranian opposition members, Belgian national broadcaster RTBF reported.
Safai, who was a prominent activist in Iran before fleeing to Belgium in 2000, said she no longer felt safe in Belgium.
Tehran' mayor, Alireza Zakani, is known as a hardline Iranian politician.
The opposition has called for Lahbib's resignation, while extreme-right opposition party Vlaams Belang also asked for De Croo's resignation.
State secretary for external relations of the Brussels government Pascal Smet resigned on Sunday over the all-expenses paid trip.
Belgian Foreign Minister in Turmoil Over Iran, Russian Delegates Invitations
EU Can Proscribe Iran's Revolutionary Guards Without Delay, Lawyers Say
---
(Reporting by Charlotte Van Campenhout. Editing by Alistair Bell)
---
Similar Articles to This Post