---
By Firouzeh Ramezanzadeh
---
Sahba Motallebi is an Iranian musician, songwriter and player of tar and setar (Iranian string instruments) Motallebi was born in 1978 in Tehran. She is a graduate of the Tehran Conservatory of Music and a former member of the Iranian National Orchestra.
Motallebi grew up in an artistic household, and her parents' love of arts and culture played a key role in shaping her interest in music. They were of Bahai faith. Her two older sisters teach santur (hammered dulcimer); the eldest is also an accomplished painter, specializing in modern Persian miniature.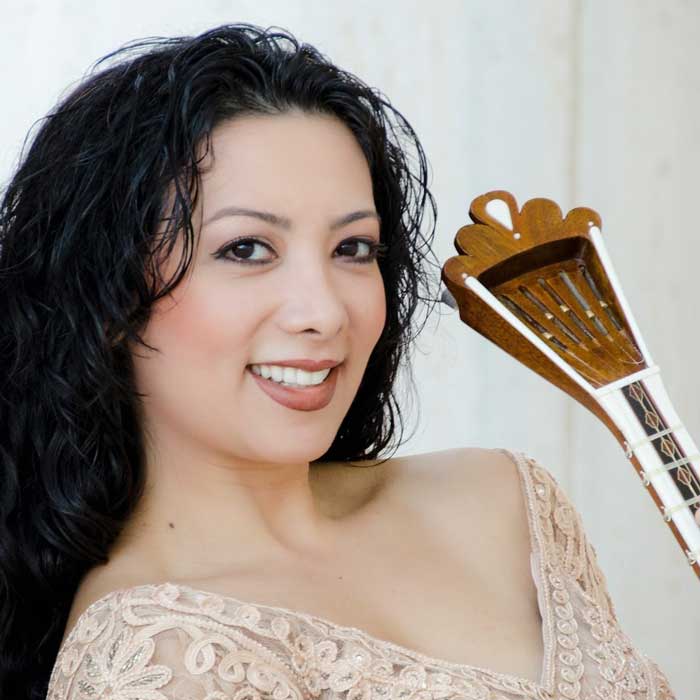 Sahba and her family moved to Sari, the northern province of Mazandaran, when she was 9 years old. She was initially interested in painting and sculpture, but at the age of 11, she started to study setar. Her musical education began in earnest only after a chance meeting with Hossein Alizadeh (1951-), the renowned Iranian composer and tar and setar player.
"Professor Alizadeh visited the Sari Conservatory of Music in 1992. I happened to be at the school that day. I played a piece for him," Motallebi told Kayhan Life. "After hearing me play, Mr. Alizadeh told my teacher that I was a talented student, and recommended that I study at Tehran's Conservatory of Music."
"Tehran's Conservatory of Music would not admit students of Bahai faith at the time. Professor Alizadeh was the director and a teacher at the boys' and the girls' music schools, respectively. He was instrumental in getting me enrolled in the girls' music school, and advised the senior managers at the school not to hand over my file to the inspectors from the Ministry of Culture and Islamic Guidance. Many people of Bahai faith tried to get into the music academy without success."
"My family weren't keen on me traveling to Tehran to attend the music school, because I was only 14 at the time. However, Professors Alizadeh and Azizi
convinced my parents to let me study in Tehran," she recalled. "I eventually moved to Tehran and lived on the top floor of my uncle's house. I studied with Mr. Alizadeh and other distinguished teachers for four years at the conservatory. Many people didn't approve of a young girl studying music and living alone in the capital. I was under a great deal of emotional and psychological pressure."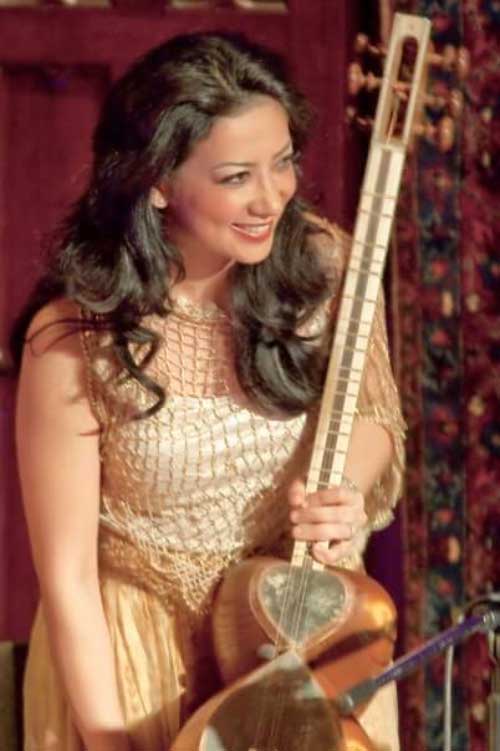 "Most children are between 11 and 12 years when they enroll in the music school. I was three years older than everyone else, so I was behind the others in music theory. I worked hard and caught up with the other students. I chose tar and studied with Professor Alizadeh."
Motallebi won first prize in piano at the Iranian Music Festival for four consecutive years. At the age of 18, she joined the Iranian National Orchestra under the baton of Farhad Fakhreddini. She is one of the founders of the pioneering women's music ensemble Chakaveh.
However, it wasn't always easy for Motallebi to travel abroad. "As you know, it wasn't easy for a Bahai to obtain a passport those days. On one occasion, an orchestra conductor threatened to cancel a concert when he discovered that the government had refused to issue me a passport. He had to put up his house as collateral before the authorities issued me a passport."
Motallebi started teaching tar and setar when she was only 16. She said: "I had many students. I was able to support myself from an early age. However, some of my neighbors complained about me to the police and security forces. I received a few letters from the Judiciary, threatening to shut down my classes and accusing me of using my teaching sessions as a pretext to promote my Bahai faith. Many of my students were winning top prizes at festivals during this period."
Being a Bahai, Motallebi could not secure a teaching job after graduating from Tehran's Music Conservatory. She continued her music studies with the renown Iranian composer Dr. Mehran Rouhani (1946-), before moving to St. Petersburg on a scholarship from the Bahai Society to study composition for a year at Rimsky-Korsakov University. She took advantage of this opportunity and learned to speak Russian.
Motallebi said: "I couldn't obtain the employment form I needed to practice with the orchestra and play in concerts because of my religion. The Ministry of Culture and Islamic Guidance allowed me to work as a day worker. I must admit that people at the ministry always treated me with respect."
After finishing her studies in Russia, Motallebi decided to leave Iran. She explained: "This may sound very harsh, but I decided to uproot myself from Iran. As a female musician, I've been successful in introducing Iranian music to the world."
"My family urged me to go to Turkey. It took six months for my immigration papers to come through. With the help of a translator, I held music workshops at RGS University in Kayseri, Central Anatolia. Instead of payment, I asked one of the professors at the university to teach me about Turkish music. That gave me an opportunity to compare Iranian and Turkish music. I discovered that at one point the two were indistinguishable from each other, but through the centuries, they evolved along different paths."
After moving to the U.S., Motallebi studied folk music at the California Institute of Arts (CalArts). For the past seven years, she has been posting her tar and setar tutorial videos for free on the YouTube. She explains: "This is the best way to teach music without being hindered by geographical restrictions. I'm currently teaching tar and setar in English. I don't make any money from this, but it is quite gratifying to introduce Iranian music to a global audience."
She added: "I have my style of playing, and perform my compositions. In addition to my solo performances, I also play duets with my colleague Naghmeh Farahmand."
Her online videos and efforts to promote Iranian music have placed Motallebi among the top 18 most influential women in the world, those who have made significant social and cultural contributions to their communities. She is currently recording an album with an American orchestra whose members have won Grammy awards. Motallebi lives with her husband and two children in southern California. 
---
[Translated from Persian by Fardine Hamidi]
---