By Tara Biglari
A play inspired by the plight of British-Iranian Nazanin Zaghari-Ratcliffe – a Thomson Reuters Foundation employee incarcerated in Iran for more than a year and separated from her husband and young daughter – premiered last week at London's The Red Hedgehog performance space, with Zaghari-Ratcliffe's husband in attendance.
"Looking for Mummy: Nazanin's Story" portrays the stark reality of her imprisonment and the struggles and frustrations faced by Zaghari-Ratcliffe and her family. The play is at The Edinburgh Festival Fringe from August 20 to 27, and has been longlisted for the 2017 Amnesty Freedom of Expression Award.
Nazanin Zaghari-Ratcliffe was arrested in April 2016 at Tehran's Imam Khomeini International Airport and taken to one prison, then another, where she was held in solitary confinement for weeks. Last September, she was tried on unspecified charges related to security, convicted and sentenced to five years' imprisonment. She is serving her time in Tehran's Evin prison, where other dual nationals Haleh Esfandiary and Kamal Foroughi have been held, the latter since 2011.
A petition by Zaghari-Ratcliffe's husband Richard Ratcliffe to secure her release has garnered almost 930,000 signatures worldwide.
"I think anyone who sees the play will understand Nazanin's story in a more emotional way than if you just saw it on the news," says her husband, who saw the play from the front row. "The idea of the play, and the fact that people care for her, is motivating, in that she's not forgotten."
"The most important thing for her now is to feel that we're battling for her, and that's where her strength comes from," he added.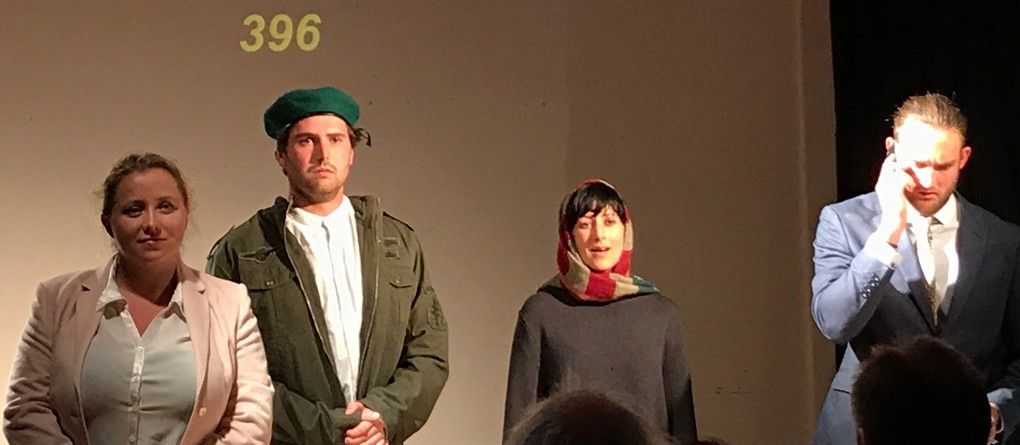 The play's writer and director Emi Howell, who is also one of the actors on stage, remembered how surprised she was when she first found out about the case.
"My mom heard about it on Twitter, and started campaigning. Then I started doing my research, and couldn't believe that this had happened, and that there wasn't a huge outcry everywhere," she said. "I wanted to help, and the best way I could do that was by organizing and acting, so we put on a play and compacted it into an hour."
Howell said she was hopeful that the play would tour the U.K. so "we can spread her story to people who haven't yet heard it."
The play begins with Zaghari-Ratcliffe's arrest at the Imam Khomeini International Airport in Tehran and follows her journey by depicting the conditions of her imprisonment, her deteriorating health, and her wavering optimism. The timeline of events is marked by a ticker on a projected screen. The mood is tense, and frequent songs and screams allow the viewer to feel the plight of Zaghari-Ratcliffe and her husband, the two main characters.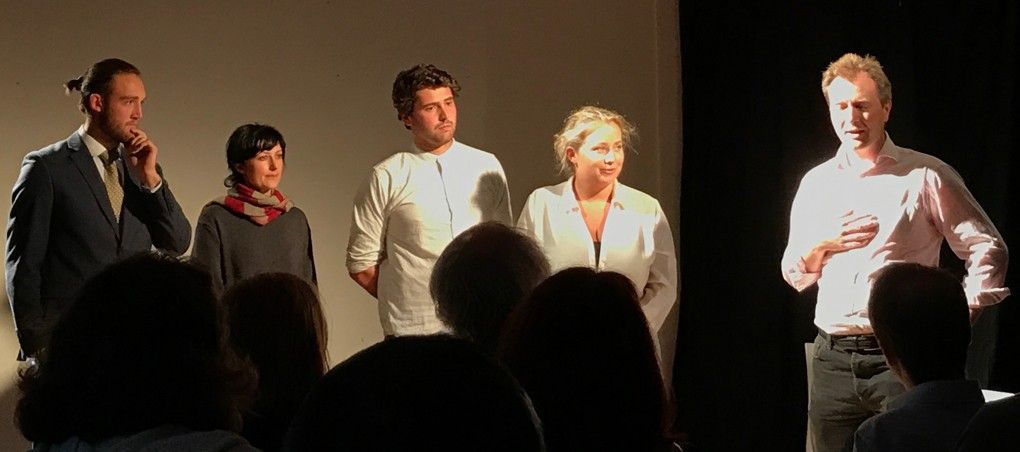 Nazanin Zaghari-Ratcliffe's physical and mental condition gradually deteriorate, and her despair at being separated from her very young child is captured through long monologues by Nazanin, which are, in fact, letters she has written from her jail cell. The performance is supported further by video clips of her daughter, Gabriella.
There are intermittent flashes of hope, for instance when she is transferred from solitary confinement to the ward for political prisoners. Yet the ticking timeline is a reminder of the gravity of the situation. Every day that passes compounds her inability to achieve justice.
The play also criticises officialdom in the U.K. and U.N., revealing a lack of attention and care for her case, prioritizing economic and trade ties over the release of a British citizen.
#freenazaninnow #nazaninratcliffe Richard Ratcliffe Amnesty International Amnesty International UK #NazaninBoniadi #evin#politicalprisoner #iran #kayhanlife #lookingformummy