Vigen was Iran's first male pop star. He was known as "the Sultan of pop," and one of the first entertainers in the country to perform with a guitar in the 1950s and 1960s.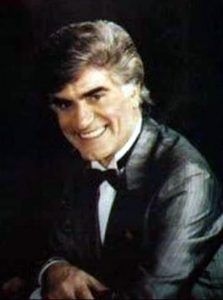 He introduced Western pop music to a land dominated, until then, by traditional singers, ushering in a revolution that coincided with the emergence of a Westernized middle class. His melodies were pleasing to large sections  of the Iranian population because he sang meaningful and enduring lyrics inspired by the lives of ordinary people.
The singer passed away of cancer in 2003 at the age of 73. One of his last wishes, best expressed in his song, Avazeh-Khan-e Mardom (People's Entertainer), was to be allowed back into Iran to perform.
"Vigen's works were in fact a prologue for a new type of music just taking root in Iran," writes Encyclopedia Iranica.  "Up to that time, most Persian songs merely talked of candles, flowers, butterflies, etc., and described virtual loves, imaginary paramours, the pains of separation from the beloved, the bitterness of one's misfortunes, and the miseries of one's vile destiny."
His songs "were deeply influenced by the rising tide of change in modern Persian poetry, replacing the traditional gloomy descriptions and interpretations with new and mirthful content derived from the loves of common people and expressed in colloquial language, while at the same time drawing on the rhythm of Persian rhythmic songs."
Born Vigen Derderian in 1929 into a relatively poor Armenian family of eight children in the western city of Hamadan, Vigen was raised by his older brother after losing his father at the age of 7.  Another brother, the poet Karo Derderian, would later write the lyrics to one of his signature songs, Lala'ee (Lullaby).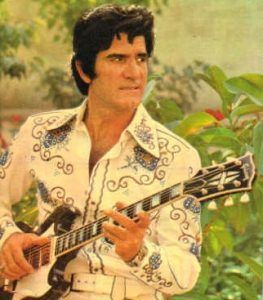 The family would move to the northern city of Tabriz during World War II, an area later declared a separatist republic by local Azerbaijani nationalists with the help of the occupying Soviet forces.
Vigen was fond of music and singing from an early age, having met an Armenian soldier from the Soviet Union who played the guitar and who would later sell him his instrument. He learned to play with his Russian émigré brother-in-law, and soon began singing and accompanying himself on the guitar.
The family later moved to Tehran, and by 1951, Vigen had his first job performing at Café Shemiran. There, he became well known as a singer and guitarist who presented a new brand of music totally different from traditional Persian music.   Crowds came from all over Tehran to watch him perform. Not long after that, he was discovered by a national radio network producer and broadcast on Tehran radio, immediately receiving universal acclaim.
Compared by some fans to Elvis Presley thanks to his good looks and tall frame, he appealed, as Iran's first male pop star, to the newly emancipated women of the 1950s and 60s.  Singing both in Persian and Armenian, he performed some 600 songs which would go on to become lasting pieces of contemporary Persian music.
Vigen's songs were based on Persian melodies and composed by some of the best Iranian songwriters and composers — such as Ataollah Khorram, Nasser Rastegar-Nejad, Nozar Parang, Parviz Vakili and Sirus Arianpour.
He was immortalized in the hearts of generations of Iranians with such memorable tunes as Baroon Barooneh (It's Raining), Chera Nemiraghsi (Why Don't you Dance), Asbeh Ablagh Som Tala (Thoroughbred Horse), Mahtab (Moonlight), Lala'ee (Lullaby), Gole Sorkh (Red Rose), Ragheeb (Rival), and Deleh Divaneh (Crazy Heart).
The artist had a brief cinematic career when, in 1955, at the height of his popularity, he was cast by the renowned Armenian-Iranian movie director, Samuel Khachikian, in his film Chahar-rahe Havades (The Crossroad of Events).  He would go on to feature in two more movies by the same director, namely, Khoon va Sharaf (Blood and Honor, 1955), and Tapehe Eshq (The Hill of Love, 1959), as well as in other films including Cheshmehe Oshaq (Lovers' Spring, 1960), Atash o Khakestar (Fire and Ashes, 1961) and Aruse Darya (The Bride of the Sea, 1965).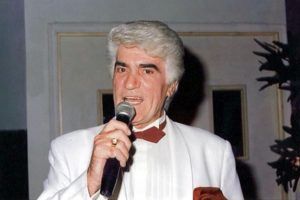 Vigen moved to California in 1971 but returned to perform in his native land each year until the 1979 Revolution, after which he was no longer allowed in..  His albums continued to reach his fans inside the country via the black market, despite the official ban against them.
Vigen made guest appearances on the Bob Hope Show,  the Jack Benny Program, and Mission Impossible and continued to record new albums and perform in concerts and on tours in the United States and Europe. He celebrated 50 years of his career at the Hollywood Palladium in Los Angeles in February 2001.
Vigen is survived by his wife Karen, and four daughters and a son from previous marriages.